How to Crack Conch – A Lesson from the All-Time Conch Cracking Champion of The Bahamas
Due to the destruction brought on by Hurricane Dorian in September 2019, Deep Water Cay has ceased operations. As the property recovers in hopes of reopening, a fundraising drive has been launched to aid resort staff in rebuilding their lives. Should you wish to contribute,
please visit the Deep Water Cay website
.
Most who sit down to enjoy a taste of conch, like the one pictured above, think very little of conch cracking, the sometimes tricky task of extricating the savory sea mollusks from their shells. There are some not-so-pretty reasons for this, of course.
For me, though, conch cracking has long been equal parts art and obsession. A series of slippery slights of hand. Some hammering, stabbing, and pulling… I've long admired the conch man, and hoped one day to master his skills.
On my just-completed trip to Deep Water Cay, I finally realized my conch cracking dream. My teacher: none other than the greatest conch cracker of all time, Mr. Shervin Nelson Tate.
Before we get into the man, though, a few words on where he's from…
Conch Cracking Capital Of The World
Every October for the past 43 years, on the day formerly devoted to Columbus (it's known as National Heroes Day in The Bahamas now), the small settlement of McLean's Town sheds its normally sleepy state. Crowds of people from all corners of The Bahamas (and beyond) flock here. The attraction is, essentially, the Super Bowl of Conch Cracking. The McLean's Town Conch Cracking Festival.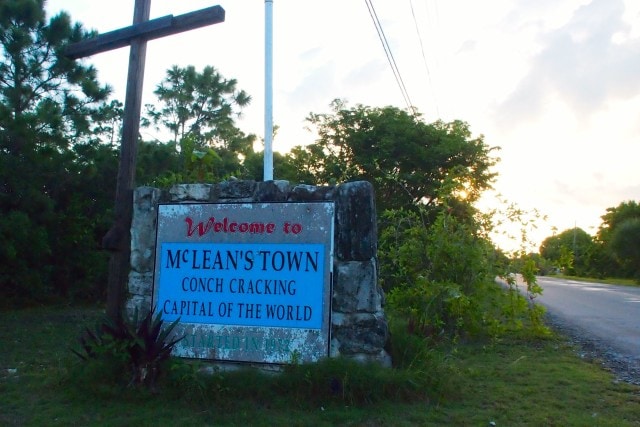 It is here where The Conch Cracking Championship of The World is contested each year. The winner takes home prize money, a special trophy, and bragging rights as The Best Conch Cracker in The Bahamas.
Shervin The G.O.A.T.
In all the years that the championship has been contested, no one, and I do mean NO ONE has dominated like Shervin.
He entered his first competition as a preteen motivated, in part, to avenge his father. Shervin felt his Dad had been cheated out of the title the previous two years. Shervin won, of course, besting grown men many times his senior.
As the years went by, Shervin just kept on winning, and winning, and winning. After 22 straight years of first-place finishes, he went out on top, concentrating more of his time on his other passion, singing, and serving guests at Deep Water Cay.
Learning from the Champ
Shervin may have retired his conch cracker (hammer) and knife from professional competition, but his influence over the Conch Cracking Championship remains strong. The G.O.A.T. is more than happy to teach his championship technique to all interested guests at Deep Water. (In the conch cracking world, this is akin to getting basketball lessons from Michael Jordan.) In fact, some of his pupils have actually gone on to win the visitor's portion of the Conch Cracking Championship!
"I'm sure you could beat quite a few guys," Shervin told me after a quick lesson back on Saturday. Sadly, though, I had to leave before the Festival could get started.
I pledged to return soon and do my best to make him proud. For anyone interested in joining me, or simply learning the fastest, easiest way to crack conch, here's how Shervin gets it done…
Related Posts