Checking Into Rosalie Bay Resort, Dominica
Have you noticed that we at Uncommon Caribbean love to have our cake and eat it too?  Oh, we're always ready to scale the region's highest peaks, traverse snake-infested swamps and undertake other such forms of fun solely in the name of adventure. Admittedly, though, it's much more enjoyable to do all those crazy things when there are some nice, cushy digs waiting to pamper us at the end of our travel days. That's where extra special hotels like Rosalie Bay Resort in Dominica come in. Adventure and luxury don't just go together here… it's impossible to set them apart.
As I correctly speculated before, much of what ties adventure so closely to Rosalie Bay is its fabulous location on Dominica's east coast amid the mountainous wilds that comprise much of the St. David Parish. The Morne Trois Pitons Nature Preserve, a UNESCO World Heritage Site, extend westward across the island from the resort's very doorstep, so you can enjoy hiking adventures like this one within walking distance of your room or suite.
The Gardenview Superior accommodations housed in the cottages above represent the smallest of the guest rooms at Rosalie Bay, though at 376 square feet in size they still offer plenty of room to stretch out and relax after your adventuring.
If you're as lucky as I was, though, you'll get to rest your head here…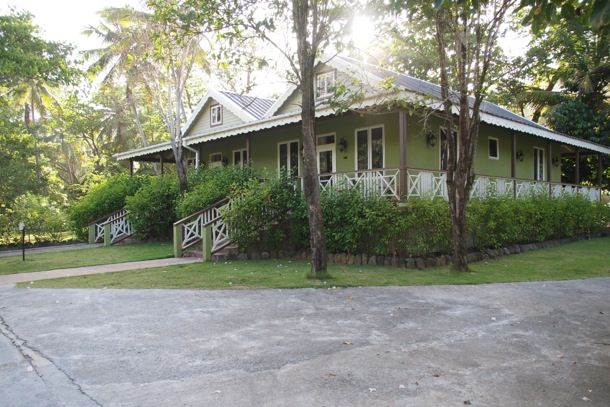 The Riverside Suite I called home at Rosalie Bay ranks among the finest, most comfortable rooms I've ever enjoyed along my travelers. There are two of them, both measuring a whopping 915 square feet each, with some seriously vaulted ceilings that make the place seem even larger! The wraparound porch is outfitted with an array of outdoor seating, including a loveseat swing at the back right along the Rosalie River.
As is the case with the resort itself, it's the location of these suites that make 'em so special. Having the steady-flowing river right outside my bedroom window was pure heaven at night when I'd turn off the a/c, turn up the ceiling fan, open the window and allow the river to sing me to sleep.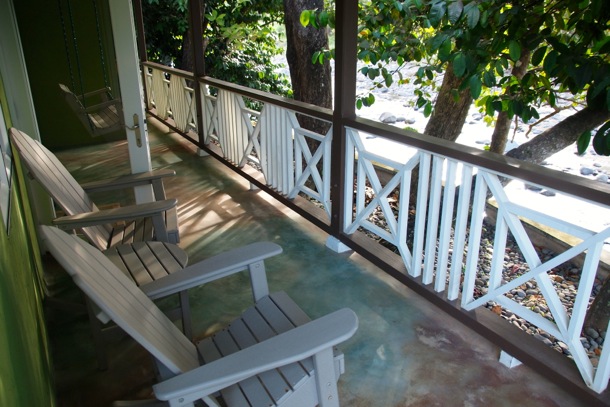 Inside the suites, it's all comfort and luxury. Handcrafted furnishings built with local woods in traditional Dominican styles are paired with modern conveniences – flat screen satellite TV, in-room telephones, iPod/iPhone dock, Wi-Fi, etc. – leaving guests at a loss for nothing. (Take a peek inside my suite here.) If you don't want to hear the river, or any other outside sounds, storm doors and windows, as well as sound-proof walls ensure total peace and quiet no matter where you stay on-property.
I'm guessing most of you will want to experience all the wonderful sounds of nature here, though. And even as nice as the rooms are, you probably won't want to spend too much time holed up inside 'em.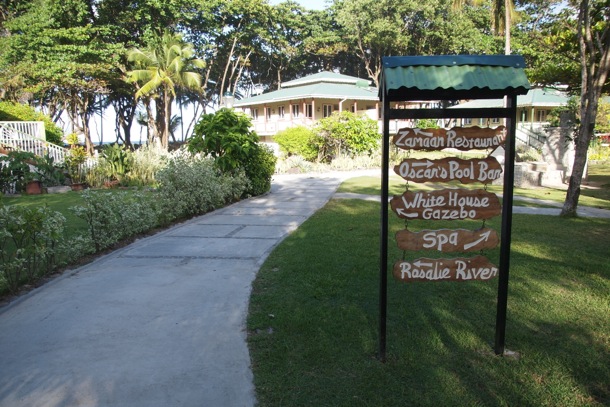 There's the fantastic Zamaan Restaurant, with its enticing combo of ultra-healthy cuisine and traditional local favorites, to tempt your stomach. Oscar's Pool Bar is the spot for a stiff drink during the afternoon hours, while the saltwater pool it sits astride is ideal for cooling off after a strenuous hike, or workout session at the on-site fitness center.
What about the beach, you ask?
Rosalie Bay Resort sits at the edge of the Atlantic, right at the spot where the Rosalie River empties into the ocean, though theirs are not the picturesque, white-sand shores you might have experienced elsewhere in the Caribbean.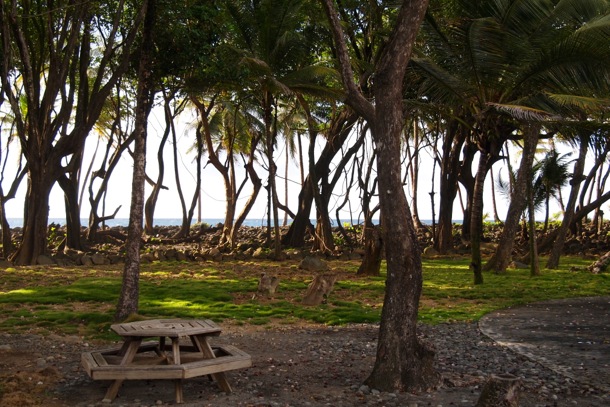 This is the bit of shoreline closest to my suite and Zamaan – a gorgeous mess of rocks, grass and twisting almond and palm trees running right up to the ocean. A few paces further south, you'll find the protected silver sands where Rosalie Bay guests can experience the miracle of sea turtle nesting in-season. It's too rough for swimming at either spot, but both give rise to curious exploration, communing with nature, meditation, fun and adventure – basically, everything the uncommon traveler could ever want in a hotel.
Related Posts