Deal of the Week: Get Back in Shape This Thanksgiving in Dominica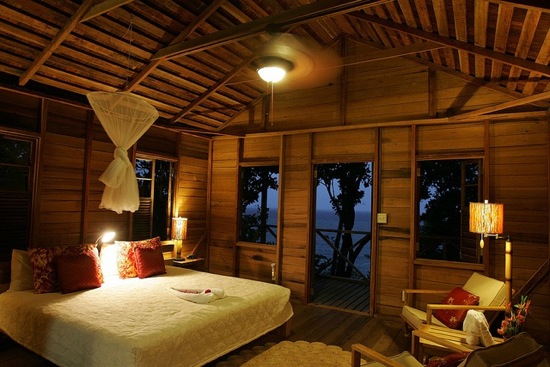 Is there any bigger enemy to staying in shape than Thanksgiving? Just typing the word right now makes me salivate for all the sweet, succulent and horribly fattening goodness that awaits in just a few short weeks! We all know that the gorging and overindulgence amounts to death by a thousand bites, yet year after year most of us do it anyway.
If you're ready to "Stop the Madness" this year, then you'll want to spend your 2010 Thanksgiving Holiday in the wilds of Dominica at a place called Jungle Bay.
Intimate, rustic and nestled in a surreal tropical setting that more than lives up to its name, Jungle Bay Resort & Spa certainly ranks among the most uncommon hotels in the Caribbean. The property's 35 wooden cottages are all elevated on wooden posts, evoking a romantic treehouse aesthetic perfectly in harmony with the lush rainforest surroundings. The cottages, as well as all the elegant wood furniture within them, were constructed on-site, giving credence to Jungle Bay's sustainable development chops.
As an added plus, Jungle Bay is located close enough to the ocean that the sounds of the surf can be heard throughout the property. Just close your eyes and imagine being nestled to sleep each night by a melodic symphony of rainforest and ocean rhythms…
For one week in November, you can enjoy all the zen-like tranquility at Jungle Bay while also getting a serious workout. The property's Island Fitness Boot Camp provides a comprehensive crash course in making the types of changes necessary to adopt a healthy lifestyle. Or, as stated on the resort's website:
Our uniquely designed fitness vacation blends functional fitness training with hiking, Yoga and spa therapies, that will purify your mind while balancing your body and inspiring your soul. Our Fitness Coach will work with you to integrate our fitness and wellness program into your lifestyle so that the results of your boot camp vacation last long beyond your time with us.
Sounds like a winning formula to me! The Jungle Bay Resort & Spa Island Fitness Boot Camp is scheduled for November 20-27. The package includes roundtrip airport transfers, accommodations in a private jungle cottage, all meals and fresh local juices, daily coaching and fitness program with personal assessment and adventure activities around the island, three pampering spa treatments, Yoga, cooking and drumming classes (how cool is that?!).
If you have a workout buddy who can share in the experience and the cottage, the cost is $1,749 per-person based on double occupancy. Going it alone will cost you $2,303. Either way, it's a small price to pay for a lasting plan to good health and an amazing jungle adventure.
For reservations and more information, click here to visit the Jungle Bay website.
* The information in this story was accurate at the time of publishing. All rates and specials are subject to change at the travel provider's discretion.
Related Posts