Deal of the Week: Save 33% (and the earth) at Rosalie Bay Resort, Dominica
Lots of properties throughout the Caribbean (and elsewhere) pay lip service to the whole eco-hotel thing, arguing in some cases that the mere presence of a recycling bin, or a conspicuous sign encouraging guests to re-use towels should qualify them as crusaders for environmental sustainability. Far be it from me to poo-poo any effort, no matter how small, to preserve the planet, but for places like Rosalie Bay Resort in Dominica, these half-measures must seem like a joke.
I mean, if you're going to be serious, really serious about saving the earth, why not install the region's largest wind turbine at your property, pair it with a bunch of solar panels and generate a good 70% of your own electricity? While you're at it, why not establish a protected sea turtle nesting ground on your beach (the first of its kind in Dominica).
The folks at Rosalie Bay did all that (and more) over the course of the nine-years it took 'em to construct their 28-room little piece of paradise. (The 1st guests were welcomed in November 2010). That the owners built the whole place by hand further illustrates the exceptional care they have for the environment. It probably also says something about how remote and pristine the location of this eco-retreat must be, but I'll reserve any definitive comments on that until I see it with my own two eyes. Until then, at least I can whet my appetite with images like this…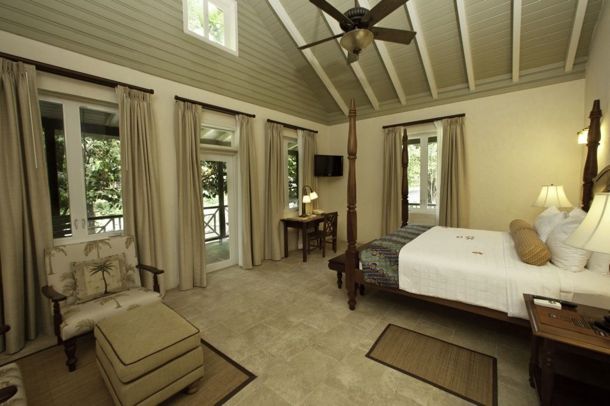 And this…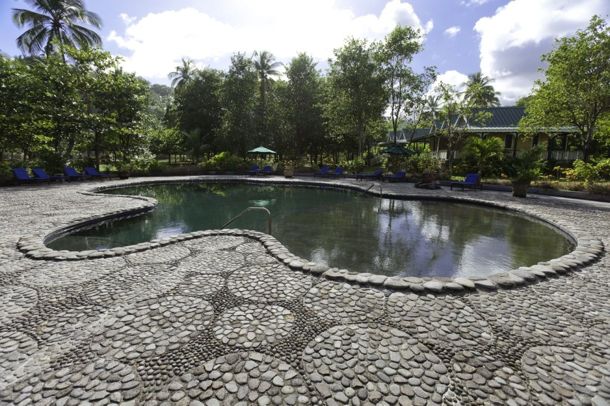 You may have gathered from these pics that Rosalie Bay is not your typically rustic eco-resort. By all accounts, one does not  rough-it here, so much as they live a dream upscale eco-friendly experience.
Along those lines, you can expect to enjoy fine organic cuisine, take part in daily yoga and Pilates, or luxuriate in the property's oceanfront spa. That pool above: it's filled with fresh saltwater, the perfect respite for aching muscles after a fun-filled hiking adventure to the Emerald Pool, or Victoria Falls, both located nearby.
Of course, you could also just trek down to the resort's volcanic black sand beach. If you're down there between March and October, you may even encounter one of the three species of endangered turtles who frequent the protected Rosalie Bay Beach to lay their eggs during that time. Guests are afforded the opportunity to participate in sea turtle eduction programs studying Leatherback, Green and Hawksbill turtles as they conduct their annual nesting ritual. If you're lucky, you may even get to capture an image like this…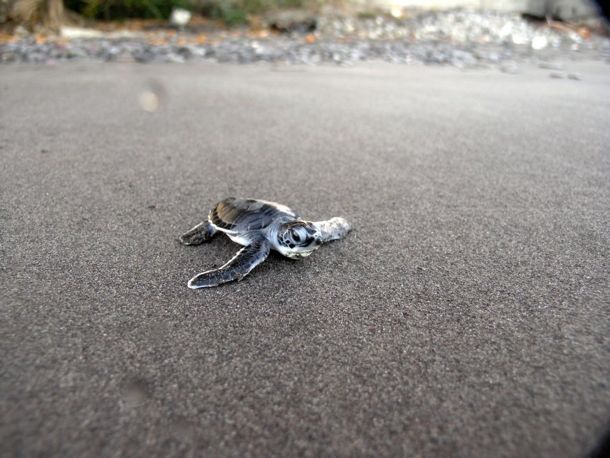 It all looks and sounds pretty cool, right? As a bonus, though, it's all very much on-sale!
Between now and October 31, 2012, you can take advantage of all that Rosalie Bay has to offer at savings of 33% off published rates. With the savings, daily rates start at just $149 for two people! That doesn't include taxes or service charges, but a base price of only $75 per-person, per-night is simply a steal for all this eco-elegance. And that includes daily breakfast, the yoga and Pilates!
For reservations and more information, call toll-free, 877-732-2864. You can also learn more about Rosalie Bay on their website. For more on the wonders of Dominica, click here.
* The information in this story was accurate at the time of publishing. All rates and specials are subject to change at the travel provider's discretion.
Related Posts