Dominica Bakery Challenge: Sukie's vs Country Style
Bread is boss in Dominica.
No matter where your wanderings might take you on the island – from the bustling streets of Roseau, to the humblest little rural village – you're bound to find a bakery, each one specializing in the scrumptious elongated loaves with the doughy soft center that most every West Indian knows and loves.
We call it titi bread in St. Croix. In St. Lucia, it's known as Creole bread.
In Dominica, the name you use largely depends on where you're from.
In Marigot up north, for instance, the bread is known simply as "dollar bread." In Roseau, it's called a "Mastiff."
No matter what you call it, this amazing bread is best enjoyed piping hot, fresh out the oven, with a nice slice of cheese stuffed in the middle. (My mouth is seriously watering as I type this!)
Let me get a dollar loaf.
My friend and island guide, Jenner Robinson (obviously a Marigot man), instructed that this was the proper way to place the most basic order in a local bakery. This was the easy part. Deciding which bakery to try, though, was a bit tougher.
Sukie's Bakery appeared to be the biggest, as their signs and billboard ads were seemingly everywhere, especially in and around Roseau. Biggest doesn't always equate to best, though. As another local I befriended at Bala's Bar inside the Fort Young Hotel told me…
You see Sukie's all over de place, but Country Style is really de most popular with de locals.
Hmmm… Apparently a taste test was in order!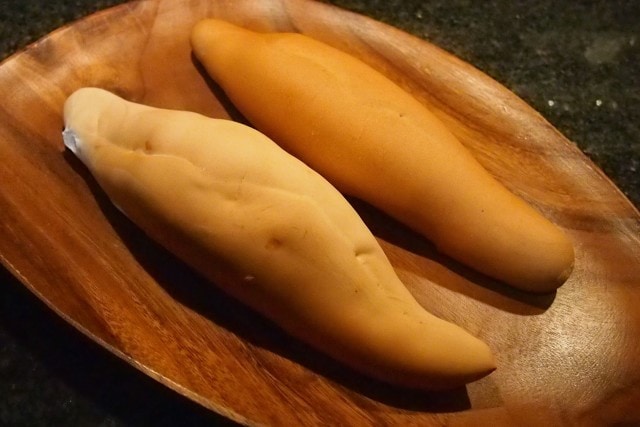 The Country Style (top) and Sukie's Mastiffs I picked up last Saturday were nearly identical in length and heft, though the similarities pretty much ended right there.
Sukie's clearly stood out as the better bread to me. Soft and fluffy inside and out, it was pure perfection!
The Country Style dollar loaf was pretty good too, though much drier and tougher throughout, with a hard outer shell.
Maybe my Country Style loaf was pulled from a bad batch. Maybe it was just baked a bit too long, or wasn't as fresh as the Sukie's.
Either way, they were both good enough to make me want to put them to the test again, and maybe even expand the field to include a few more contenders.
If you know of another great bakery in Dominica producing Mastiffs that you love, let us know in the comments section below so we can give them a try when next we're back in the Nature Island.
Related Posts