Emerald Pool – How to Get These Precious Waters All to Yourself
Emerald Pool is easily one of the most popular and well-known waterfalls on Dominica. Unfortunately, with that popularity comes people. Sometimes lots of people. So, how do uncommon travelers get the real soothing Emerald Pool experience? Well, it takes timing and maybe a rain jacket.
The Pull of Emerald Pool
Emerald Pool rests near the tippy top of the Morne Trois Pitons National Park. Nearly 17,000 acres of mostly dense rainforest, the park is a World Heritage Site (since 1997) and the first national park in Dominica (since 1975). The pool shares the park with other top Dominica attractions like Boiling Lake, the (awesomely named) Valley of Desolation, Titou Gorge, and other works of volcanic activity.
While many of the park's main draws feature searing heat and demanding hikes, Emerald Pool is decidedly more chill.
For one thing, it's a waterfall-fed pool that looks custom designed for a postcard. The cool, clear water is cupped in a grotto by dense green. It's in reflecting all these many shades of green that the pool earned its precious name.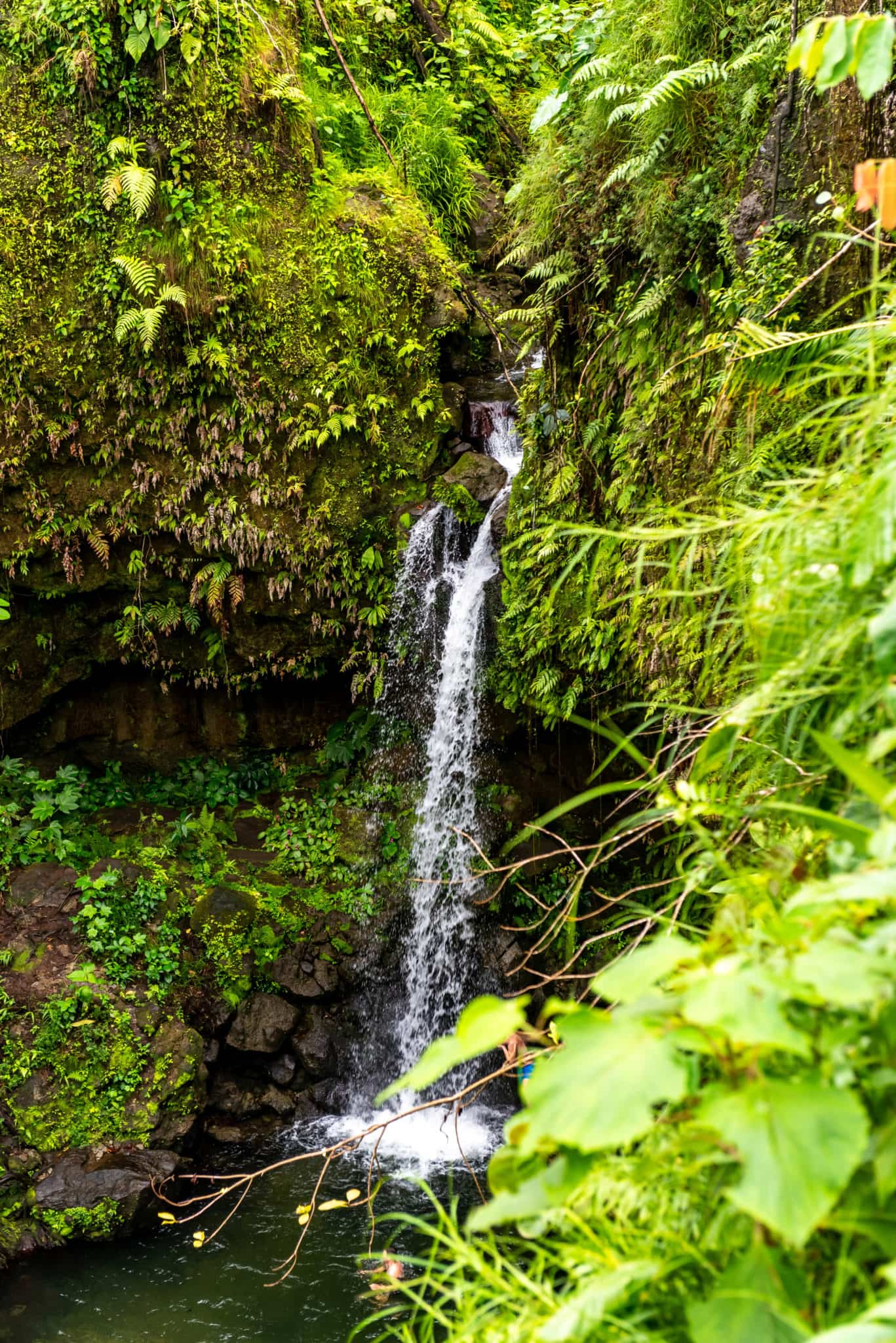 The centerpiece, of course, is the nearly 50-foot waterfall cascading like a Zen masterpiece into the pool. There are lots of other details that make Emerald Pool special, though.
Vines hang here and there. The rushing water puts your artificial white noise maker to shame. The odd crab can be glimpsed milling about.
It's a pool, so you should go swimming. (Despite it being a little chilly.) And there's an overhang under which visitors can find a perch to take it all in.
Sinking into the serene green and soothing sounds of Emerald Pool is a must on any visit to Dominica. Here's just a taste…
But the pool's emerald pull can also create some issues.
Everyone Out to The Pool
Emerald Pool is easily accessible. Coming from Portsmouth, as I was on my last visit, it was merely a matter of driving south for about 45 minutes, then cutting inland.
A windy, but well-maintained road takes you all the way up into the wilds and deposits you right into a large parking lot. From there, a less than 20-minute stroll along an easy trail puts you on the edge of the pool. Arriving from Roseau takes even less effort since it's much closer to the capital.
Proximity and the ease of the path coupled with the high payoff in beauty is a powerful draw. So it's no wonder lumbering cruise ship buses cart humans in by, well, the busload. Visitors staying in hotels from Roseau to Soufrière also make the drive. And then there are the intrepid trekkers following the Waitukubuli National Trail which also passes the pool.
It all adds up to Emerald Pool having a reputation for being maybe a little too popular. But you didn't come to the unspoiled wilds of The Nature Island, one of the most primal islands in the Caribbean, to stand in a pool overflowing with people.
So, how do you get Emerald Pool all to yourself?
Our Emerald Pool Cue
The secret is in what played a central role in naming the Emerald Pool. That being the lush embrace of an expansive rainforest.
While the south and west coasts of Dominica receive a bit more rain annually than a place like Miami, the rainforest interior can get four times that! Around 340 inches a year! I mean, you knew all that green didn't come from nothing, right?
Luckily, a lot of that precipitation happens in the morning hours and tapers off as you get further into the day. Lucky because that tapering coincides with the lightest traffic from cruise ships visitors.
(Here's a bonus tip: Before all your excursions around Dominica, check this handy cruise ship schedule to know when these behemoths are docked and when they're not!)
So, the trick to getting Emerald Pool's precious waters, picturesque waterfall, and green rainforest all to yourself is to visit early. Go as early as you can. Make it the first stop on your day's itinerary, and you should get there just as the morning's refreshing rain has softened to a drizzle.
But it's not just about being early; it's also about embracing being wet.
After all, you were planning on going for a dip and letting the waterfall massage you into mush anyway, right?
Related Posts