Indian River Dominica: Head Up River for a Taste of Dynamite
As you know, we at Uncommon Caribbean are all about the quirky "off-the-beaten-path" places that make our home region so special. It's also no secret that we have a bit of a thing for rum and creative rum cocktails. When the two come together, as they did for me yesterday in the middle of a river in Dominica… well… it just doesn't get much better for us. The location: Indian River Bush Bar.
The rum drink: Dynamite.
Dangerous? Explosive? Incendiary?
Yes, yes, yes, and then some! This is the kind of potent concoction that demands a unique setting. One that takes some doing to arrive at yet holds you so tightly in its grasp while you're there that you never want to leave.
The Indian River Bush Bar certainly qualifies, in part because this is the way you have to go to get there…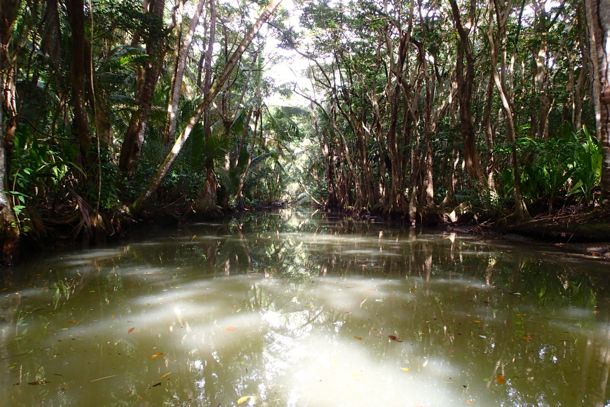 Located a lazy 30-minute boat ride up the Indian River in Portsmouth, the bar sits on a small island in the middle of the river. You get here by hiring a local tour guide at the Cobra Indian River Tours office near the mouth of the river along the waterfront in Portsmouth. Your guide will row you "up de river" in a colorful wooden rowboat, offering interesting facts about the river, the mangroves, and majestic Bwa Mang trees as you sit back and marvel at its beauty…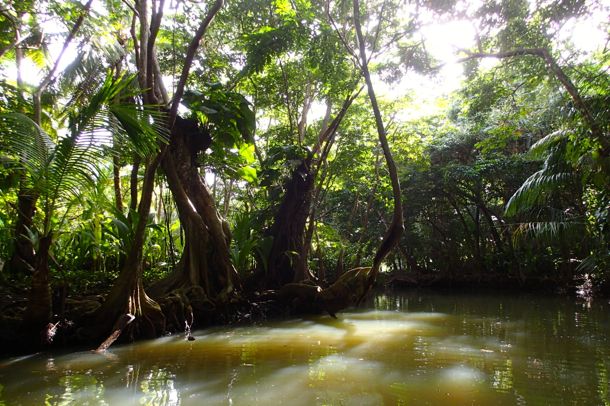 He'll also, no doubt, point out a few choice spots where Pirates Of The Caribbean scenes were filmed here. This shack, for instance, was expressly built for Pirates 2…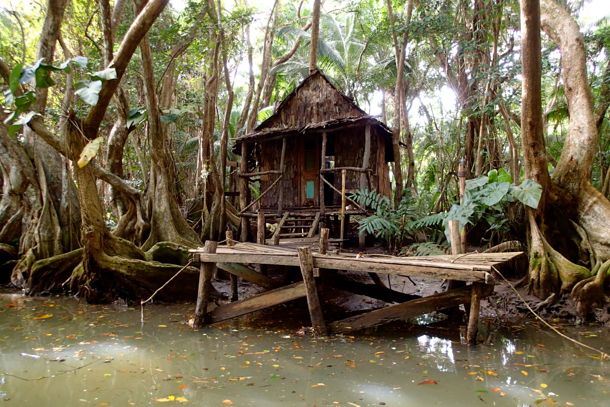 It's a tranquil and relaxing jaunt, one that for me also came with some rain. This was okay by me, though, as it only sped our progress to the Bush Bar…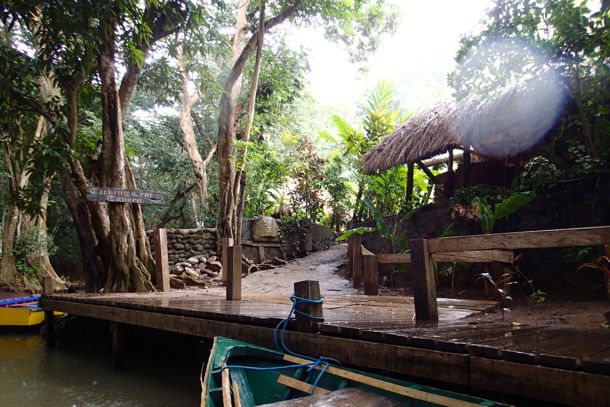 A bar has operated here for some 30 years, the original version started by a Frenchman with a strong love for Dominica and strong drinks. The Indian River Bush Bar you'll find here these days (the third incarnation) is owned by a local Dominican who was smart enough to carry on the Frenchman's wicked concoction, Dynamite.
The drink bursts with flavor primarily stemming from four tropical fruits – passion fruit, lime, guineps, and gooseberry; one of the wildest fruit combos I've ever come across. Add to that some cinnamon and the local cask rum we talked about here, and you have some potent pure wickedness!
The guys at the Bush Bar will sell you a bottle of Dynamite to take home for US$25, though I'm sure that drinking it anywhere else just won't be the same. In the jungle, up de river, sheltering the rain, the Dynamite had a wonderfully warming effect on me, and seemingly everyone else at the bar during my visit. We all made fast friends, despite a variety of languages, laughing and talking local politics as the rain came and went.
It was over all too soon, though that's probably just as well since I'm traveling without the wife. As my guide noted on our way back…
That Dynamite does make you do 'nuf damage!
The man has 11 kids, so I guess he should know…
The Indian River Bush Bar is open daily from 7 am to 7 pm. There's lots more on the menu besides the Dynamite, including a few nice rums, beers, herbal teas, a few bush rums, coffee, fruit juices, rum punches, and authentic local food. For more information on the Bush Bar and Cobra Tours, visit them online.
Cheers from Dominica!
Related Posts