On-Site Dominica: Dare to 'Wake Up Jacob' at Monty's Fish Grill and Bar
Everything in there should help you.
Hmmm… As any even semi-regular UC reader surely knows, I can always use a little help when bar-hopping in Dominica. This, after all, is the Caribbean's Mecca of bush rum, as enticing and efficacious an elixir as you'll find in the islands.
At varying spots throughout Dominica I'd enjoyed bush rums infused with all manner of herbs, spices, twigs, bugs, and even snakes over the years. The bottle before me at Monty's appeared to have all of these things and more squished inside.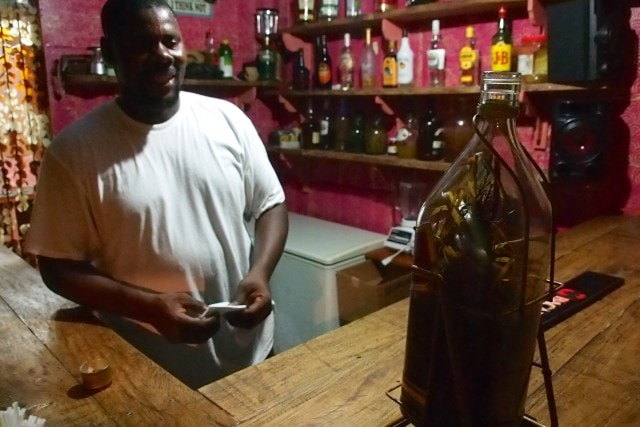 Every herb and every spice in there you can also make tea with that. That's why it's so natural and so good.
So says Elvis, the affably cool barkeep at Monty's Fish Grill and Bar.
A slightly ramshackle hovel set between the road to the Cabrits and the sea in Portsmouth, Monty's is utterly welcoming; the kind of place you'd easily expect to encounter local fisherman, politicians, and taxi drivers mixing with discerning guests of the exclusive Secret Bay hotel, just a few minutes away, and students of Ross University, which is even closer.
In the early evening hours of the October Saturday night that I popped by, though, it was just me, my friend Colin, Elvis, and Wake Up Jacob. That's the name for Monty's bombastic bush rum. In it were no fewer than 10 different herbs and spices, though no snakes or bugs…
Well, no bugs that were added to the mix intentionally, anyway. I could swear I saw some hairy-legged something floating around in there, but I had just finished sampling Dominica's most exotic bush rums at Ruins Rock Cafe, so hallucinations were entirely possible.
I add the garlic and the ginger just in case you catch a little bad tummy.
Hmmm… Elvis wasn't exactly selling me on his hootch. Visions of me ending up as Patrick did in this nefarious bush rum episode flashed before my eyes as Elvis poured one shot. (My smart friend Colin wasn't having any part of this.)
Cheers!
I closed my eyes and threw it back. Almost instantly the heat singed my tongue, warming my throat as the shot sped toward my belly. Surprisingly, though, my stomach stayed happy.
Smiling broadly, Elvis was quick to offer a cup of water to wash the demon down. A cool breeze wound through the bar as the smooth riddims of I-Octane's Pretty Little Flower sweetened the vibe.
Another shot?
Yeah, he read my mind.
Monty's Fish Grill and Bar is open Tuesday to Sunday from 6pm until. On special occasions and holidays you might find a reggae band playing well into the night. On the menu, you'll always find fish, of course. Grilled fish with garlic butter sauce, plantains, and green salad; all items sourced locally and guaranteed fresh by Elvis.
We try to keep it as natural as can be.
Monty's serves souse, the popular West Indian hangover cure, which makes a lot of sense for those who Wake Up Jacob.
Related Posts