On-Site Dominica: Great Landings End at The Islet View Bar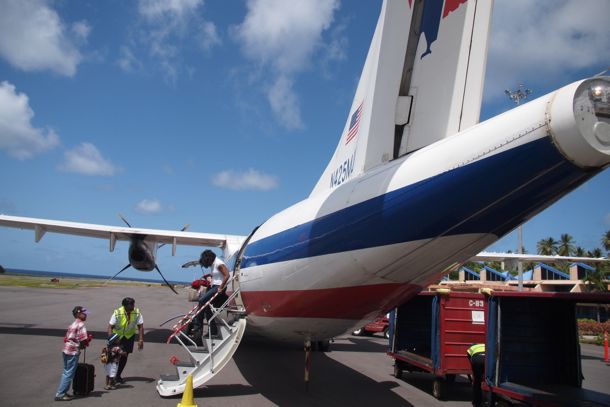 Dominica's Melville Hall Airport didn't make History Channel's list of the World's 10 Most Extreme Airports, but landing here isn't really a walk in the park either. I experienced this first hand a few years ago when I had the chance to sit in the cockpit during a charter flight from St. Thomas. The approach is not dissimilar to what you might experience in other islands, with crosswinds of varying strengths causing the aircraft to alternately pitch to and fro, then fall and recover as you descend steadily back to earth. The difference here, that you'd never know sitting in the back, is that all throughout the typically light initial turbulence you're actually heading directly toward a mountain.
Up front, however, it's plainly obvious… and to an uninitiated cockpit interloper like me, a little harrowing. My very experienced pilot knew this, of course. He re-assured me, sort of, saying…
See that cluster of palm trees? Once they get to eye-level, we'll turn.
It reminded me of the way we typically give directions in the Caribbean – "Turn left by the Tamarind tree. Walk a ways and you'll get to a big white rock." We're big on landmarks, which, you know, is fine when you're on the ground trying to direct someone to the grocery store.
This was on an airplane… coming down from 17,000 feet… straight toward a mountain.
It was a good while before there was any turning. Consequently, we got pretty close to the mountain. At one point, I wondered if we actually had to tag the palm trees in order to proceed.
Then, suddenly, we veered to the left… hard, fast and down into a valley so lush it seemed pulled directly from the Jurassic era, around the very same mountain, before landing gently at Melville Hall.
Again, it's not nearly at the level of the thrill rides showcased by History Channel, especially if you're not in the cockpit, but once you're on the ground at Melville Hall, it's likely you'll want a drink. If your intended address in Dominica takes you south of the airport, then a good place to stop for said drink is The Islet View Bar & Restaurant.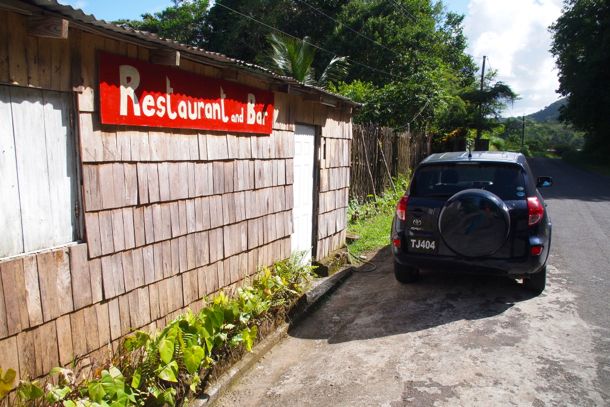 Located along the east coast road about 20 minutes from the airport and just south of The Kalinago Territory, The Islet View bears an extremely modest exterior appearance, more over-sized shack than anything else. Inside isn't much different, with a collection of rustic wood furnishings mixing with palm frond decorations. There's nothing fancy… until you step out on the verandah. That's where you'll see this: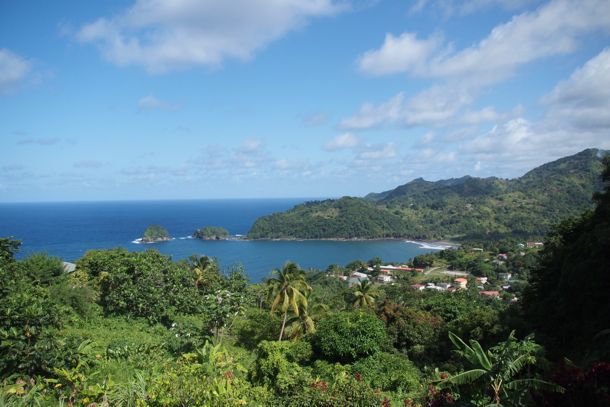 That's the village of Castle Bruce and its gorgeous bay adorned with the twin islets from which, presumably, Islet View takes its name. The stunning scene and cool breezes up here can calm any nerves frayed by air travel, or anything else. Pair them with an ice-cold Kubuli, and it gets even better.
Still, there's another even more special (and calming) aspect to this bar, which sadly, I did not get to experience on my trip.
As you can see and read here, the Islet Bar is usually stocked with an expansive collection of homemade rums infused with a wide range of local herbs, spices, etc. On my visit, however, there were none. Granted, I stopped by on a Sunday, so all things considered, I was happy just to find cold Kubuli.
A guy named Challenger, who served up the beers and led us around, explained that the owner was off-island at the time. My search for Dominica's famed homemade rums would have to wait until another day…
(Don't worry, this search has a very happy ending, which I look forward to sharing in the coming weeks…)
Related Posts