On-Site Dominica: Hiking Waitukubuli Trail Through Kalinago Territory
Dominica's Waitukubuli Trail is the Caribbean's ultimate hiking adventure.
The full run extends a good 115 miles from the island's extreme northern shores all the way to Scotts Head in the south. Anyone planning on completing it should allow for at least 10 to 14 days to finish the task, way more time than I had when last I visited Dominica in February 2014.
The genius of Waitukubuli, though, is its set up – a winding series of 14 formerly disparate old trails now connected as one. This allows short-stay adventurers like me to pick a full or partial segment and enjoy a small taste of the Waitukubuli experience.
And so it was, on a very warm and hazy Thursday morning, following an excellent and very filling local breakfast at Islet View, that I set out to explore a bit of segment six of the Waitukubuli Trail starting here…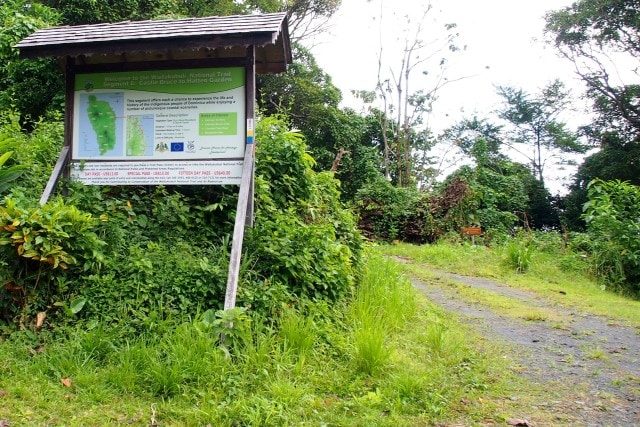 Large and informative signs like this one mark the trailhead for each segment of the Waitukubuli Trail all over Dominica, so it's pretty easy to know where you are, what you're likely to see and experience along your hike, and how long you'll be trekking.
According to the sign, segment six stretches nine miles, requiring a good seven hours to complete. I only had three hours to spare, so my local Kalinago guide suggested we limit our adventuring to just a couple of miles.
Other than the fact that we were starting a little late and it was very warm, I couldn't see why he wanted to keep the fun to a minimum. As my Dad used to say, though: "Ask no questions, and you'll be told no lies." Quietly, we started out…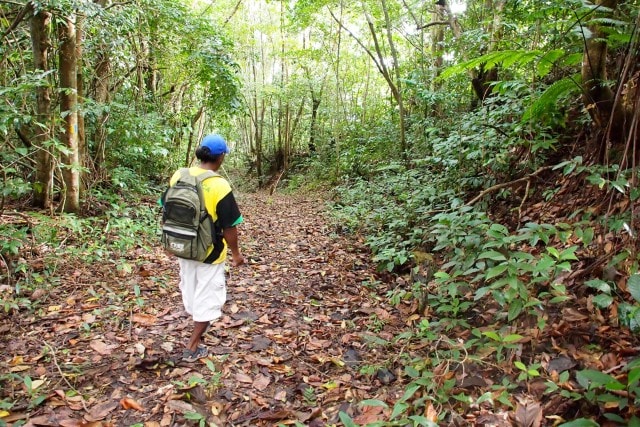 As you can see, the initial portion of segment six presents some easy, open walking conditions. The trees and underbrush creep in ever closer as you go along though, making the blue and yellow markings pictured below increasingly more important.
You'll find these markings all throughout every segment of the Waitukubuli Trail. They're meant to guide you along your way, ensuring that you stick to the actual trail instead of wandering off someplace you're not meant to be.
Hire a guide, of course, and you'll have no such worries.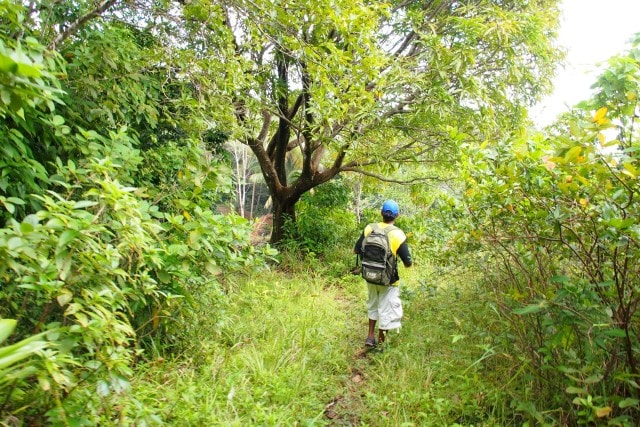 Bushier and bushier the trail became as we descended steeply into a valley, the heat intensifying as we trekked ever further. Soon, the sound of rushing water could be heard – one of Dominica's 365 rivers. Then crashing waves joined the chorus. Birds sang out as we entered an open gorge, approaching a stream and this bridge…
Stopping here for a minute, my guide told me of the old Kalinago boat-building traditions – how they used to bring finished boats down from the village along the same trail we'd just traversed to launch them where the river met the sea.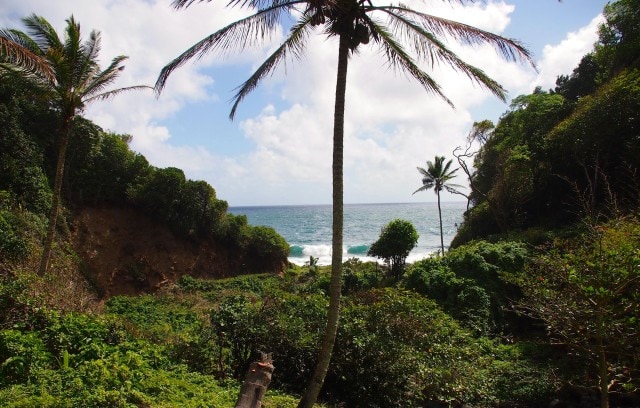 The slight bit of history was a priceless addition to our journey, which became all the more difficult on the steep climb out of the valley. It was here, struggling to catch my breath in the searing heat as we trudged up the slick red clay that I realized why our trip had to be so abbreviated.
I was absolutely gassed by the time we reached the lookout point at L'Escalier Tête Chien, where I got another great lesson in Kalinago culture.
(Read all about the L'Escalier Tête Chien legend here.)
There would be more surprises to come just down the road, as there always are in Dominica. More on that another day.
Related Posts