On-Site Dominica: Hitching a Ride in Search of Wa Bio Bush Rum, Part II
So there we were, me and Daniele, the new friend I had made just a few minutes earlier, making our way down an often narrow, sometimes steep, and mostly windy road, which to the best of our knowledge, led south to Roseau. In the heady rush of our initial meeting during breakfast at Rosalie Bay, I had given little thought to any potential drawbacks to the situation.
Could he drive? Would we get along? What if we got lost? Even if we got to town, would we be able to find our way back?
None of it mattered to me at the time. I was just happy to be on the move since my prearranged ride was running a few hours late. And as I had guessed back at the hotel, Daniele was all-too-happy to have me along.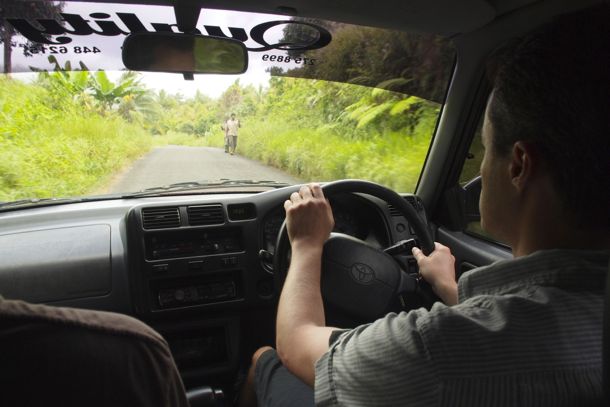 A native of Switzerland now living in New York City, Daniele turned out to be every bit the type of uncommon traveler for whom we founded this site. He'd traveled a bunch on his own before, finding it the best way to meet new people and get immersed in the local scene wherever he roamed.
He was adventurous, though not in the way that sees some of us scaling the region's tallest peaks or jumping out of airplanes. His adventures were more about discovering new people and experiencing their ways of life fully, out loud and in color. As you might imagine, we hit it off right from the start.
We talked endlessly about the Kalinago, my Trinidadian roots, life growing up in St. Croix, the Waitukubuli Trail, Champagne Reef – our conversation flowed smoothly, effortlessly. It was like catching up with an old friend.
I'm not sure how long the drive between Rosalie Bay and Roseau is supposed to take, but I bet it never felt shorter than the drive Daniele and I enjoyed.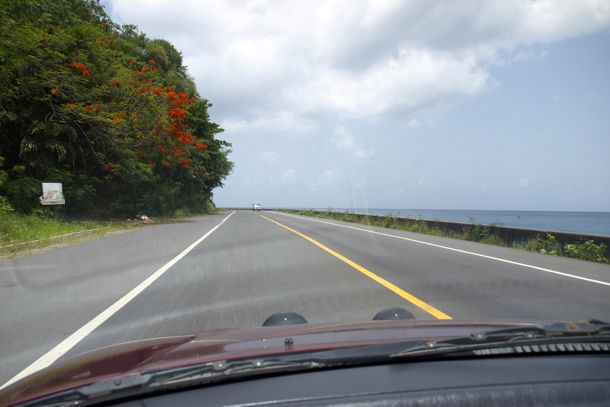 Arriving in town and parking along the waterfront, we made a quick stop at Coco Rico, then hopped over to Barb's Wholesale, the place where I'd heard we could find Wa Bio. We found rum, as I detailed here, but it wasn't Wa Bio. For that, the guys at Barb's told me, we'd have to trek into the market; all the way to the back, right up along the water. Beyond the stalls with the friendly ladies, their homemade hot sauces, voluptuous fruits and veggies. Way, way to the back. "There," they said, "you'll find Brenda."
The first thing that strikes you about Brenda is that she's short. The second: she doesn't suffer fools lightly. Believe me, this is a valuable trait for someone who makes and serves a serious collection of even more seriously strong bush rums from the small open counter pictured at the head of this post.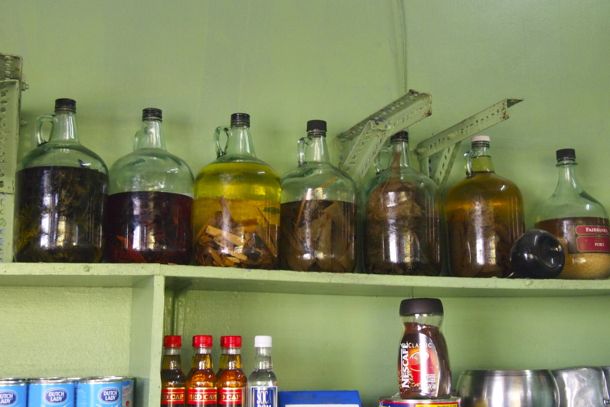 Fronting the counter are a couple of benches. On them when we arrived was a collection of locals of all walks of life. Most were drinking, all were loud and boisterous at varying intervals over just about anything. It was cramped, exceedingly hot; a tumultuous cacophony seemingly set to boil over into chaos at any moment.
Perfect, I thought, for a renegade rum like Wa Bio.
I make all these,
Brenda noted proudly above the din, waving as she spoke at a line-up of fat, re-purposed Carlo Rossi wine jugs, their murky contents representing my holy grail for the day. Each one, she told me, served a specific beneficial purpose.
This one is for cleansing. When you pee, it's white. This one is for when your stomach uncomfortable, it will be in order. And we have the early morning. You drink that one first thing in the morning.
It was lunchtime during our visit, so Brenda recommended we go with the Ginger Wa Bio.
Right now the sun is hot, so better prefer you go with the ginger rum. This is the best for now.
Brenda also said that the ginger was her biggest seller, and I had a sense she took the most pride in it, so I went with her choice.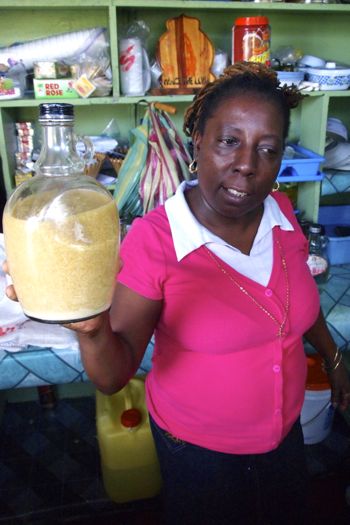 The taste? Well… it's like ginger amped up with extra ginger and seasoned with even more ginger. Hot-hot ginger. The kind that turns a warm day into a scorcher.
Yeah, I was reaching for my bottled water before the first sip cleared my lips. It was harsh, but I loved it!
Daniele and I sat there laughing, joking, and drinking with Brenda and her patrons for about an hour, the hot ginger rum making fast friends of us all.
Then, just as I was about to try one of Brenda's other creations, a familiar voice called out my name from clear across the market. He was coming right toward us shaking his head.
You wanna' know how I found you?
Check back in with us next week for Part III of my Wa Bio adventure to learn the identity of the mystery man in the market, and to see how Daniele and I somehow ended up at an illegal Wa Bio still hidden deep in the bush…
Related Posts