On-Site Dominica: Looking Caribbean, But Feeling Minnesota at Coco Rico Cafe
As we've noted previously, it is the very special people we meet along our uncommon travels that truly make our experiences traversing the Caribbean so fantastic. Usually these special people are locals; West Indians like us who share our deep-seeded pride and enthusiasm for cluing people in to what really makes our region the best place on earth.
Other times, though, as in the case of Donald Williamson, our special friends couldn't be more foreign to our warm and sunny shores…
Donald is the Managing Director of Cocorico Ltd., a multifaceted consortium that includes a fashion boutique, an arts and crafts souvenir shop and the Coco Rico Cafe, where our paths crossed last summer. It was a scorching hot morning in downtown Roseau and I was melting while exploring the waterfront area. Right there on Bayfront Street, Coco Rico stood out among the other comparatively less spiffy buildings, luring me in with its bright colors, shaded outdoor seating and the promise of Wi-Fi, always a plus when you're blogging on the go.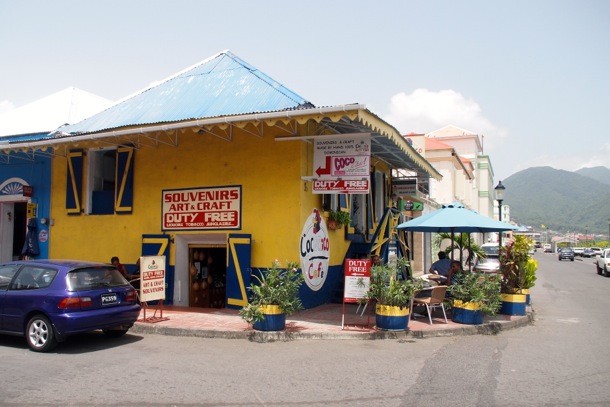 Inside, behind the bar, was Donald, overdressed to my mind, especially on such a hot day, in a crisp pin-striped oxford and slacks with a Montblanc pen peeking out from his breast pocket, his sleeves rolled up in concert with his receding hairline. I don't think I'd ever encountered anyone who appeared more out of place anywhere in the Caribbean. Surely, I thought, he must be visiting from overseas to check in on his business, right?
Wrong.
Donald is very much a resident of Dominica. He moved here after visiting the island on vacation. His original home: Minnesota.
Now, I've been to Minneapolis… I even loved it, though I was there in early-summer, and only for a few days. Locals told me it only stays warm there for a few weeks each summer. Lucky for me, I was there during one of 'em.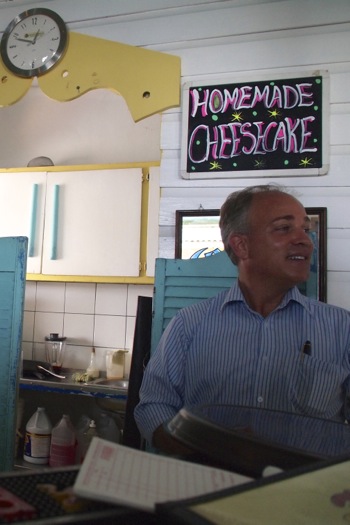 More often, of course, Minnesota is Frigid with a capital "F." I can't imagine too many other places more diametrically different than Dominica, yet here was Donald, running his cute little cafe, barely breaking a sweat while tending to his customers as though they were friends amid some serious tropical heat.
If you, like me, have made a few friends from Minnesota over the years then I'm sure you'll agree that there are hardly any nicer people anywhere on the planet. "Minnesota Nice" is more than just a stereotype in my experience. As far as I've seen, it's the truth.
Donald certainly embodies his home state roots, sharing smiles, laughs and stories with all who entered Coco Rico during my time at the bar. The Kubuli was ice-cold, the rum selection encompassed all the local brands, as well as a few favorites from Martinique and Barbados, and the cocktails menu was long and tempting – I couldn't want for more.
If I had been hungry, though, Coco Rico would've been a great choice too. The food served here is noted for offering a French touch to local Caribbean faves, an uncommon combo you know I'm anxious to return and try. Coco Rico also offers what's said to be among Dominica's largest selection of sandwiches, salads, pastas, omelettes and crèpes – basically something for everyone.
I'm definitely planning a return visit to Coco Rico next time I'm in Roseau – to try the food, more of the drinks and, most of all, to enjoy more of Donald's authentic Minnesota nice hospitality in the heart of the Caribbean.
Coco Rico Cafe is open from8:30am to 4pm Monday to Friday, and 8:30am to 2pm on Saturdays. It's impossible to miss on the waterfront in downtown Roseau. For more info, visit the Coco Rico website.
Related Posts