On-Site Dominica: Moving On From Erika in Petite Savanne
The road to Petite Savanne in southeastern Dominica still takes your breath away. Dramatic views like this compel you to stop along your way, stare a good while, and contemplate the many amazing gifts of Mother Nature.
Remote, ultra-lush, and replete with majestic mountainous terrain hiding countless rivers, waterfalls, Wa Bio bush rum stills, and other treasures, Petite Savanne captivated me completely from the moment I first laid eyes on her three years ago, the palpable sense of adventure and pure escapism here quickly making this my favorite part of Dominica.
Needless to say, I had butterflies in my stomach as we entered the Petite Savanne area just over a week ago, though my anxiousness this time was much less about the beautiful scenery than the tragic circumstances of less than two months prior.
As noted earlier, Petite Savanne bore the brunt of the damaging effects of Tropical Storm Erika in Dominica. Reports I'd read ahead of my visit suggested that the entire area had been ravaged – roads, homes, and businesses destroyed; the area rendered uninhabitable.
Very little of what I saw on the road into Petite Savanne suggested that any of those reports were exaggerated.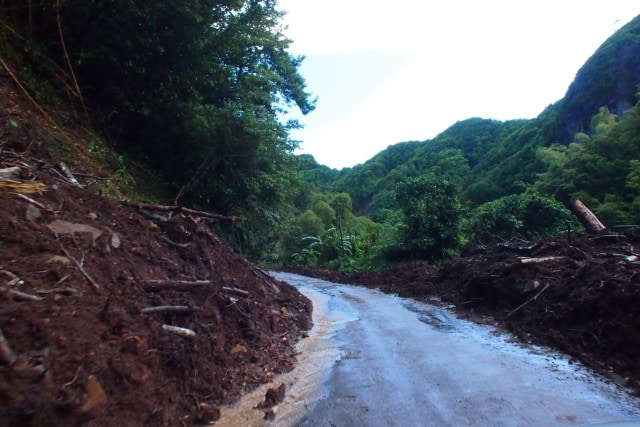 Whereas Dominica's principal cities of Roseau and Portsmouth showed zero effects from the storm, and every other part of Dominica I visited remained in good standing or had recovery efforts well underway, the isolated enclave of Petite Savanne bore the type of scars that suggested that life here would never be the same.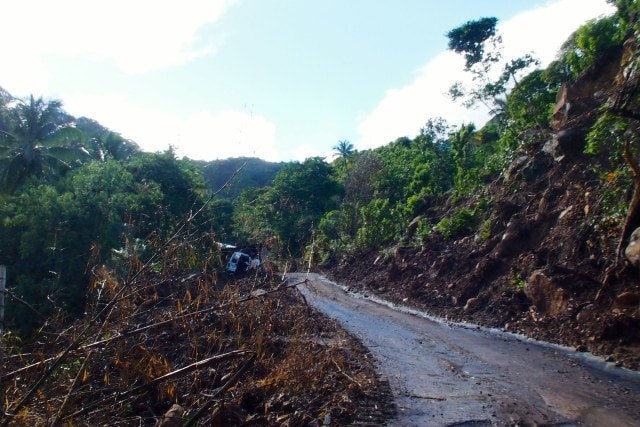 Much of the roadway was clear, though there was no way to get from the village to Délices further north, close to where the Jungle Bay Resort once stood. Stopping here at the end of the road, I began to really fear for Mr. X.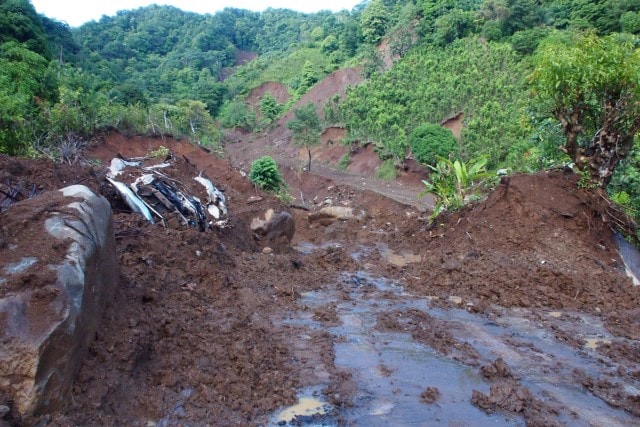 I met him at a bar on the side of this very same road during an extended and often humorous search for Wa Bio bush rum on my earlier visit to Dominica. An expert in rustic rum-production, Mr. X was kind enough to take me to his illegal rum still, showcase the nuances of his operation, and raise a toast or two with me in his house located near a stream deep in a ravine that had seen much damage due to the storm.
It was just this type of usually mild stream that Erika's rains had swollen beyond belief, washing away all that came in its path.
A light rain fell as we doubled back to the spot where I thought the bar had been.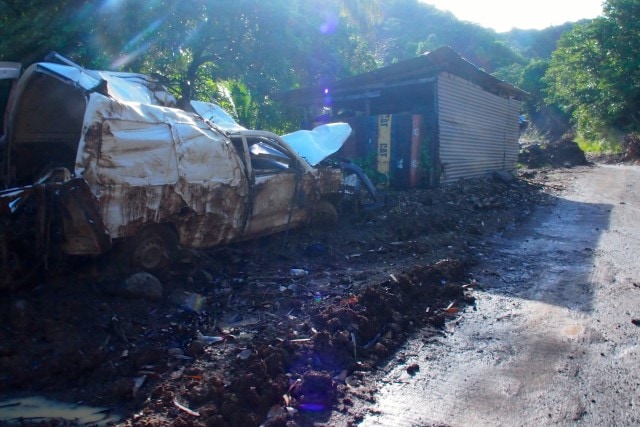 Nothing.
The bar was gone.
So too was the bay oil factory previously located just beneath the bar, which Mr. X had shown me prior to taking me to "see de rum."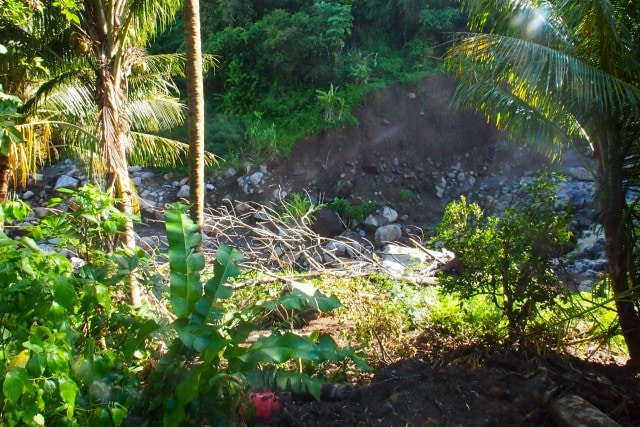 My heart sank. It was getting late, I had no answers, and it didn't seem like any were forthcoming.
Just then, a man came up the road. He had with him a shovel. Alone, out in the middle of the road, he started working, deliberately creating a wall of mud to divert running water. One small step toward recovery.
Turns out the man formerly worked at Jungle Bay. He recognized my driver/guide. I asked if he knew my Mr. X, or had any sense of whether or not Wa Bio would continue to be made in the area.
Oh yeah, he was here just this morning checking on things. He said he'll back tomorrow morning to make rum again.
The man then pointed down into the valley.
That's his house still standing right there.
You could've never seen it from the road before, of course, but I recognized the green facade instantly. Mr. X was alive, as was Petite Savanne's Wa Bio tradition. But what, I wondered, would remain of the community?
This is my home, so I'm staying.
One man in the road… determined… rebuilding…
Erika may have been strong, but here in Petite Savanne, where she did her worst, a few hearty folks are proving even stronger.
Note: the road conditions and general state of things in the Petite Savanne area are not at all typical of what you'll find in the rest of Dominica today. As noted previously, all major roads are passable and in good condition throughout the rest of the island, and you could hardly guess that there was ever even any storm at all in Roseau and Portsmouth. If you do decide to venture over to Petite Savanne, a 4×4 vehicle is a must. Generally, though, if you don't have any business over there, it's best to stay away for the time being. For ways in which you can contribute toward helping the people of Petite Savanne recover from T.S. Erika, click here.

Related Posts