Scotts Head – Another One-of-a-Kind Feature of Dominica
Scotts Head Peninsula (or Cashacrou in Kalinago), found all the way at the southern tip of Dominica, is many things. It's remote, protective, and picturesque. But, like so many features of Dominica, it's also unique in the Caribbean.
Remote
On my recent trip to Dominica, I was staying up north near Portsmouth. All the while, I knew I wanted to explore as much as I could of the Nature Island, so I prepared myself for a fair amount of driving.
Getting over to Calibishie, also in the north, was reasonably comfortable. But making sure I hit Emerald Pool and Trafalgar Falls was a bit more involved. Still, all those drives pale in comparison to reaching Scotts Head. Even from Roseau, the drive can take nearly an hour. However coming from Portsmouth as I was, the trip took more than 90 minutes!
Even with the long drive, as soon as I began to leave the winding roads south of Pointe Michel behind and eased into the quaint (but lively at night) village of Soufrière, it all felt worth it.
Protective
Scotts Head forms a protective enclosure for Soufrière Bay—home to a vast submerged volcanic crater. Further protected by the Commonwealth of Dominica back in 1987 as the Soufrière Scotts Head Marine Reserve, the bay consistently ranks as one of the top 10 diving destinations in the world.
Divers flock to Soufrière Bay thanks to world-famous dive sites such as Crater's Edge, Scott's Head Pinnacles, L'Abym, Dangleben's and Champagne. It's been said that the Soufrière Scotts Head Marine Reserve is one of the most pristine dive environments in all the islands of the Caribbean.
Unfortunately, I haven't yet had the opportunity to put it to the test, though tales of the dramatic walls, massive pinnacles, active submerged hot springs bubbling into the clear blue sea, and vibrant coral reefs have me practically reaching for my regulator!
Picturesque
On my last trip to Scotts Head, it was hard to put my camera (or drone) down. It felt like everywhere I looked, there was a stunning angle worth capturing.
From the village.
Looking back from the sea.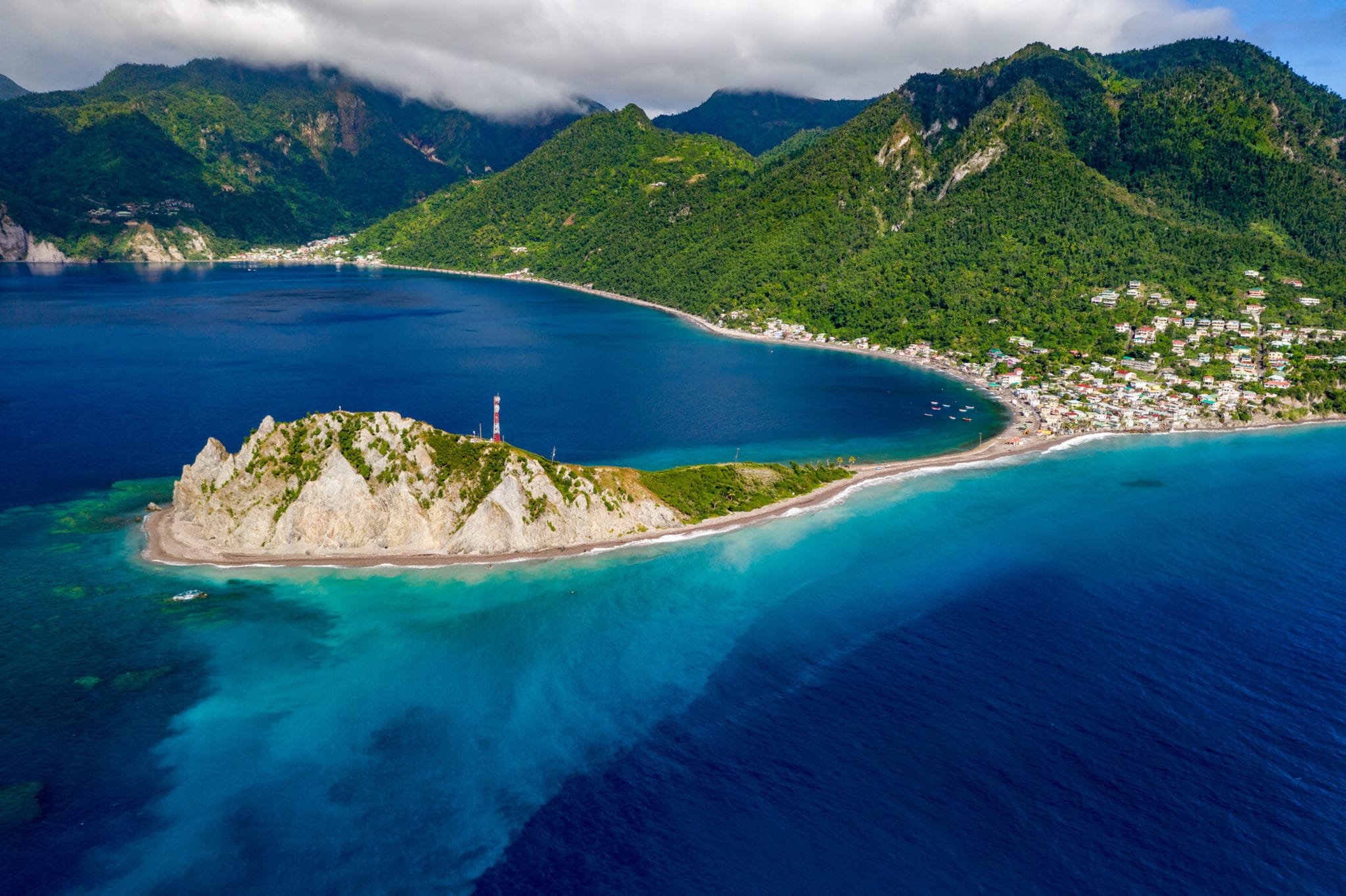 And looking straight down.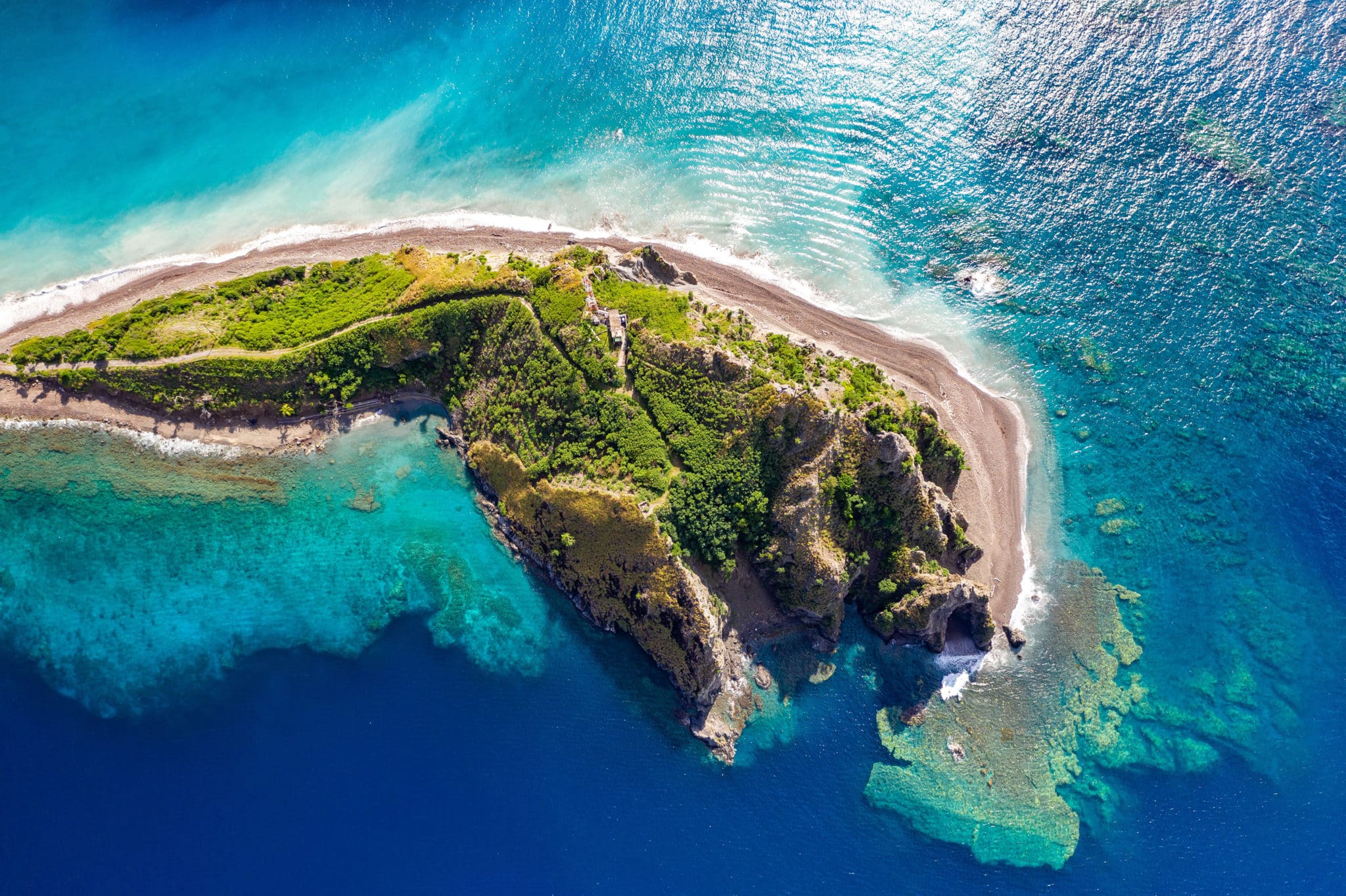 It got to the point where I had to tell myself to put all the gear away and just stand there for a moment to let the environment sink in. With the West Indian trade winds blowing and the waves rhythmically clickety-clacking the rocks of the shoreline against one another; it was more beautiful than I could possibly capture on film.
One-of-a-kind
Yes, Scotts Head is special, but did you know there's no place like it in the entire Caribbean?
Scotts Head is geologically known as a tied island. So at one time, as Steve had mentioned before, Scotts Head was its own tiny island off Dominica—the pinnacle of a submerged volcano. However, over thousands of years a tombolo, or narrow spit, grew until it connected Scotts Head to mainland Dominica.
Nowhere else in the West Indies has this happened. Scotts Head is the one and only tied island in the entire Caribbean.
Unique Scotts Head
Yes, the drive is long, but the rewards are many for those who venture down to Scotts Head. Whether it's to dive, visit the quaint villages of Soufrière and Scotts Head, or just train your camera on the beautiful surroundings; it's easy to feel in awe of this one-of-a-kind Caribbean destination.
Related Posts