Secret Bay Dominica: All New, Still Amazing
Secret Bay Dominica, the award-winning boutique resort tucked away on the unspoilt nature island of Dominica was the perfect getaway when it launched back in 2011. But then came Hurricane Maria. So, how has this holiday of a lifetime and ideal Caribbean honeymoon destination rebounded? I visited in late 2018 to see if the secret was as seductive as Steve had experienced during his pre-hurricane visit.
The first thing I noticed when I turned off the main road and drove onto the property was… Nothing. And by nothing, I mean nothing out of place.
The grounds looked immaculate and lush. Little tropical birds darted here and there. The odd lizard scampered away from my tires. And perfectly set within all that green were idyllic blue-roofed villas. Beyond, nothing but blue Caribbean sea and skies dotted with fluffy clouds.
At first blush, there was no way I could have ever known that Secret Bay had been almost totally destroyed during the storm. But slowly, a realization began to come to me.
All-new Eco-Luxury
The first person to greet me was Lanita. An archetypal member of the Secret Bay team, her easy smile, sparkling eyes, sweet Dominican lilt, and infectious laugh immediately set me at ease. Entering my villa only heightened my sense of relaxation… and surprise.
To say my villa, Zabuco III, was pristine is a bit of an understatement. But before I could enter the villa I had to pass below it. Stilts elevate the villa over a deck area. This creates a kind of funnel that condenses the cooling Caribbean trade winds to relaxing results.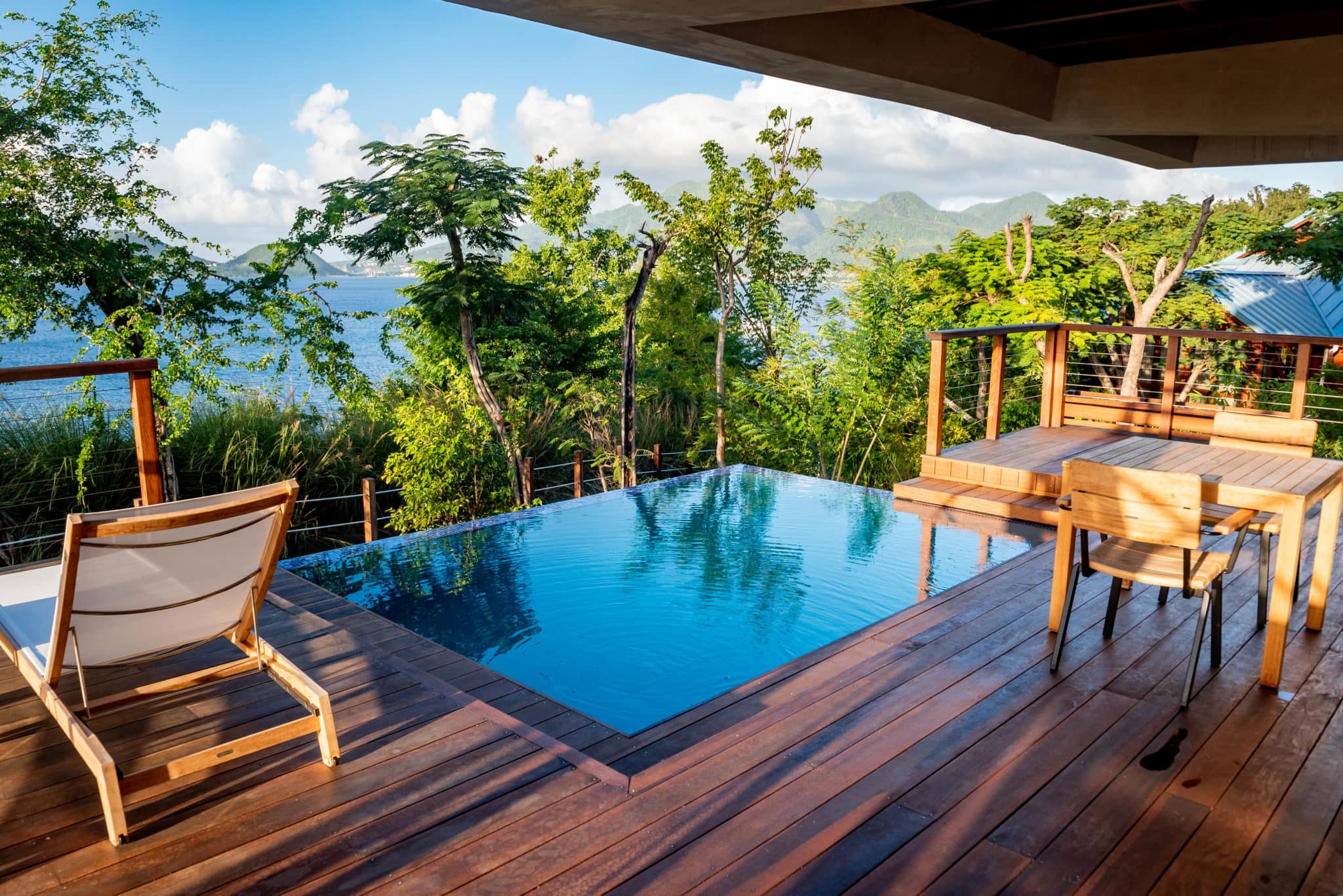 Upstairs, the deck couldn't provide a more magnificent view of the ocean, silent sailboats sliding along the horizon—and in the distance, Portsmouth and the mounds of Cabrits National Park. Finding myself up here, I couldn't imagine anywhere else on the planet I'd rather be.
Stepping through the glass doors into the interior, with its perfectly tailored air conditioning, I was surprised at how spacious it was. The kitchen area to one side is sizable by any measure, and little romantic seating areas were placed here and there. And if, for whatever reason, the view and your travel partner aren't enough for you (insanity?), there's a big flat panel TV in one of the corners plus solid free wifi.
The bedroom was calming with a large tub, hideaway closets, and a shower I imagine no couple could possibly resist experiencing together—with its delightful his and hers rain showers. The room is truly a honeymooner's paradise.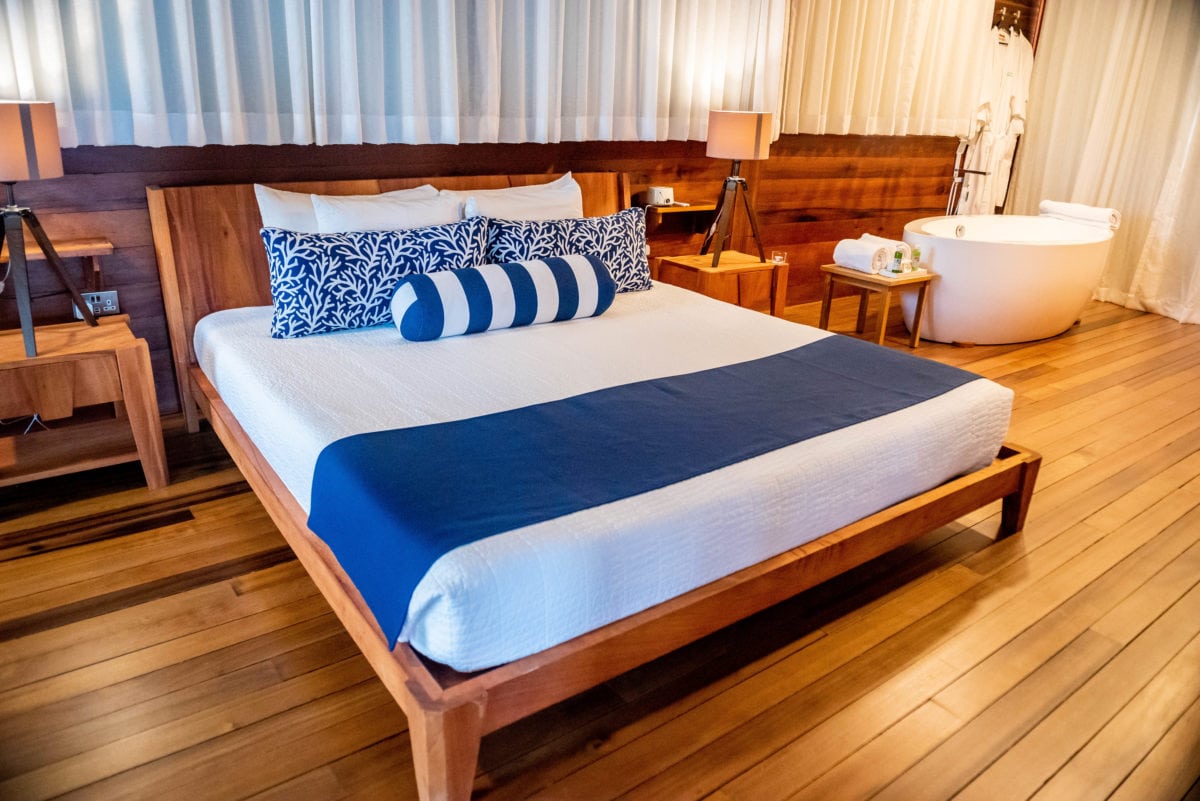 To give you a glimpse of how magical checking in with Lanita was, just take a look at this:
Secret Bay - Checking into a luxury eco-resort in Dominica
So, yeah, everything is crisp, smooth, lovely, and new. In fact, all of the villas (Zabuco I, II and III, plus Ylang Ylang I and II ) have been completely redone. And they even added an all-new, larger villa they call Ti-Fey. And all villas now come with their own private plunge pools.
But the new additions don't stop there.
As Steve had mentioned before, Secret Bay offers an experience that grants a truly secluded holiday of a lifetime. Partly with their sustainable luxury villas immersed within all the green (along with your fellow guests). But another way the property gives you that secluded feel is by having few communal spaces, instead encouraging guests to enjoy meals and other services without ever leaving their villas.
But what if you actually want to meet someone?
Secret Bay's new secrets
Well, the new Secret Bay is now home to Zing Zing Restaurant. On my first night, I pulled myself away from the view at my villa and made the short walk down to the centrally located restaurant. The smell of lemongrass and bay leaf, plus flamboyant and hibiscus blossoms wafted all around me as I walked.
The new restaurant is helmed by Executive Chef Grant Lynott. A transplant to the fertile soil of Dominica from the Winelands of South Africa, Grant comes off as energized by the local flavors of the West Indies.
We spoke at length about all the Caribbean islands' new flavors he'd been exploring and how his commitment to getting the best of Dominica's agriculture went beyond just the markets.
To produce his world-class cuisine, Grant has personally integrated himself and Secret Bay directly into the supply chain of Dominican agriculture—connecting directly with the many farmers in the northern region of the island. He not only knows where every cut of meat, blossom of sorrel, or sweet potato comes from, he actually visits each farm regularly enough to have seen these items grow week by week.
That commitment to understanding the flavors of Dominica also extends to understanding the desires of his guests. You see there's no menu at Zing Zing. Instead, you merely have a light chat with Grant. He gets to know you a little, then pairs the knowledge you impart with him about your tastes with his expertise of the freshest flavors of Dominica. What results is an intimate set of courses designed to enthrall your particular tastebuds, and your particular tastebuds alone.
While at dinner that night, I did finally meet other guests. At the table next to me were two honeymooners from North America who couldn't stop gushing about their experience on the property. And when I say "on the property," I mean it. They'd barely left the place—just two short excursions total over a nearly two week period. Normally we at Uncommon Caribbean would cringe at such a confession. However, that kind of itinerary at Secret Bay sounds just about perfect for newlyweds.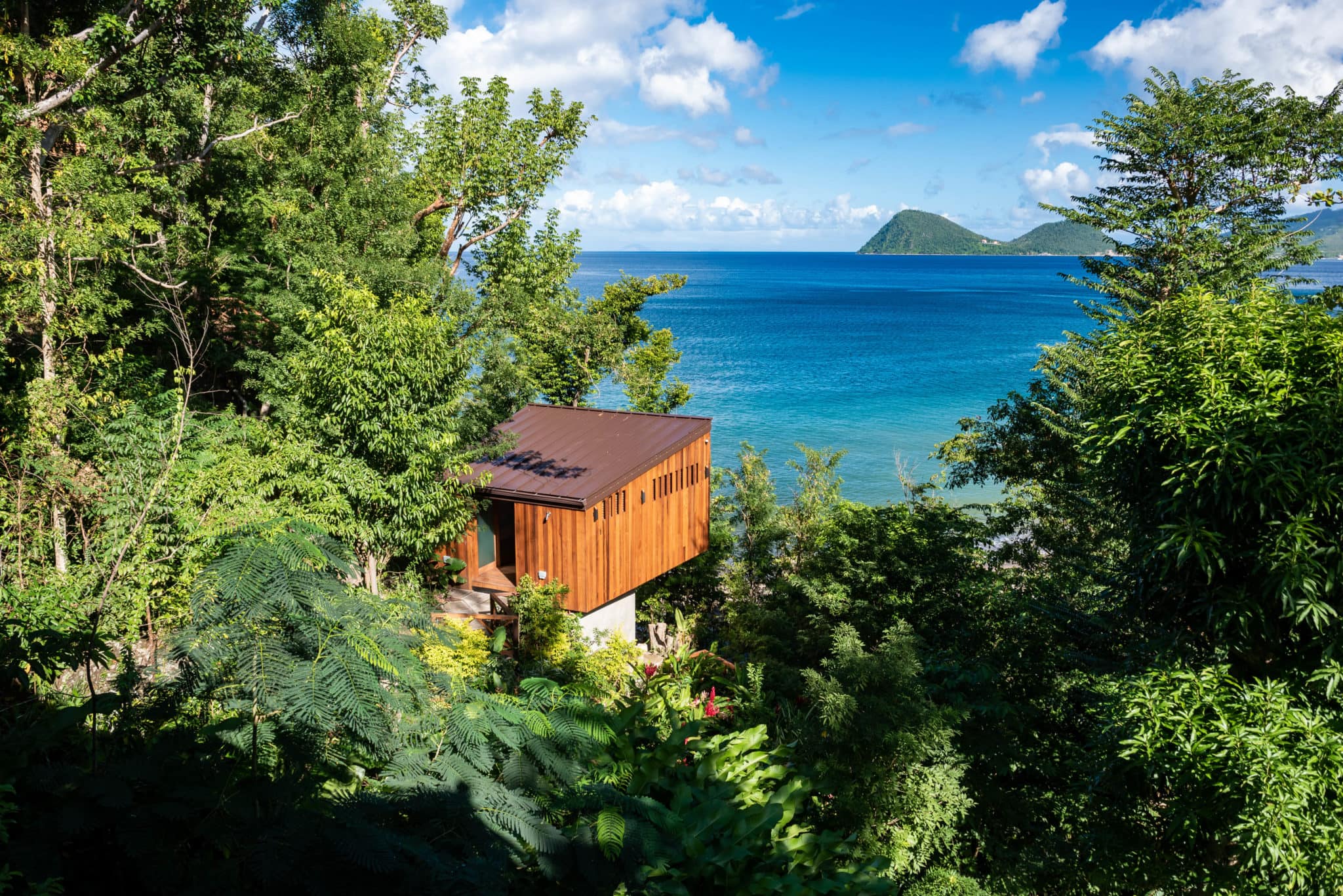 Also new is the Gommier Spa. Growing right out of the gardens above Tibay Beach, the three-walled spa is an organic extension of Secret Bay's commitment to pampering guests. Expect relaxation, deep tissue, hot stone and four-hand massages using a custom-blend of locally produced oils. Well, that and a view that could lull you into a state of zen all by itself.
Unfortunately, I didn't have time to sample any of these tantalizing treatments, so I can only dream of how my body would slide out of the spa right down onto the beach.
THE Secret Beach
And speaking of beaches, on his previous visit, Steve wasn't able to make it over to Secret Bay's namesake beach. This was not a mistake I planned to repeat.
The first morning of my stay, I loped down to the also new Zamann Watersports Hut. Whatever your watersports desire, they're likely to have the toys you seek—snorkeling equipment, paddle boards… you name it.
So, I made off with a kayak and paddle, then hit the water. The trip is actually easy and more than just a little pleasant.
The cliff face you hug as you make your way around is home to sea birds, iguanas, and other wildlife. And below, you can make out the seafloor and any creature that happens to swim between you and it.
As an extra treat, there's a rock formation arching into the water that locals call the drinking horse. I couldn't resist steering my kayak beneath it.
And the beach itself? It's a thin slice of West Indian delight backed by an epic cliff face. The feeling of utter peace and solitude permeates every nook and cranny—brought in on each easygoing wave that slides into the bay. Just take a look:
Secret Bay Beach, Dominica
I'd say no visit to Secret Bay is complete without visiting Secret Bay Beach, so Steve better start looking at flights!
Secret Memories
Remembering that check in with Lanita, I think back to something she mentioned off-hand.
"We're a small property, and we want people to remember us."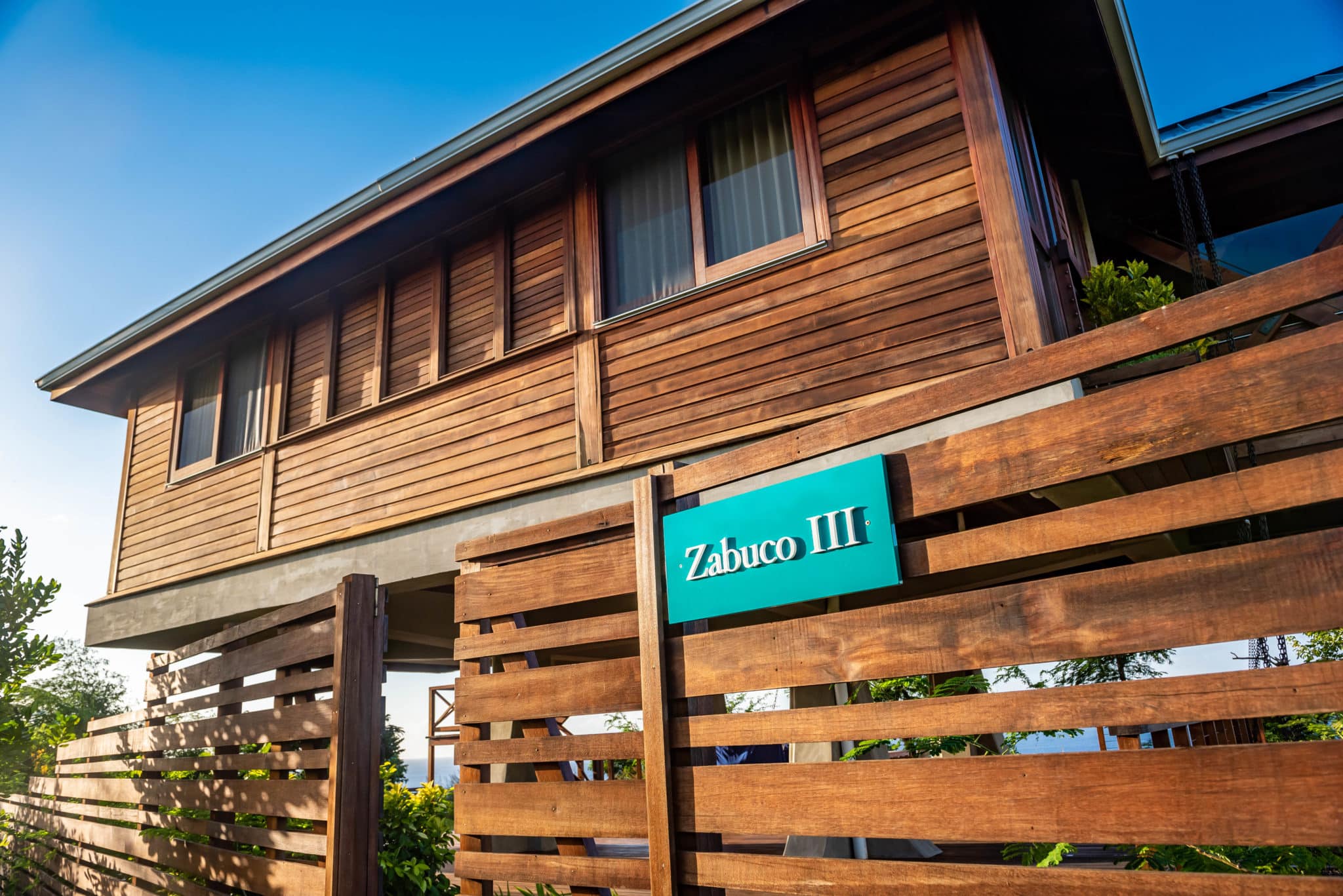 Yes, you could say Secret Bay, Dominica is a small property. But from the attentive staff, their dedication to personal experiences that create the holiday of a lifetime, an exciting new restaurant employing the finest flavors of Dominica, a secluded beach, and a level of eco-luxury hard to find anywhere else—I doubt you could ever forget a stay Secret Bay.
It's the perfect getaway.
Related Posts