Ti Kwen Glocho – Unwind Unsullied Up-River in Dominica
The cleanest water can always be found upstream, a fact that bears special consideration in Dominica. The island is, after all, the one place in the Caribbean where it's near-impossible to visit without finding yourself in some river water at some point or another. You could enjoy a different one of Dominica's 365 rivers every day of a single calendar year! Even if you find most of those cold-running streams not to your liking, you'll probably love the many hot sulfur springs that dot Dominica's landscape.
Natural Hot Springs of Dominica
One of the best and most common places to experience said hot springs is the village of Wotten Waven, located just four miles outside of the capital city of Roseau. The village itself sits atop the Wotten Waven Caldera (elevation: 700 feet), one of nine volcanoes spread across Dominica's 290 square miles. As such, this is a prime hotbed for geothermal activity on the island and the location of its most famous sulfur spa, Screw's.
Right next door to Screws, you'll find Tia's, arguably Dominica's second most popular sulfur spa.
These spas are nice, especially when there are no cruise ships in port. When the ships are around, though, you can expect crowds aplenty.
So, what's a crowd-averse uncommon traveler to do?
Well, if you don't have time for Dominica's most uncommon sulfur spa, then just head a bit further up the road (and up-river) from Tia's to Ti Kwen Glocho.
Ti Kwen Glocho Charms
Translated from Creole, the name means "little corner of hot water." When I arrived here several weeks ago, though, I found that this offbeat attraction offered well more than its name implies.
At the main reception building, you'll find a lively bar. Like all bars in Dominica, the Ti Kwen Glocho bar is stocked with a broad selection of homemade bush rums, some bearing colorfully descriptive names like "All Purpose" or "Man Better Man."
If it's rainy and damp when you arrive, as it was when I was there, you'll want to grab a cup of All Purpose (no ice) and head down to the Big Pool.
Actually, there are two Big Pools to choose from at Ti Kwen Glocho. Cruise ships clogged the port in Roseau. Still, I had the whole place almost entirely to myself. My only mineral bath companions: a couple of stray cruisers from Italy. (Their taxi driver wanted to bring them "someplace special.")
Joining us were a few locals who lived nearby. All of us wore the same sly, knowing smile, giddy at having Ti Kwen Glocho all to ourselves.
Bathtub Hopping in the Bush
From the lowest of the Big Pools, I switched over to these cool bathtubs, each of them being fed via bamboo pipes with fresh water heated a varying temperatures, no two tubs exactly alike.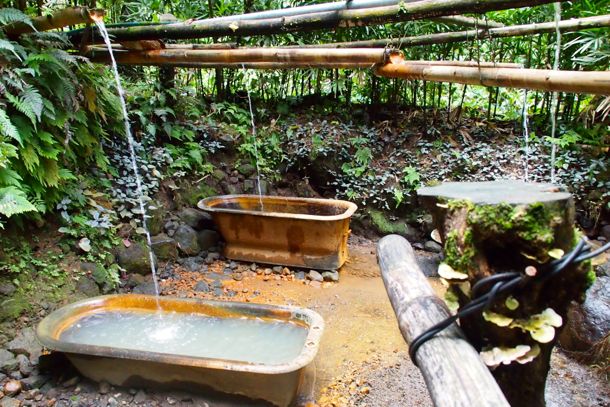 I lingered and soaked down in the tubs the longest. Hopping from one to the other in search of the optimal temperature was pure bliss.
Yeah, I was pretty happy here…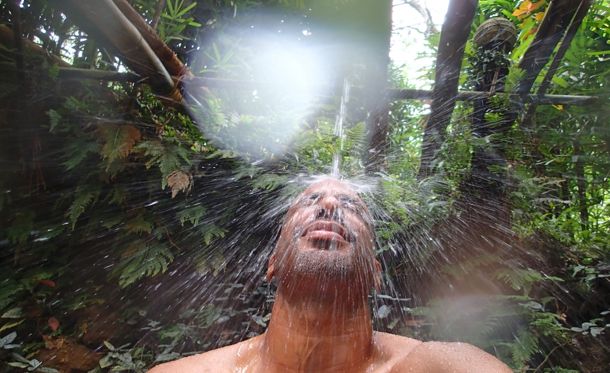 Ti Kwen Mud Bath
I also took advantage of the Ti Kwen mud bath. There are two mud pools to choose from here. A thin, cascading waterfall towers about 25 feet above them.
Slathering my body with the sulfur-infused goo proved a relaxing, if somewhat smelly bit of skin therapy. Rinsing off in the cold, crisp waterfall was exhilarating beyond any rain shower head in a five-star resort.
Almost time to head back to the bar, but not before another warming soak in the second Big Pool. All around me was nature, pure and virtually untamed. The only sounds: rushing waters, all manner of tropical birds, and a persistently light rain.
Further downstream, the cruise ship crowds at Screws and Tia's were enjoying a louder, more colorful party scene. Those of us upstream, however, weren't missing a thing…
For more on Ti Kwen Glocho, be sure to visit them on Facebook.
Related Posts