Ani Dominican Republic: Privacy is Paradise at This Luxury Resort
There may be nothing more precious than privacy—that freedom from being disturbed or even just observed. That freedom to be yourself. So it's small wonder that one of the most unique, emotionally rewarding, and mentally recharging stays I've experienced in years happened at a property with the mission to cultivate that precious privacy. I'm speaking of Ani Dominican Republic.
Àni Private Resorts
Six years ago, I was fortunate enough to sample the first Ani on Anguilla. The location at the crest of a sheer cliff dropping into Anguilla's turquoise seas was jaw-dropping.
The design was subtly clean and comfortable—wood transitioning into marble into manicured grasses surrounding cozy nooks and sunny expanses. Additionally, the service was the perfect synergy between laid-back Anguillan friendliness and world-class meticulousness. And then there were the showers…
A new organization with one new property, Ani was still finding its voice; still evolving.
Today, Ani has matured and spread its wings around the globe. Ani outposts now grace Sri Lanka, Thailand and, most recently, they've added a new, elegant clutch of villas on the north coast of the Dominican Republic.
Along the way, the team behind Ani deftly distilled what makes them so unique – their raison d'etre, their magic – into two simple words: "private resort."
Private
How private is private? Well, Àni Dominican Republic is a world away from the bustle of Punta Cana or Santo Domingo. It calls the more rural, more authentic feeling north coast near Puerto Plata home. Here, the resort was built atop its own peninsula—jutting hundreds of feet out into water marbled with bright turquoise and deep ultramarines.
This slice of privacy, surrounded as it is on three sides by sea, grants guests a 270-degree ocean view. Guest can soak up views of distant mountains, alluring sandy beaches, mysterious coves, otherworldly sunsets, and the occasional whale sighting.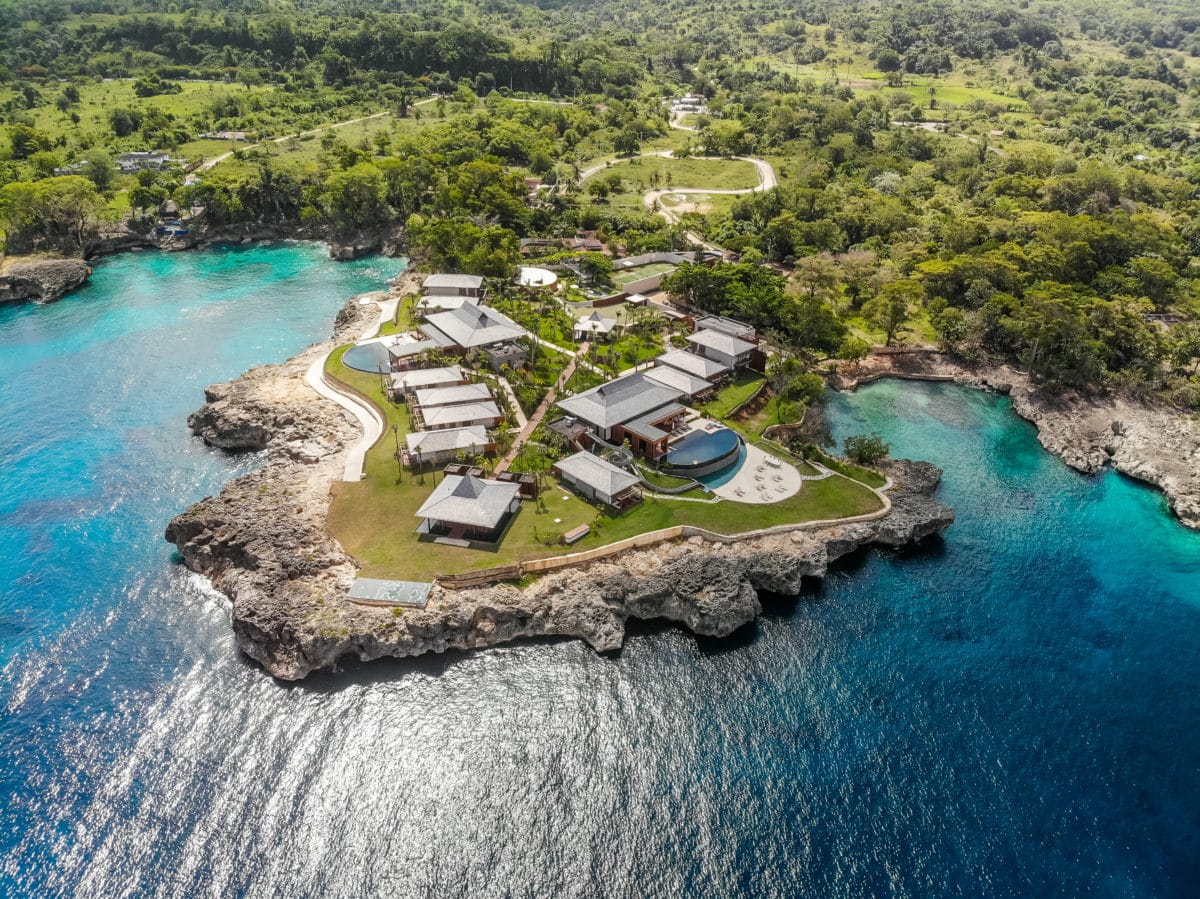 And to take that privacy to the next level: it's all yours.
You don't merely reserve a room at Ani; you book the entire place. In the case of Ani, Dominican Republic, that means the full 14-bedroom estate.
Perfect for a milestone celebration or just plain extra-special time for multi-generational families. The ultimate friends' trip. Families traveling together.
That dream destination wedding. Wellness conference with 28 adults. Or even a company retreat.
Whoever are lucky enough to join you, they'll be the only other guests you see.
Every menu, activity, facility, drink, excursion, everything—it's all exclusively for you and your party.
What time would you like the executive chef to have your breakfast, lunch, or dinner begin? What time should we hit the nearby golf course? Whenever you choose.
What music is played through the many hidden speakers? What temperature is the pool? What spirits are behind the bars? Whatever you please.
When is your spa treatment? How many would you like? Up to you! (Seriously, there are more than a dozen massage slots every day for you to choose from again and again. The massage therapists are only there for you.)
Resort
The 14 suites (10 master suites and four family suites) come impeccably appointed. Think open plans with luscious dark wood accenting cool marbles. There are king-size beds so welcoming they threaten to transport you to another dimension set in front of floor-to-ceiling windows to soak in the panoramic views. You'll also love the large double vanities, sultry soaking tubs, roomy glass-enclosed indoor showers, and the all-important (to me, at least) incredibly refreshing outdoor showers.
(For those insane enough to desire distraction from their private paradise, hideaway flatscreen TVs and wifi reconnect you to the less splendid world beyond.)
Ani, Dominican Republic splits what remains of its 21,000 square feet of living space into five expansive pavilions that act as common areas.
The Arrival Pavilion welcomes you to and from the Ani experience. Expect fresh cocktails.
There's a fully equipped Event Pavilion large enough to host any wedding/conference/get-together you may desire. And the Gym/Spa Pavilion leaves your body wanting for little. (Especially with those expertly delivered unlimited massages)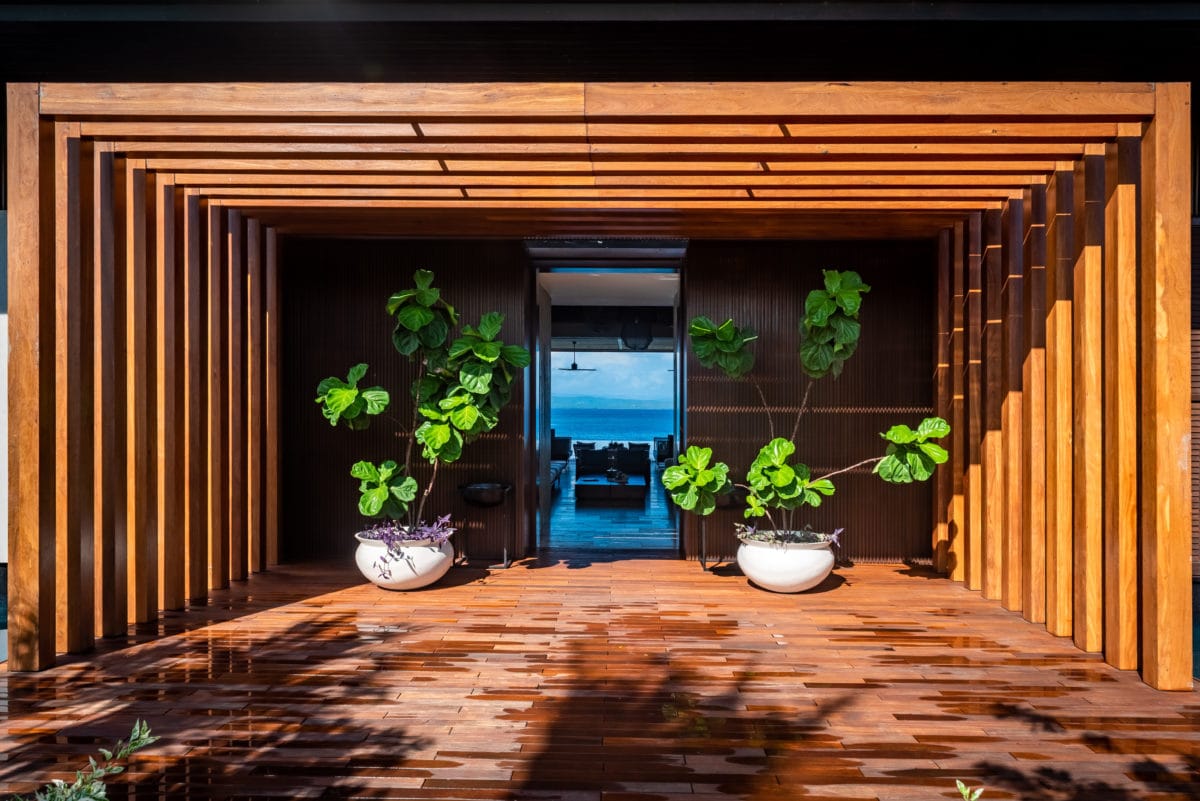 The majority of your time, however, will likely be spent at one of the two main Living and Dining Pavilions. In each, soaring ceilings shelter multiple plush seating areas, hanging beds, full bars, show kitchens for cooking lessons (if you're interested), two breezy dining areas, pool tables, ping pong, and air-conditioned media rooms. Basically, anything and everything you could ever want.
The best part? The fourth wall of these main pavilions is missing. In their place are dark-tiled, multi-level infinity pools that meet the horizon more seamlessly than perhaps any I've ever seen.
I can honestly say, I probably spent 80% of my stay right here. Any wonder why, when there's this considered confluence of exquisite Dominican Republic rums, music, pools, lounging, dining, and friends all wrapped in luxurious Caribbean splendor?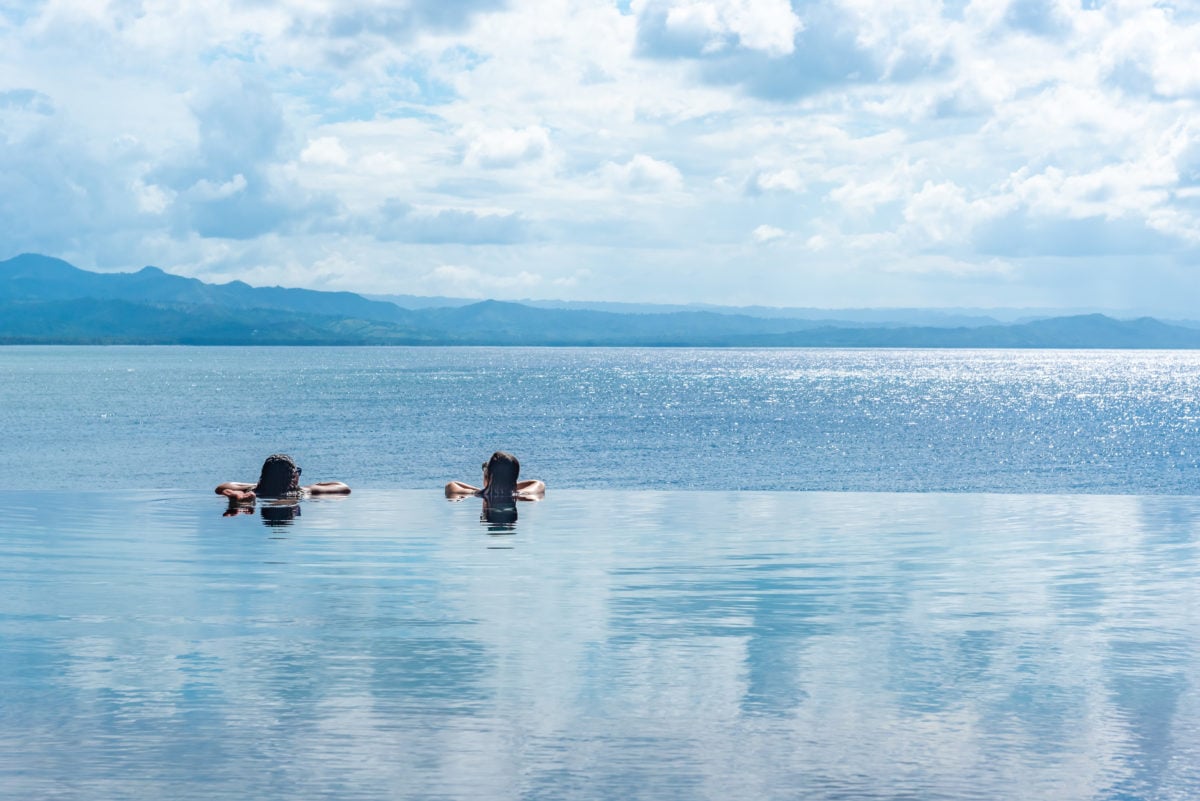 Clarification: I spent all my time there… when I wasn't making runs on the two water slides!
Yes, I got this far without mentioning there are two insanely fun water slides at Ani, Dominican Republic!
One is neatly tucked to the side of the west main pavilion for easy access. (Those lounging in the pavilion will only know it's in use by the peals of laughter echoing from the splashdown pool below.) The other, taller slide is a bit more secluded, tucked between the Gym Pavillion and the Arrival Pavillion.
Both are tremendous fun for all ages by day, but then miraculously transform into even more exhilarating towers of thrills by night… Especially after a few of those exquisite Dominican rums!
Together alone
And speaking of friends, as I mentioned, because the people you interact with every day are limited, every interaction becomes deeper—and that depth extends beyond your party.
I first met Felix six years ago. At the time, he was the property manager at the Ani in Anguilla.
A Dominican by birth, he was raised in Anguilla. (Remember the time I wrote about the deep ties between these two destinations?) Now, he's the Ani, Dominican Republic General Manager overseeing the launch of this all-new property back on his native soil.
He's whip-smart, genuine, and thoughtful, so it should be no surprise that the entire staff is cut from the same cloth. The massage therapists (I did mention there are unlimited massages, right?), head Chef Juan, the activities director and the whole team—their clairvoyance is only matched by their genuine DR demeanor. It's what allowed the whole team to pull off the incredible trick of making the property feel even more private, more personal, through their presence.
Privacy is paradise
"Seclusion. Solitude. The state or condition of being free from being observed or disturbed by other people."
Faced with the Ani luxury resort experience, these dictionary definitions of privacy feel so academic. So hollow.
One day here and you realize that privacy means so much more. That every experience, every breathtaking sunset, every meticulously tailored dinner, every shared conversation, every impromptu 1 AM rum-soaked waterslide run, every memory—they're just between you and yours.
They're special. Incalculably valuable. They create new lasting bonds impossible to cultivate out in the regular world. And these experiences being in such easy abundance at Ani, Dominican Republic are what truly make this private resort such a paradise.
Ani Dominican Republic
Visit Ani Dominican Republic online for rates and brochures, or follow @AniPrivateResorts on Instagram for a daily peek into their private resorts.
Related Posts