Brugal Siglo de Oro: Rum Masterpiece 100 Years in the Making
Brugal Siglo de Oro is the rum brand's most prized rum. The kind of rum that doesn't just sit on the top shelf, but rather resides in a closed cabinet. Off to the side. With a lock on it.
My brush with this exquisite expression of Dominican Republic rum (or ron Dominicano) was, while undeniably sweet, tragically fleeting.
Meeting Brugal Siglo De Oro
I met Brugral Siglo do Oro at an elegant bar steps from the sandy shores that mark the edge of the modern luxury masterpiece that is the Sublime Hotel in Samana. It was the golden hour. The sun was setting into the bay, coconut trees were casting long shadows, and I was alone when something unique behind the bar caught my eye.
The first thing you notice about Siglo de Oro is the bottle. It's beautiful, bold, and accented in gold. As it should be.
Siglo de Oro, which literally translates to "The Golden Century," commemorates more than a 100 years of rum production excellence since the founding of the Brugal distillery in 1888.
Packaged in an enlarged perfume bottle style, it's also quite heavy. One heft and you'll get the idea that whatever's contained within must be special.
And you'd be right.
Siglo de Oro is double distilled from molasses rendered from sugarcane grown exclusively in the Dominican Republic. It's then aged around eight years in medium-toasted, new white American oak, ex-bourbon barrels, then placed into new barrels for roughly another eight years.
The final product is a blend of 16- to 21-year-old rums that's deceptively light in color for its age — a positively noble copper or amber hue.
Nothing could have matched the golden rays of sunlight reflecting off the sea and streaming through the coconut trees better than my single, neat pour of Siglo de Oro.
The tryst
A few days later, I found myself at the four-star Hostal Nicolás De Ovando in the heart of historic Santo Domingo Colonial — the fabled first European city in the New World. After a long day of exploring, I'd just gotten showered and cleaned up ahead of meeting my fellow travelers for a night on the town.
But I was early, so…
I took my place at the small, but well stocked, lobby bar and what should I find: another radiant bottle of Siglo de Oro.
Following on the surprisingly light color that so perfectly matched our time together watching the sun set on the sands in the north of the island, Siglo de Oro is also possessed of an equally light nose. Sure there's some caramel in there, but it's light, clean, and quickly followed by a bit of oaky, dried tobacco.
As for the taste? Extremely smooth with a bit of barrel mingling with the sweetness of caramel, but not without the Dominican Republic's definitive dry finish. For a rum this old, Siglo de Oro still provides a lovely bit of burn tempered by a lingering wisp of vanilla.
They say:
A Century of time and careful persistence are concentrated in this bottle
And I could have spent almost as long at that bar sipping on Siglo de Oro's strong, yet refined contents.
The missed connection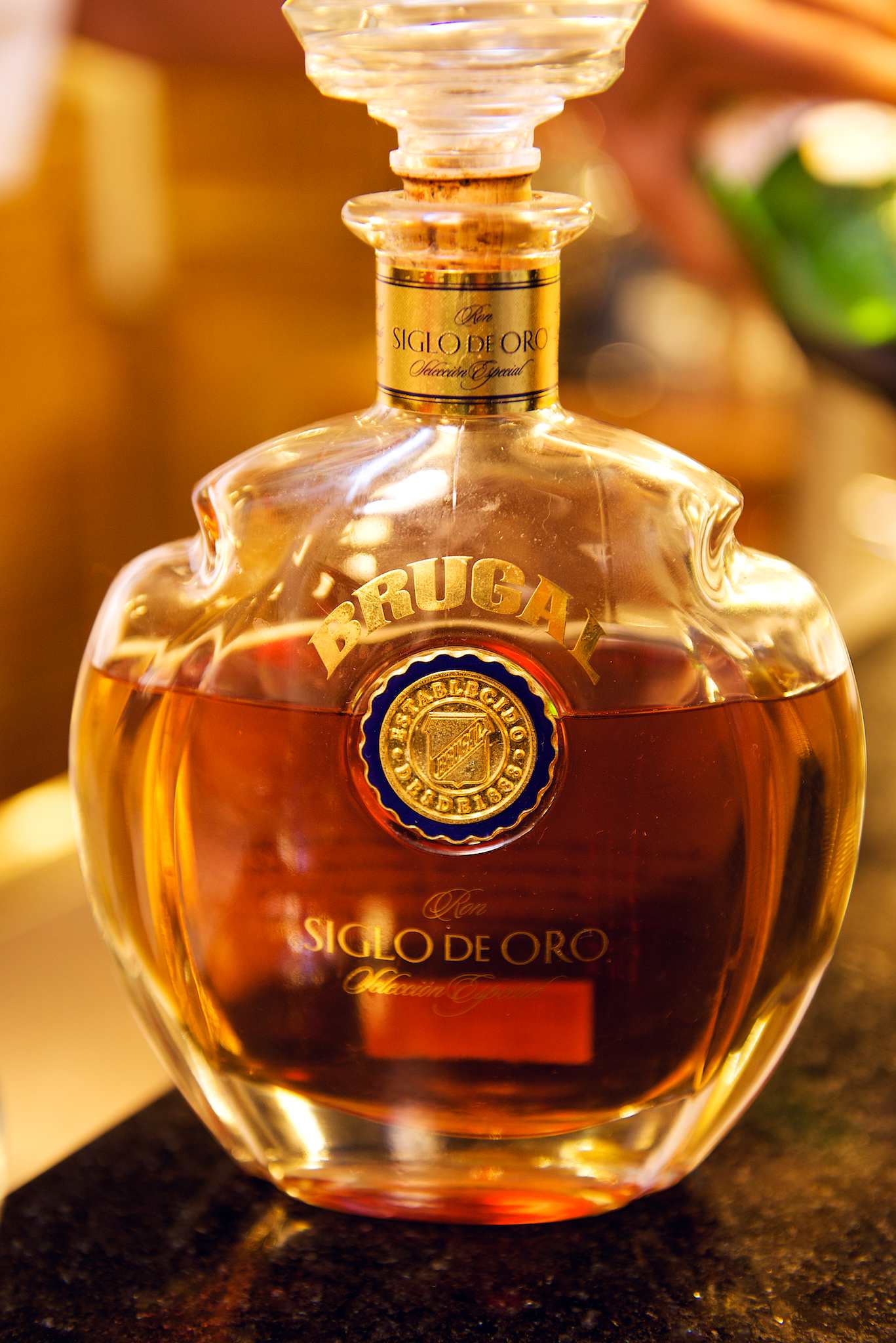 No matter how hard you try, no matter how open you are to seizing the moment, life in general, and travel in particular, can sometimes seem like a long string of missed opportunities.
Such was the case on this most recent trip. The whole thing had been such a whirlwind, I didn't have any time to pick up any unique Dominican Republic items (read: rum) to take back with me!
The first liquor shop I entered once I passed security had a number of different rums, but no Siglo de Oro… In fact no Brugal, Barcelo, Bermudez or any other distinctly DR names.
I approached the first person I noticed who seemed to work there:
"Excuse me, do you have any Siglo de Oro?"
"On no. No ron Dominicano."
I must had stood there for a while just staring blankly at the guy before walking out.
At the next shop, I was lucky. There it was, way up on a shelf in the corner protected by a classy blue box: Brugal Siglo de Oro. I pulled the box down and turned it over to look at the price: $200.
Two-hundred United States dollars.
Having spoken to a few folks about my love of this bottle already, I knew it should only cost around $100.
I went to a different shop. Then another. And another. All had the same price.
It's like they were daring me to leave the DR without my beloved bottle…
So I did.
I have to admit, it wasn't easy, but with another visit to the Dominican Republic already scheduled, I wasn't going to give in to their exorbitant ransom.
My advice:
1. Do drink Siglo de Oro — it's one of the top bottles I've ever, ever sampled. (And that's saying an awful lot.)
2. Buy it long before you reach an airport on your way back from the Dominican Republic.
¡Salud!
Related Posts