Caribbean Wallpaper Wednesday: Take a Break From Spring Break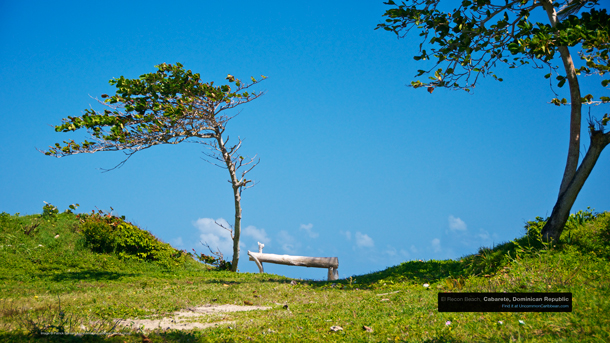 Boobs, boys, and cheap booze—it must be that time of year again: Spring Break! Whooooo!! Still, while partying, snapping questionable photos of debauchery and hooking up amidst sweaty throngs may be the season's de rigueur activities for most, this year my ideal Spring Break would be spent at El Recon Beach near Cabarete, Dominican Republic.
As you can probably figure out just by looking at this week's wallpaper above: El Recon Beach really is a break.
And that suits me fine.
From that makeshift bench sheltered under those two wind-blown sea grape trees, a serene landscape opens up in every direction.
To the left, the wide beach stretches away towards Kiosco Beach Bar & Restaurant — a picture perfect beach bar where the Presidentes are ice cold, the rice and beans are served up with an authentic simplicity that's sure to please, and the bar is well stocked with Barcelo, Brugal and Bermúdez.
To the right, the wide beach stretches towards the peninsula of Kite Beach and what seem like a hundred brightly colored kites silently drifting on the horizon.
Behind, the grass is broken by a dirt road, but the main thoroughfare beyond is thankfully sheltered from view by more overgrown sea grape bushes.
And if you look straight ahead?
Well, that's just the clear, blue sea stretching as far as the eye can see beneath an azure sky.
It's hard to imagine a better break from it all than letting a sunny day slip away while alternating between sitting on that bench and taking dips in the ocean. Go ahead. Give it a try. Just download the wallpaper, imagine yourself there with the warm sun on your face and take a mini Spring Break — no puking required.
Related Posts