Christopher Columbus' Tomb: The Postmortem Voyages Mystery
Few men of his generation traveled as extensively in life as Christopher Columbus, but did you know fewer still traveled as extensively after death? This is the story of Columbus' tomb, his postmortem voyages, and the enduring mystery regarding his final resting place.
(Editor's Note: Let's put aside our feelings about this polarizing figure for a moment. After all, we've been very clear about where we stand in regards to Columbus' role in instigating horror, misery, and genocide across the Americas in previous Columbus Day posts. Now back to the story…)
It begins at death
It all started in 1506. Not long after "sailing the ocean blue" in 1492 (then sailing it again and again), the infamous explorer Christopher Columbus (AKA "Cristoforo Colombo" as he was known in his country of birth: Italy, AKA "Cristóbal Colón" as he was known in his adopted country of Spain, AKA "Don Colón, Admiral of the Ocean Sea" as he also came to be known in Spain) died in Valladolid, Spain.
Almost immediately, he was buried right there in Valladolid where he'd spent his last days.
For ordinary people, death and burial mark the end of their story, but Christopher Columbus was many things — none of them ordinary.
The first postmortem excursion
His first post-death excursion was a trip 400 miles south to Seville at the behest of his son Diego. Why? Well, it's pretty complicated. But all you really need to know is that around the year 1500, Christopher Columbus ran afoul of the Spanish crown.
He, and all his heirs, basically lost all the titles and privileges he'd acquired through spearheading the creation of lucrative permanent settlements throughout the "New World." Long story short, his son Diego wanted it all back at any cost. A cynic might even suggest he was using the memory of his father as a powerful reminder of what he deserved.
Anyway, with his father's remains safely stashed in Seville, Diego sailed back to the Dominican Republic. There, he planned to regain his family's stature and build the Basilica Cathedral of Santa María la Menor.
He imagined it as massive and splendid enough to befit the final resting place of his famous father. And the first of its kind in the Americas. You may know this Cathedral by another name: Catedral Primada de America. We've featured it in the past as a photo of the day.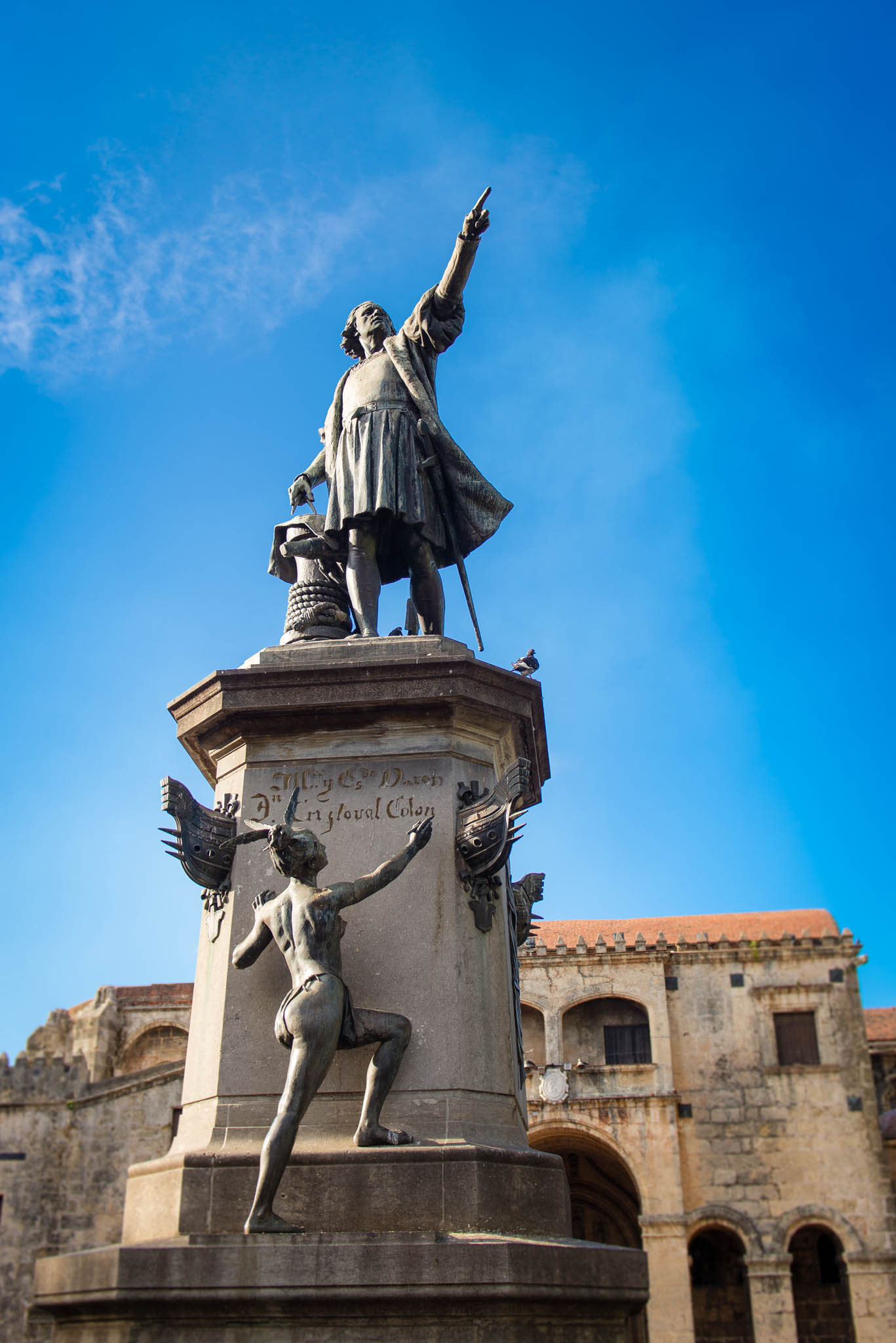 From Seville to Columbus' Tomb in the Dominican Republic
About now you might be thinking, "what a great plan for a son to come up with." Well, it wasn't his idea. It was actually his father's. (Surprise, surprise: Christopher Columbus was harassing people even from the grave!)
After regaining his family's status, achieving the titles of Admiral of the Ocean Sea, Admiral of the Indies, Viceroy of the Indies, and even Governor of the Indies, and after giving his father's dying wish his best shot, Diego himself died in 1526. Unsuccessful in returning his father to the Dominican Republic, Diego was also interred right next to his father in Seville.
There they stayed for the next 16 years. Meanwhile, construction on the cathedral in Santo Domingo continued. Upon completion, Diego's widow finished what her late husband started.
In 1542, 36 years after Christopher's death, the Columbuses (father and son) set sail for what was to be their final resting place in the Dominican Republic. El Parque Colón was created adjacent to the cathedral—complete with statues depicting Christopher leading barefoot indigenous people toward a "brighter future."
The Decline of the Dominican Republic
Father and son Columbus remained in the Cathedral of Santa Maria for over 200 years.
OK, now it's the end, right?
Wrong.
While the Columbuses looked on from the afterlife, the Americas became a battleground. The Spanish crown was dealing with the aftermath of conquering the Aztecs and the Incas. Money was funneling through Santo Domingo and being pumped into Central and South America with little left over for the crown's Caribbean holdings.
The Dominican Republic went into decline. Sir Francis Drake even sacked Santo Domingo in 1586 as part of the Anglo-Spanish War. He held the city for ransom, but ultimately the move produced little wealth.
After winning the city back, Spain almost lost it again in 1655 when Oliver Cromwell attacked. It was also during this time that French buccaneers took a portion of western Hispaniola. This lead to the 1697 Treaty of Ryswick where Spain ceded the land to France.
Now, with a toehold in the west, France was able to completely take over the entire island in 1795. After all those years, Spain was pushed from Hispaniola. But not without taking a few keepsakes with them first.
Escape to Havana?
At the eleventh hour, Spain removed the remains from Columbus' tomb in the Cathedral of Santa Maria and carried them away to Havana, Cuba.
I know what you're saying:
But wait, weren't there two Columbuses in that Cathedral?
Actually, there were at least three! Bartholomew Columbus, Chris' younger brother, was also there. But let's continue to ignore him, just as the rest of history does.
Anyway, Bart aside, you're right!
So perhaps it wasn't a complete surprise when in 1877, while workers were doing renovations on the cathedral, they mysteriously discovered a heavy, lead box. Inscribed on the inside of the lid, it read:
The illustrious and excellent man, Don Colón, Admiral of the Ocean Sea.
Looks like the Spanish made a mistake, right? It says right on the tin, that this was the remains of "Don Colón, Admiral of the Ocean Sea."
Well, if you were following along, you might remember that Diego Columbus had also achieved both of those titles himself!
So, who had Chris? And who had Diego?
Since no one really wanted Diego (nice effort, son), both sides claimed to have the real remains of Christopher!
Just 20 years later, in 1898, when the Spanish were now being pushed out of Cuba, a Columbus (maybe Chris) sailed back to Seville, Spain. There, he (finally?) got the "official," massive cathedral he (definitely didn't) deserved (though actually against Christopher Columbus' final wishes) and recognition he (definitely didn't) deserved from the country that had disowned him. (Maybe.)
Not to have their own claim of possessing the real remains of Christopher Columbus eclipsed, the Dominican Republic set out to build their own fitting tomb. It was to be the biggest, globe-spanning project in history!
Unfortunately, it was also on island time. It took nearly 50 years just to choose a design! It then took another 50 years to build!
What took so long?
Well, in their defense, a lot of the delay was due to a line of thinking that the monument should be built in cooperation with all governments and peoples of the Americas. Of course, including the United States. It was to be a "shining beacon of togetherness."
In fact, as part of the original plan, a main street in every American capital was supposed to point toward Columbus' final resting place in Santo Domingo. (In the end, only something like eight countries contributed a paltry sum around as little as $15,000 total. That said, streets in several South American capitals do indeed point toward the proposed site.)
Columbus' Tomb, The Columbus Lighthouse
The final result, after over 100 years of effort and hundreds of millions of dollars: El Faro a Colón or The Columbus Lighthouse.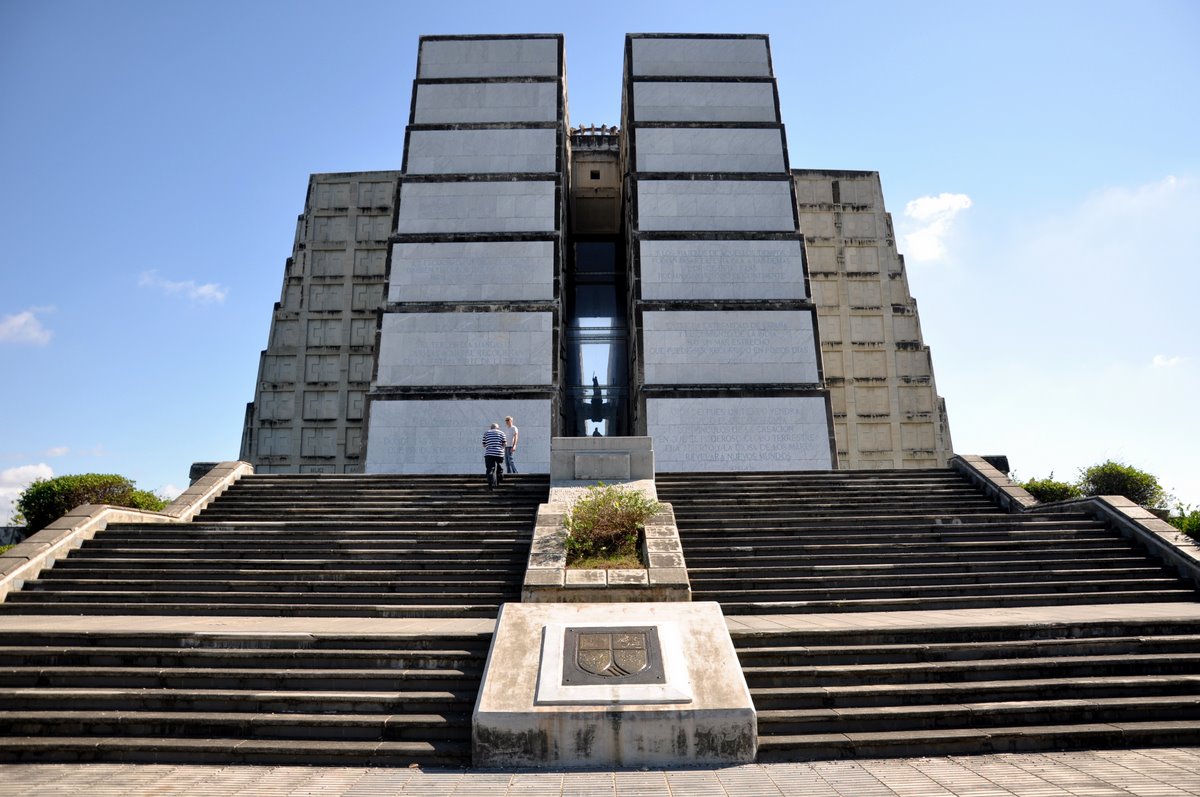 It was completed in 1992, just in time for the quincentennial "discovery" of the Americas. The 680 foot (210 m) by 195 foot (59 m) monument shaped like an Aztec pyramid with a cross (unsubtly) cut through it vertically to celebrate the "Christianization of America" was finally open.
At its center is the very structure from the Cathedral de Santa Maria that originally held Christopher's remains. At its top, 157 beams of light shine the shape of a cross up to the heavens.
There's even a brighter rotating beam at the very top that can be seen for miles around. Even as far away as Puerto Rico on a clear night! (I hear rumors that it's rarely turned on as it causes rolling power outages throughout Santo Domingo, so… there's that.)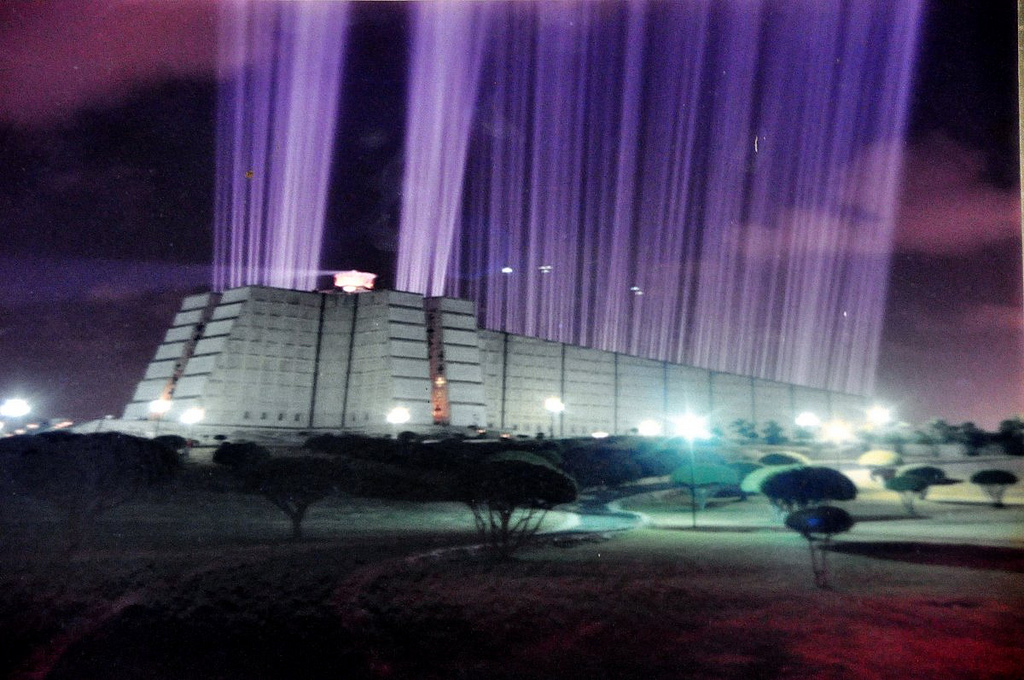 According to our good friend Waldo Tejada of Tequia Experiences (an excellent tour operator out of the Dominican Republic focused on sustainable experiential travel), the monument site hasn't been kept exactly pristine over its 20-year life. But he adds that it's still worth a visit—if only to marvel at the bizarreness of its very existence.
For the dreamers, also on display are the original plans for the country-spanning project. That and a Dominican Republic-centered history of the region. One augmented by all countries in the Americas and its infamous celebrity.
Christopher Columbus' Tomb or enormous hoax?
All that would make as great an excuse as any to explore this most uncommon attraction on your next visit to the DR, but I know what you're asking yourself:
Is Christopher Columbus really in Santo Domingo, Dominican Republic or is he in Seville, Spain?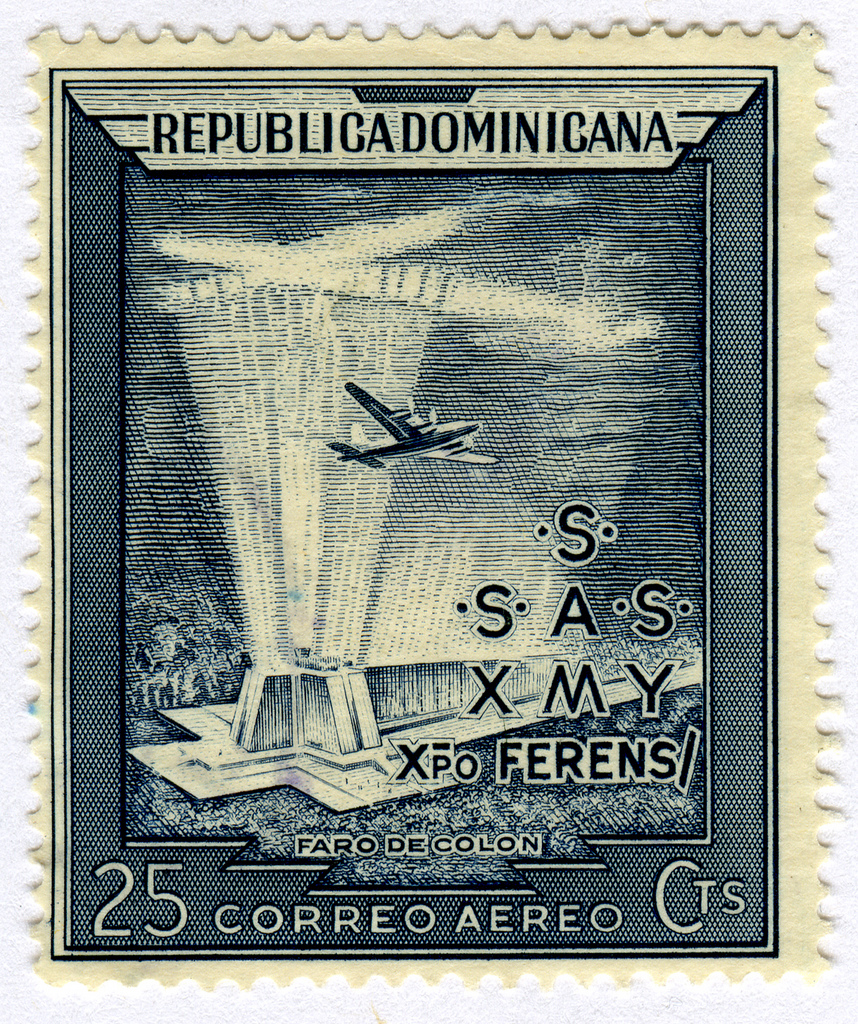 After being dead and gone nearly 500 years, in 2003 DNA tests were done using the bones in Seville. While it looked very promising that the remains in Spain could be Christopher's, ultimately the tests were inconclusive. Meanwhile, the Dominican Republic has refused all DNA tests, as far as I know, on the remains in their possession.
So, the mystery endures.
What do you think? Is Chris really in a half-mile-long, ten-story-high, concrete, cross-shaped, multi-million-dollar ziggurat in the Dominican Republic? Or is the real Columbus' Tomb in Seville?
Related Posts