Friday Happy Hour: Ron Barcelo & Black Tea Mystery Cocktail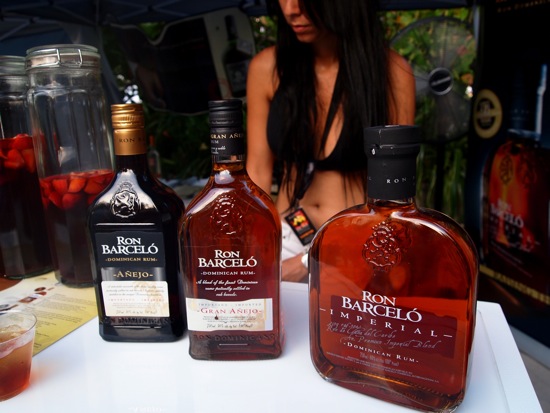 During the Miami Rum Renaissance Festival held back in the spring, I had the chance to sample a great many wonderfully inventive mixed drinks featuring fine rums from all over the world. My personal favorite may have been the Sailor Jerry Blood Orange Daiquiri I shared with you several weeks ago, but there was another one that I really liked as well. Light, refreshing, and made with one of our favorite rums, Ron Barceló from the Dominican Republic, this drink is perfect for a nice warm day on the beach. The minute I tasted it, I wanted to write about it. There was just one problem: the drink has no name.
I was introduced to the mystery concoction by one of the Barceló reps named Carlos, who claimed that he developed the drink in advance of the event.
His motivation: to come up with something new and different.
His muse: his British wife's love of black tea.
Outside of the occasional hot toddy during the winter months (it may not snow in Florida, but it does get chilly), I had never heard of a tea + rum cocktail, especially not a light and refreshing one. Neither had Carlos. But one night, while watching his wife make her tea, he got the idea and this no-name wonder was born to the delight of iced tea and rum lovers everywhere!
Ingredients:
2 oz Ron Barceló Añejo
UK Black Tea
Fresh Raspberries & Strawberries
1 oz Simple Syrup
1/2 oz Fresh Lime Juice
Well, at least this iced tea and rum lover liked it. Try the recipe and see if you like it too…
Directions:
Brew a large pot of hot British black tea (I'm partial to Twinings, myself) and infuse it for three days with cut-up slices of raspberries and strawberries. For each single serving nine-ounce glass, add two ounces of Barceló rum, one ounce of simple syrup, half an ounce of lime juice and the strained infused tea. Next, throw in a bit of ice, plus maybe a raspberry or strawberry garnish, and voila!, you have a nice spot of booze that will help you Keep Calm and Carry On.
As for the name, our buddy Carlos is open to suggestions. If you have any ideas, leave us a comment, or click here for our Facebook fan page.
Cheers!
Related Posts