On-Site Dominican Republic: Journey to El Salto del Limón Waterfall, Samana
At around 120 feet high, easily 50 feet wide, and fed by the Arroyo Chico river barreling down from jungle peaks, El Salto del Limón Waterfall is an awe-inspiring addition to any Samana peninsula trip.
The first time I visited this epic cascade was with a press trip put on by our good friends at the Dominican Republic Ministry of Tourism. Everything went smoothly. We showed up at a local outfitter, they supplied us with some horses and guides, we rode into the jungle, and before I knew it, I was basking in the spray of the magnificent Salto del Limón falls.
My second visit to El Salto del Limón went… how should I put this… Less smooth.
El Salto del Limón Waterfall is somewhat centrally located on the Samana peninsula, so on a recent trip to Las Terrenas with eight friends from New York and my wife, I thought it'd be a great idea to venture back into the jungle — this time with everyone in tow — everyone including five two year-olds!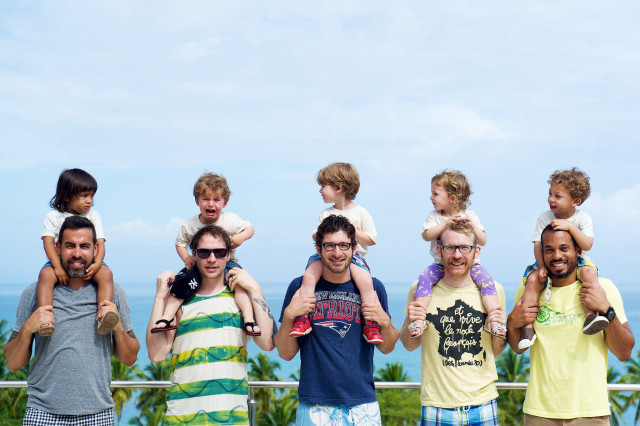 At our incredible villa in Las Terrenas (Villa MD House), I pointed out our destination to everyone on a map. I enthusiastically announced that the drive should only be 10 minutes and the hike to the falls only 30 minutes, or so.
And with that, all 15 of us piled into two vans and hit the road.
Around 30 minutes of driving later, we were pulling into the town of El Limón. I could already hear grumblings in response to the drive having taken much longer than advertised. As for me, I'm a pretty easy-going traveler. I've said it before and I'll say it again: I like uncertainty. I like surprises. I like to get lost. But with five needy toddlers in tow, nerves are quickly frayed.
So, as the leader of this expedition, I tried to allay everyone's gripes, assuring them that I'd easily recognize the outfitter that originally whisked me up to the falls and we'd soon be on our way in no time.
Only I didn't recognize any of the establishments that lined the road through town. Buskers on motos buzzed around the vans making the case for one outfitter or another, everyone was tired of driving and the groans were growing louder as I couldn't make a decision.
"OK guys, this place looks good. Let's turn in."
"Is that the outfitter you used before?," came the inevitable inquiry.
"Well… no… But we're not renting horses anyway, so we can basically just stop anywhere… Right?"
So, we pulled off the road and drove to the beginning of the trail. There we all piled out of the vans, slung bags of snacks and water over our shoulders, collected our children and got ready to set off.
"No necesitan caballos?," a perplexed local stared at us.
Rather then endure my limited Spanish, the Puerto Rican couple with us tried to explain to the collection of guides and horse wranglers that had materialized upon our arrival that we wanted to walk to the falls. Even so, we paid for… something, plus entry to the path and began what I had outlined as our "30 minute" hike to the falls.
Thirty minutes later, the kids had totally crapped out and were being carried by their parents (making half of us 30 pounds heavier)… And we were nowhere near the falls.
An hour later, my good friends had begun suggesting I should rename this website "Uncertain Caribbean." (I was beginning to have flashbacks of leading my other good friend Dave Keener astray hiking in Montserrat.)
An hour and a half of hiking through the hot, humid jungle later, a full on revolt was bubbling!
"Patrick, I'm gonna have to turn back."
"No way! Listen, the falls are just over this rise!"
"You said that over an hour ago!"
"Yeah… I know. This wasn't the route I took last time, but, listen, I feeeeel it. We're super close. Trust Me."
"Ugggghhhh!"
It had been raining heavily the night before, so the path was a messy mix of mud and rocks, but we slogged on. Up, up, up, and over the rise.
The falls were not there.
But a small, tin-roofed pavilion was. Everyone turned to look at me.
"Trust me!"
We shuffled down to the building. There were a few chairs and tables filling the space, a makeshift bar on one side, and a collection of touristy trinkets on display. I was just going over my last-ditch, motivation speech in my mind when I spotted it: beyond the far side of the pavilion, across a deep valley, vertical ribbons of white water sparkling in the sun!
"Hey guys! We made it! All we have to do is cross this gorge."
Wordlessly, my party plopped themselves down on the beginning of the path down to the falls. We were so close… Yet so far away.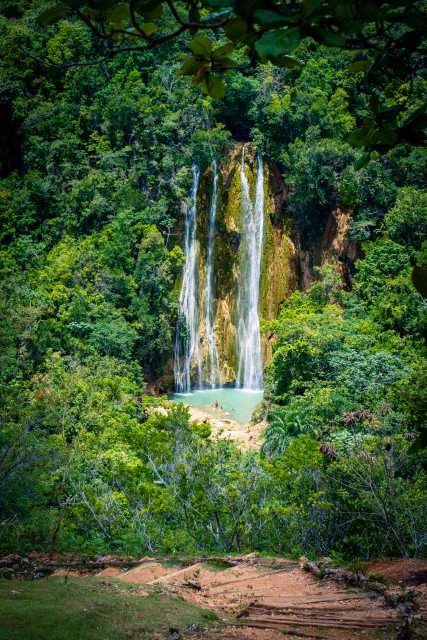 Eventually, most of us mustered the reserves to carry ourselves and our kids all the way to the falls and the reward was totally worth it. (If you ask me!)
At the foot of the 120 foot cascade is a sizable, cold water pool perfect for relieving aching muscles, venturing under the actual falling waters grants a back massage unlike any you'll find in a spa, and simply taking in the soothing sounds in the jungle setting is enough to melt away any lingering stress.
Depending on how you get to the falls, you may require more or less of its restorative powers. I can safely say that following our extended route, a few minutes at he falls put a smile on my face and those of all my companions!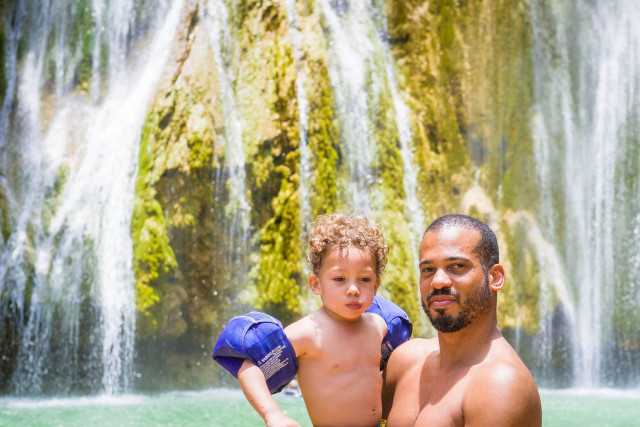 Should you want to make the trek yourself, try checking with Tour Samaná with Terry. They should be able to get you there with considerably more confidence.
Related Posts