Sublime Samana Hotel & Residences: Modern Luxury Defined
It's truly a rare occurrence when something in the Caribbean actually follows the dictionary definition of its name. Luckily for intrepid travelers seeking luxury accommodations on sleepy Samana peninsula in the north of the Dominican Republic, the Sublime Samana Hotel & Residences is one of those rare occurrences.
sub·lime
/səˈblīm/
Of such excellence, grandeur, or beauty as to inspire great admiration or awe
In the past, we've had less luck with expectations based on names. Remember mountain chicken? How about dolphin, or Anguilla crayfish. All delicious items found on select, authentic West Indian menus, but none are what they seem. Order them in that order and instead expect frog, fish, or spotted lobster on your plate.
Sublime Samana, however, is quite literally sublime.
Unlike most people who arrive at the property fresh off a plane and short cab ride, I showed up after spending an hour searching for waterfalls on horseback in the Samana wilderness. (More on that later.) Basically, I was tired, smelly, dirty… And by no definition sublime.
The moment I walked into the shady, chic reception area, everything changed.
I was immediately relieved of my bulky, mud-splattered belongings by practiced staff and my newly emptied hands were then wrapped around a fresh coconut. At first, you might think the stylish surroundings would clash with such local, earthen niceties, but you'd be wrong.
Sublime makes an art out of weaving local and luxury together in almost every aspect of their experience.
Rehydrated and ready to clean up my act to match my surroundings, I was pleasantly whisked away to my room.
In the three-story main building, 50 one- and two-bedroom Suites (16 for guests, the rest privately owned) form an arc around the 17-acre estate's centerpiece: a sheltered and soothing outdoor pool area that's a mix of interconnecting canals, larger pools for swimming, beds wrapped in billowing fabrics, grassy expanses and simple walking paths.
All the comfortable rooms have a flat-screen TV, free WiFi, interior facing balcony, air conditioning and a marble bathroom. As a bonus, each two-bedroom unit also has a private hot tub on the balcony. Some lucky one-bedroom suites also share this sexy feature… Like mine!
Showered and feeling a bit more in tune with my sexy surroundings, I decide to head for the beach.  This took me through the heart of the pool area. White fabrics drape over dark wood, immaculately clean pools reflect the impossibly azure, cloudless Caribbean sky, and the spaces in between are filled with seas of manicured green.
You can't ask for a more sublime experience than slowly strolling through this grand expanse.
And yet somehow, in its own way, the beachfront is even better. Just past one last perfectly tended patch of grass, white sand (broken here and there by a grove of tall coconut trees) descends into the Atlantic Ocean.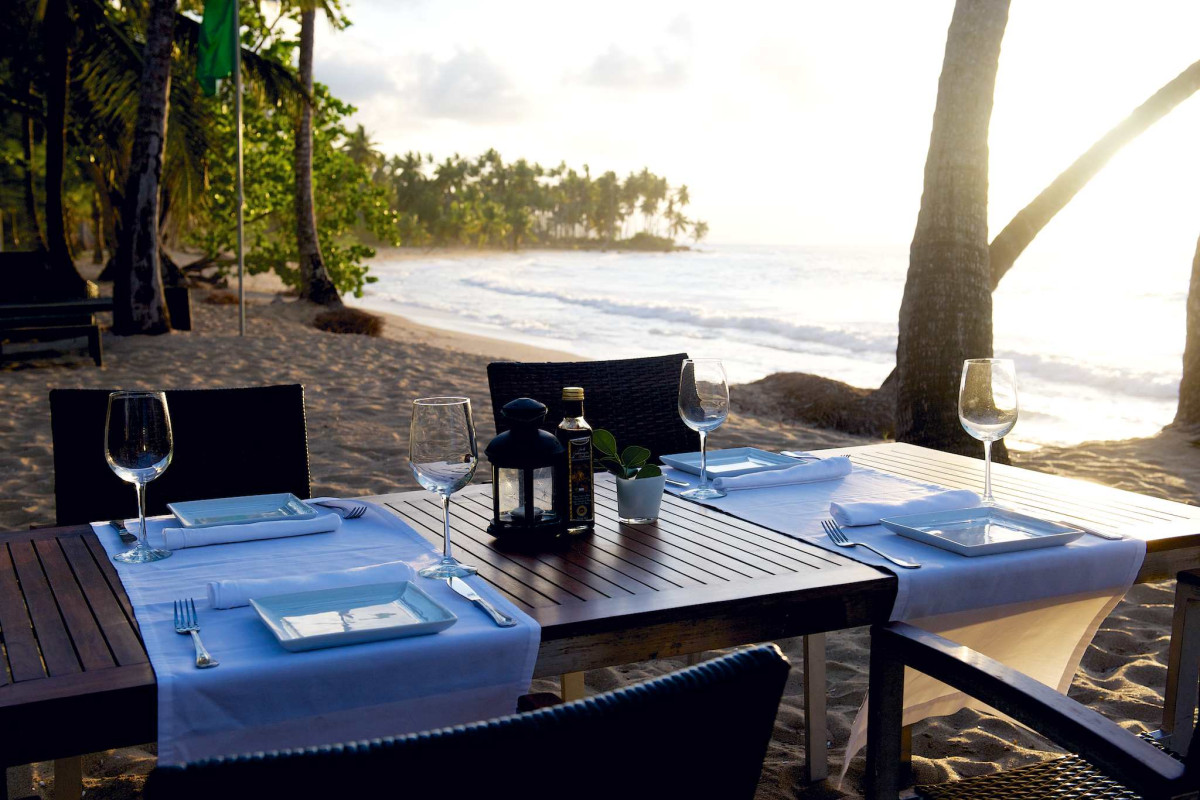 Beach chairs, umbrellas and lucky sunbathers populate this area by day, but I was arriving at sunset. The day's sun worshiping done, the area was in the midst of transformation. Long shadows were striping the sand as the sun eased into the left side of the bay.
Tables were materializing out of nowhere, and friendly staff in virgin guayaberas were setting the stage. My mind wandered to what great foods the beachside grill might be serving guests that night on the sand-floored dining area…
Not to ruin this well choreographed moment, I stole away to the way-too-sexy-to-be-a-beach-bar beachside bar and eased myself into one of their beautifully designed stools. The soothing sound of waves were my soundtrack. I could barely take my eyes off the ocean. Believe me when I tell you, this place is incredibly relaxing.
Somehow Jesus (pronounced hey-suus) managed to spin me around with a lightly delivered "hola."
He sported the requisite impeccably white guayabera, tightly cropped hair that may soon be the same color, and an easy attitude. I knew I was in good hands… But then I spotted it.
"What. Is. That?!"
"Oh, my friend, that is the best. Brugal Siglo de Oro local rum. You know Brugal?"
"Oh yes, but I've never seen that bottle before. How does it compare to the 1888?"
"No, no, my friend. Forget about the 1888. This is the best."
I could barely contain my excitement as he pulled the bottle from the top shelf, allowed me a long look, poured a neat portion and set it before me.
Excellence, grandeur, and beauty.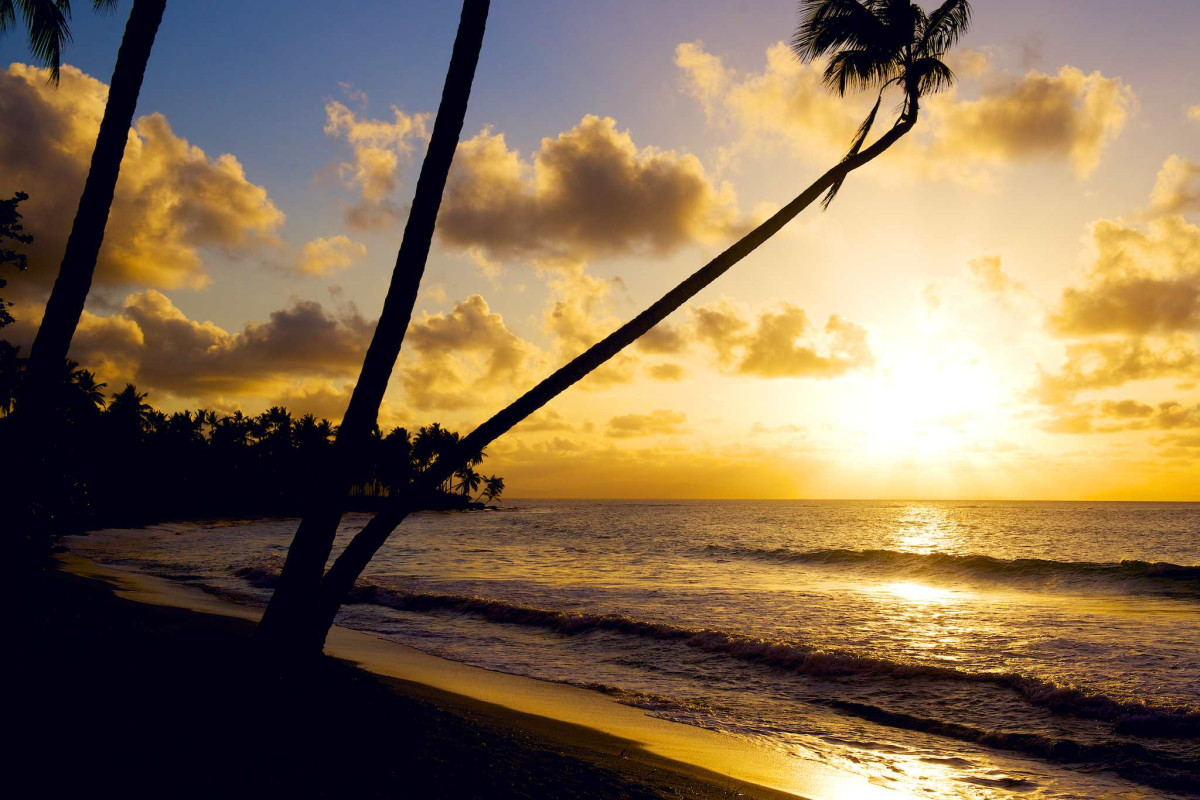 It was all around. The natural splendor of the Samana mountains on one side, sand, sea, and the sunset on the other. Resting easily between the two, the Sublime hotel's thoughtfully designed take on modern luxury. And now, for those few moments, excellence, grandeur, and beauty found their way onto my tongue.
If you're looking for laid-back luxury, impeccable service, exquisite cuisine with a passion for local specialties and magnificent surroundings, do yourself a favor and look into Sublime Samana Hotel & Residences today.
Rates begin as low as $300 per night in the low summer season and $425 in the peak winter months. Sublime Samana is a member of the Small Luxury Hotels of the World. Flights are available to Las Americas International Airport (SDQ) in Santo Domingo and the much closer Samaná El Catey International Airport (AZS) from major U.S. cities on a variety of carriers.
Related Posts