Coffee and Karma Points at the Cabarete Coffee Company: Taste of the Caribbean
Beans, beans, the magical fruit… Wait, not those kinds of beans! I'm talking coffee beans and indeed there isn't much these magical beans can't do! You need go no further than a short moto ride from the center of Cabarete to witness their power firsthand at the Cabarete Coffee Company.
Coffee is said to prevent type 2 diabetes, Parkinson's disease and even stave off dimentia. And, of course, everyone knows about coffee's caffeine kicker, so for a little boost I swung by the Cabarete Coffee Company for breakfast and a cup of joe the morning before my first kiteboarding lesson at Laurel Eastman Kiteboarding. (I don't need to remind you how well that turned out.)
Before you even enter the small road-side shop, you begin to get an idea that this place isn't like your average Dunkin Donuts back home. Right up front is a huge sign with their list of "Daily Practices." It starts with some basics of the product:
All fruits and vegetables are washed in purified water.
We buy local, organic coffee.
Indeed, in every cup of coffee they serve, you'll find organic, shade-grown, hand-picked, freshly-roasted, fair-trade Dominican Republic coffee. This stuff is the real deal. Lovingly grown not too far away on the slopes of the same mountain range where I tackled the West Indies' tallest peak: Pico Duarte.
This translates into fresh, truly high-quality coffee. You can literally taste the distinctively Dominican flavors with every sip, but being locally grown also leads into the next bullet points on their daily practices board:
We heavily support the Mariposa DR Foundation – working to increase access to sanitation, education and healthcare in the same communities that are supplying our products
We donate all leftover food at the end of each day to special families in need.
We compost.
To reduce our environmental footprint, we use paper cups that cost 16 times more than the more commonly used Styrofoam cups.
I did mention that there wasn't much that coffee couldn't do, right? Well, add community building to the list. Because although making the best coffee they can may be at the heart of the Cabarete Coffee Company, it's certainly not where their focus ends. Just look at their mission statement:
To provide coffee and food that is good to taste, good for the earth and good for the people who grow it.
It's not really all that surprising when you meet Patricia Thorndike Suriel, the brains behind not only the Cabarete Coffee Company, but also The Mariposa DR Foundation mentioned in the bullets above. She's been in Cabarete since 1992 when she founded Iguana Mama. Yes, that Iguana Mama! She's the original Mama!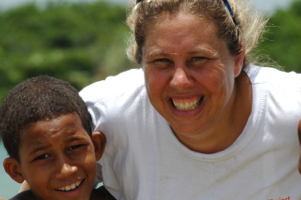 Developing the community had always been a part of her business plans (from the beginning she offered discounts to visitors who brought Spanish language children's books to donate), but as time went by, tackling the challenges facing those around her in the Dominican Republic grew into a central mission.
Now, with The Mariposa DR Foundation, Patricia works towards investing in the education, health and empowerment of girls across the Dominican Republic. It's said that if you want to end poverty and help the developing world, the best thing you can do is invest time, energy, and funding into adolescent girls… And every cup of coffee makes a difference.
Steve does much of his Uncommon Caribbean work running on Dunkin', but I'm more of a homemade French press type of guy, so I'm always on the lookout when I travel for unique beans to bring back home. With an order from the Cabarete Coffee Company you're not just getting some of the best beans in the DR, you're also contributing to improving the lives of every person in the communities involved in their production.
There are simply too many "wins" in there to count, but just when you thought it couldn't get any better, I should let you know they also produce cocoa the same way — organically grown in the foothills of Rio San Juan by a new all women's cooperative of cocoa growers to ensure sustainability.
Can't get to Cabarete in time for your next caffeine fix or chocolate craving? Don't worry, they'll even ship their uncommonly good Caribbean tastes to you!
Just call 809-571-0919 and let them know Uncommon Caribbean sent ya!
Every cup comes with great karma, guaranteed.
Related Posts