The Millennium Luxury Resort In Cabarete – Great For Kiteboarders, Awesome For Kite Watchers
There's a big difference between the needs of different types of sports enthusiasts. All a runner needs to be happy is a pair of shoes. All a surfer needs is a board and some waves (and maybe this). But kiteboarders? Generally speaking, they simply need more — from their gear and their accommodations.
Think about it. The cost of entry alone requires kites, harnesses, boards, lines and more! They need certain water conditions. They need certain wind conditions. You get the idea.
So for this crowd, you can forget hostels, or surfside shacks. Nope, for kiteboarders visiting the "action sports capital of the Caribbean" Cabarete, only the lux accommodations of The Millennium Resort will do.
From the moment you walk through the front door at its convenient location in the center of the beach, you get this place.
Billowing fabrics hung around the circular welcome area let you know that this is a different kind of adventure sports hotel… The kind that pulls off the amazing trick of feeling like South Beach Delano "Simple Chic" meets the Dominican Republic.
Somehow it manages to be modern luxury, tropical, action sports, Cabarete and hip all rolled into one.
Just beyond where you enter, you'll find a smiling face behind the bar and an ice-cold Cuba Libre waiting to make you feel at home. But be careful, the drinks are strong and your bartendress never forgets a face.
And speaking of relaxing, the Andari Spa centrally located on the ground floor can help you ease back down to earth after a day spent skimming, flipping and flying all over the bay. After all, they specialize in personalized wellness experiences for athletes.
Being a newby kiteboarder myself that just days before had taken my first lesson at the world-renowned Laurel Eastman Kiteboarding school (conveniently located right on the property), I didn't feel like I deserved the full treatment, but it didn't matter because this was my room!
Sharp lines contrasted by layered curves, immaculately white… well… everything, and accents of the new sport I'd begun learning tastefully season the space, but to be honest, I didn't spend too much time indoors once I'd found this: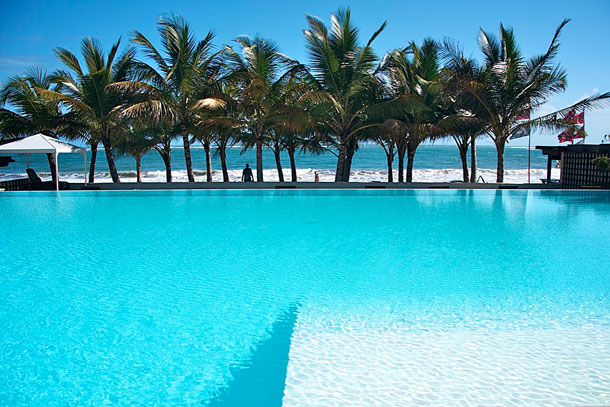 The big, blue, perfect pool that magically extends into the bay glistening beyond a line of small palm trees.
In the height of the afternoon, there's no better place to watch the kites dance above the treetops and the kiteboarders zoom across the sea… Drink in hand, of course. Which is just what I did.
At 6pm, Happy Hour takes over the bar inside. If you've been good to their bartendress with the photographic memory, expect your drink of choice to be already waiting for you upon arrival. Another Cuba Libre for me? ¡Gracias!
DJ's spin. Locals and visitors alike mingle. And stories are swapped of epic boosts and outrageous tricks being stomped. But don't worry, Millennium isn't only about kiteboarding. As you may have figured out by now, I managed exactly zero kite time on my first day. How could I, with all this modern, but still tropical, lux goodness to be enjoyed!?
Somehow, in stark contrast to all that simple chic (served up DR style), the rates are actually quite affordable. Rooms begin with garden view suites as low as $100 per night and go up to around $550 per night for the Penthouse during high-season.
So, whether you're a pro kiteboarder or just a guy who spends most of the time dragging himself, face first, through the surf (like me), you won't want to pass up The Millennium Resort in Cabarete.
You may go for the kiteboarding, but you'll fall in love with the style.
Related Posts