3 More Wild Reasons to Check Out Chat 'N' Chill Bahamas
As we noted recently, things can get pretty wild at Chat 'n' Chill, one of the coolest beach bars you'll find in the Exuma chain of The Bahamas, or anywhere else. Scoundrels, strong drinks, and a saucy bartender (Hi Kendra!) can encourage even the more mild-mannered among us to get into a little mischief here.
The party scene at the bar, though, isn't the only thing that's wild about Chat 'n' Chill. In the shallows just offshore the pristine white sand Chat 'n' Chill beach, the good times are fit for man, woman, kids…and beasts!
Friendly stingrays, like the big boy pictured above, hover around anyone cooling off in the sea. It's fun enough to pet and feed them for awhile, but things get even more wild just a few yards away in the deeper water.
That's where you'll find Nicky and Noodle, two very playful bottlenose dolphins that come by to hangout with Chat 'n' Chill revelers each and every day.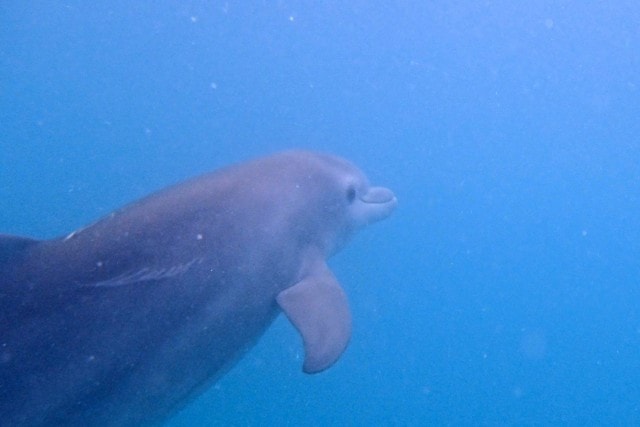 As you can see from my pics, these guys aren't all that shy around people. The image below was snapped from just a few feet away, the closest I came to either dolphin.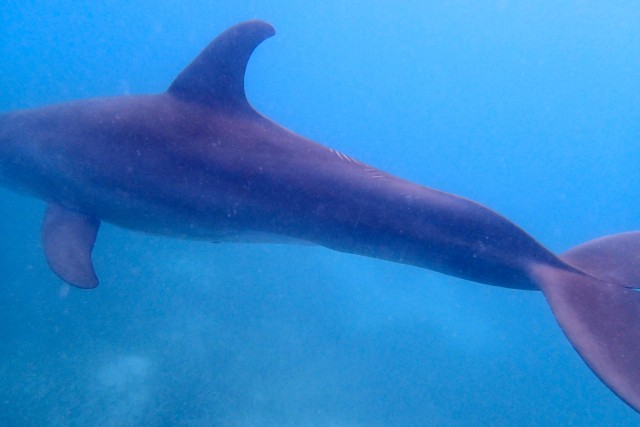 I was never able to touch either of them, though I wouldn't be surprised if others have had better luck in the past. The duo was just so playful and spry, almost as if they'd been trained for one of those staid dolphin encounter attractions.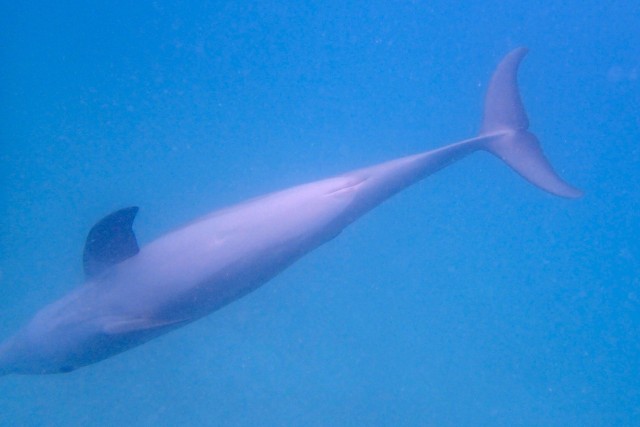 This was out in the wild, though – out in their element.
They wanted to be there with us, interacting with all the kids and adults who delighted in chasing after them, smiling, and yelling excitedly each time they came close.
Yeah, it was pretty wild, and definitely something I'll never forget.
For more on all the fun at Chat 'n' Chill, be sure to visit them online.
Related Posts