Getting Spanked at Chat 'n' Chill Bahamas
Chat 'n' Chill is one of those special kinds of Caribbean beach bars that always seem to incite mischief in me.
It's all ramshackle in all the best ways – a scoundrel atop every bar stool, all manner of discarded clothing hanging from the rafters, strong drinks in every glass, booming laughs breaking through an over-amped decidedly Bahamian soundtrack, and not one ego in the place.
Yeah, I LOVED Chat 'n' Chill the minute I spied it from the ferry I hopped in George Town just a five-minute ride away.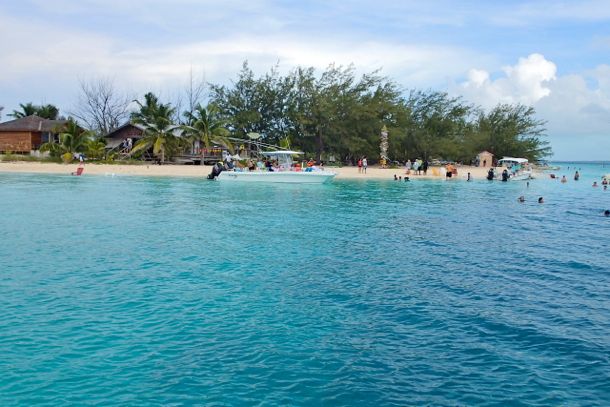 It was Sunday afternoon, the best time you'll want to find yourself here.
Not that there's really ever a bad time to stumble into Chat 'n' Chill. The venerable beach bar has ranked among the very best seaside watering holes in the Caribbean since it opened in 1998, benefiting from an ideal location on Stocking Island, just a half-mile from George Town's hotels and highly-trafficked marina.
Locals, billionaire megayacht owners, celebrities, and fun-seekers of every stripe venture here for the truly authentic Out Islands vibe.
On Sundays, they also come for the roast pork.
Chat 'n' Chill hosts a major pig roast every Sunday starting at noon. The portions, as you can see, are quite large with rice and peas, macaroni pie, glazed carrots, garlic cabbage slaw, and a heaping helping of pork all fighting for space on your plate.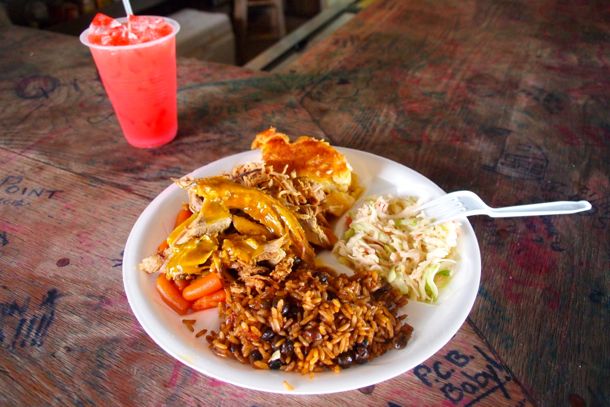 If I recall correctly, the plate above set me back around US$20. If I don't recall, it's because the Bahama Mama in my cup was really strong. Either way, not too bad in the value department, especially since this plate really excelled in the flavor department.
It was around about the time that I was polishing off the last few crumbs that my mischief gene really kicked in, spurred in large part by this…
The Chat 'n' Chill Naughty Paddle hung innocently on the wall behind the bar, no more or less conspicuous than the various other forms of decorative detritus filling every corner of the place. I wondered if it was ever put to use.
Just act up a bit and find out!
So advised one of the aforementioned scoundrels. We were both ready for a new drink, I was feeling frisky, and our lovely bartender, Kendra, was busy with a growing crowd of revelers. The perfect opportunity to "act up a bit."
Slamming my palms repeatedly on the bar, I started yelling for a drink. Initially, the boorish display netted solely a dirty glance; a silent warning of sorts to pipe down… or else!
I persisted. More slamming, more yelling.
There wouldn't be a second warning…
Note: Kendra is strong and spanks really hard.
Also, don't be surprised if other patrons join Kendra in getting Medieval on your ass. It's all in good fun, of course, but I still found it hard to sit down for a while.
In the end, though, I did get my drink, while also becoming acquainted with just about everyone in the bar – not a bad trade for a truly great time at an even better place.
For more on all the fun at Chat 'n' Chill, visit the bar online.
Related Posts