On-Site Exuma: Island-Hopping Through a String of Heavens
Exuma offers quite a lot for the uncommon traveler to explore and discover on land, but to really experience the full breadth of this destination you gotta' get out on the water. There are, after all, more than 360 islands and cays spread throughout the Exuma chain. Sticking and staying on just one just wouldn't seem right.
So it was that mere minutes after checking into my ultra-posh penthouse villa accommodations at The Grand Isle Resort & Spa last summer, I found myself aboard a Twin Vee powerboat with a couple of cool families heading north toward lunch at Exuma Point… and more.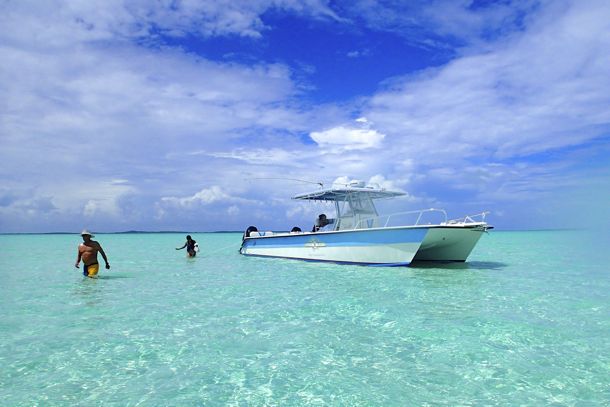 The more started with a stop at the glorious sandbar pictured above. With Kaliks-a-plenty, good company and snacks, we passed a good hour or so limin' in the sun. For that brief period, there was no one else on earth. I don't even remember seeing any birds, or fish, or nothing. Just sun, a cool gently lapping surf, and the most amazing pristine virgin white sand imaginable.
I could've stayed there forever, but as the skies opened up a bit to cool us down some more, we decided to trek back south to check out the local wildlife…
The swimming pigs further up the Exuma chain may be more uncommon, but these iguanas were no less ready to put on a show for us. The minute we came ashore, they emerged from seemingly every nook, cranny and crevice, anxious for a handout. They weren't aggressive toward us, but they also weren't shy about defending their spoils from each other, resulting in some comically fierce "battles."
Once we were out of fruits and other treats, we headed south again, passing a few other islets before landing here…
That scant sliver of a rainbow drew us in, but it was another impossibly pristine piece of beach that kept us here. Climbing the rocks to the other side, I marveled at the powerfully churning waters of the Atlantic, their force buffeted from Great Exuma by her string of protective cays – a successive line of individual heavens, each of them offering much to explore.
When you go to Great Exuma and you stay at Grand Isle, be sure to ask for Captain Jerry Lewless and his fab Twin Vee excursions around the Exumas. The man grew up in these islands, so you can hardly find a better guide to showcase what they're really all about.
Related Posts