Pompey Statue Exuma – Golden Tribute to Bahamas Slave Rebellion
Wow. Umm. Hmmm… That pretty much summed up my initial reaction upon first laying eyes on the Pompey Statue Exuma. Other attractions we've featured could be categorized as inspiring, mysterious, cool, therapeutic or educational. This, however, outdoes them all. It's clearly at the head of a class without description.
So, what the Hell is it?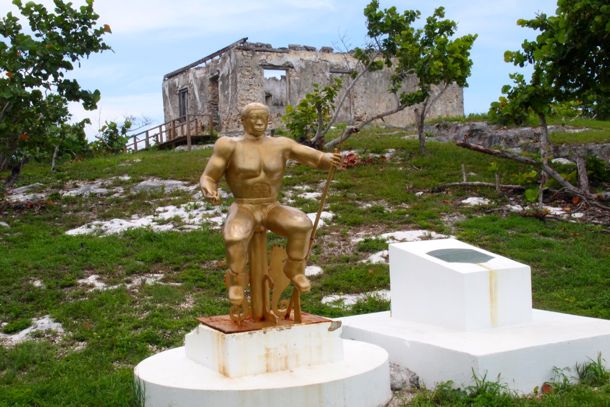 Actually, it's a couple different things.
Pompey: Legendary Slave Leader
The golden figure represents a man named Pompey. As the legend goes, he was one of the leading figures in the fight against slavery in The Bahamas.
Pompey was among a group of enslaved Africans who once toiled in Great Exuma under a wealthy British landowner named Lord Rolle. The year was 1829 and the seeds of anti-slavery were just beginning to germinate across the islands. Pompey advanced the movement by leading a group of 77 slaves to run away instead of succumbing to an illegal forced relocation to Cat Island.
Pompey's group hid in the bush for a few weeks, then stole one of Lord Rolle's boats and set sail for Nassau. There they hoped to petition then-Governor Carmichael Smith for assistance. Smith was sympathetic to the plight of all slaves, so there's a chance Pompey and Co. would've met with success. Only problem was, they were caught before reaching Nassau.
Eventually, Governor Smith had Pompey and his followers returned to Great Exuma. There, Rolle's remaining slaves hailed them as heroes and promptly refused to work. The military was dispatched to quell the situation. Cooler heads prevailed only after Pompey accepted a punishment of 39 lashes, sparing any harm to his compatriots.
Legacy of Pompey's Slave Rebellion
The uprising led by Pompey is widely seen as the first substantial victory for enslaved Africans in The Bahamas against their masters for the simple fact that it showed that slaves could not be moved like property against their will. For the first time they had rights!
The event is celebrated as a true precursor to emancipation in The Bahamas, which occurred in August 1838.
The Pompey statue Exuma stands at this seaside bluff just behind the ruins atop the hill because it's said that the rocky coast here is where the slaves set off toward Nassau. It's a picturesque area with a nice walkway and gazebo. You can gaze at the sea here and contemplate the history that went down along these shores…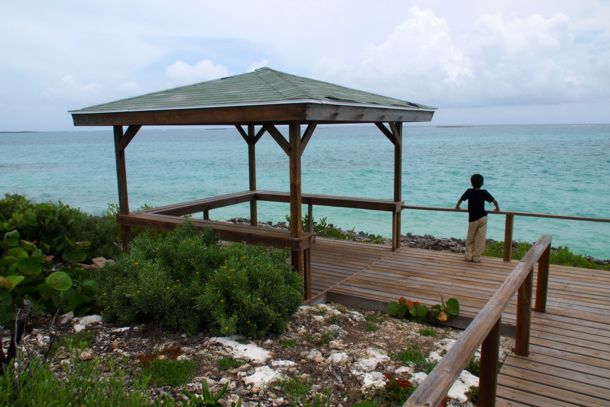 But, what about those ruins? What do they have to do with Pompey's slave rebellion?
The answer, as near as I can tell, is nothing. The visitor info on-site states that a small collection of government offices were built here in the early 20th century. Structures included a post office, commissioner's office, and a jail, the remnants of which you see up on the hill. Obviously, the old buildings were abandoned some time ago.
This adds an odd bit of eerie irony to this spot. On the one hand you have a glittering golden symbol of a man triumphing over slavery. On the other, there's an old rotting jail…
Visiting Pompey's Statue
To check out this odd slice of Bahamian history, head to the small settlement of Steventon in northern Great Exuma. As a point of reference, it's just a few minutes north of the Grand Isle Resort & Spa. It all sits right along the main road that skirts the island's eastern shore, so it's impossible to miss.
Related Posts