Bush Crack Beer: Truly Cheap Bahamian Beer, But is it Good?
There's a new beer in The Bahamas. It's called Bush Crack Beer, and if a tight travel budget tends to trump your enjoyment of a nice beer buzz while adventuring in the Caribbean, this could be the best brew for you.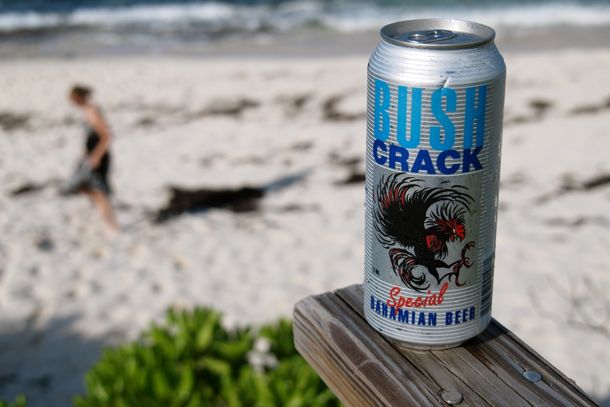 Bush Crack Beer joins the Bahamian Brewery lineup
I discovered Bush Crack Beer on Green Turtle Cay a few weeks ago, though it's actually produced in Freeport, Grand Bahama Island, by our friends at The Bahamian Brewery. Longtime readers might remember The Bahamian Brewery for its impressive line-up of "Truly Bahamian" beers – Sands, Sands Light, High Rock, and Strong Back – each of which I sampled during a summer 2011 visit to their impressive facility.
For years, if you thought of beer and The Bahamas, only one name came to mind: Kalik. Since 2007, though, Bahamian Brewery founder/owner, Jimmy Sands, and Co. have been growing in popularity on the strength of their exceptional quality products.
Now they've gone and created Bush Crack Beer
And… well… hmmm…
I doubt The Bahamian Brewery will need to clear any space in its trophy case for its latest brand any time soon, but when you buy and taste Bush Crack you realize that fancy awards and critical acclaim are beside the point when it comes to this brew.
Upon Bush Crack's introduction, it immediately began attracting a large following among local Bahamian beer drinkers. According to a November 29, 2011 article in The Nassau Guardian, the initial production run of 1,500+ cases were all pre-sold virtually as the cans were sealed.
There's one big reason for the strong demand of Bush Crack: economics.
Bush Crack comes in tall-boy 16oz cans priced less than my daily cup of coffee. Again, citing The Guardian:
For a pack of 24 cans… it breaks down to around $1.58 each.
How does Bush Crack Taste?
This is one of those rare cases, though, when the old axiom, you get what you pay for, doesn't necessarily apply.
Bush Crack is (no surprise) your typical light and easy-drinking Caribbean beer. The difference here is the 5.9% alcohol by volume in those big cans. That's a bit more than comparative light beers, and the second-most booze-filled beer in The Bahamas Brewery line-up – only Strong Back Stout at 7.7% has more.
The taste is crisp and clean, with just a tinge of bitterness and none of the funkiness that keeps me away from the likes of Keystone, Natty Ice, Busch Light and the other horrors on this 10 Worst List.
So yeah, Bush Crack is okay by me. Not great, or award-worthy: just okay.
And in a place like The Bahamas, where your travel adventuring can include such pricey endeavors as sportfishing, scuba diving, or chartering a yacht, okay can really be great.
Cheers!
Related Posts