Friday Happy Hour: High Rock, Truly Bahamian German Beer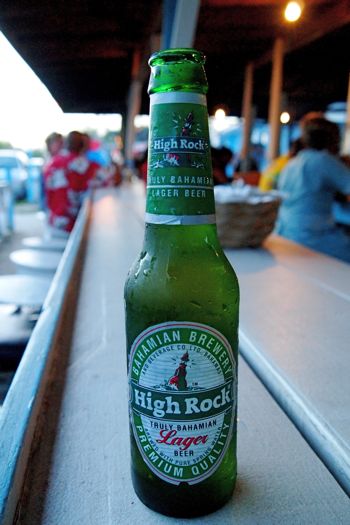 As you might imagine, excitement is building around here over the upcoming Caribbean Rum & Beer Festival! I mean, it's not every day that we get invited to judge anything, much less a celebration of our favorite libation: rum!
It bears noting, though, that the event is called the Caribbean Rum & BEER festival, and while I won't have the honor of serving in an official judicial capacity over the many participating brews, you can bet that I'll get my fair share of suds. And if I'm lucky, that fair share will include High Rock.
The third of the four homegrown Grand Bahama beers I've been promising to tell you about for the past year, High Rock is the premium offering from the Bahamian Brewery & Beverage Company. That is to say, it's the one beer they make that's most like the German beers all their brews emulate. Whereas it takes just 15 days to produce Sands, brewmasters at the Bahamian Brewery invest a good six weeks to make High Rock!
If you get a chance to sample them side-by-side you'll agree: the best things come to those who wait.
Like Sands, High Rock is smooth and easy-drinking; another ideal option for those warm Caribbean days. The alcohol content is a tad higher (5.6% for High Rock vs. 5.2% for Sands), and the flavor is decidedly more robust in-line with the more protracted brewing process. Or, as the folks at the Bahamian Brewery state on their website:
The longer aging process gives it (High Rock) a slightly darker golden colour as well as a wholesome quality… Allowing the slow acting yeast to ferment during storage gives it more body – much like a European beer.
That type of similarity is certainly a good thing for those who appreciate good beer, but some people say there are a few too many things in common between High Rock and one particular green European beer. During my trip to Grand Bahama last year, more than a few of the locals referred to High Rock as the "local Heineken." The packaging is very similar, though the folks I talked to at the brewery said it was just coincidental. (What do you think? Leave a comment below…)
High Rock may measure up to Heineken and other great European beers in more ways than one, but as it says right on the label, it's a Truly Bahamian beer.
The same natural Grand Bahama spring water used to make Sands (and all other Bahamian Brewery beers) is also employed in the production of High Rock. Also like Sands, the beer's name was chosen from among suggestions made by the people of Grand Bahama Island. There's even a bit of juicy island melee tied to the name…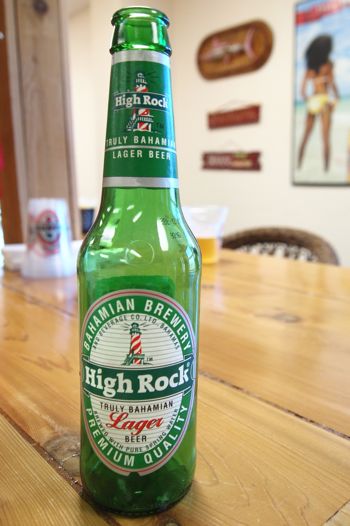 You see, High Rock is also the name of a village on Grand Bahama Island. An iconic lighthouse found there was once featured on the beer's original label. The lighthouse was built by Rev Cecil Kemp who lives in High Rock. According to a December 2009 article in the Tribune Freeport Reporter, Rev Kemp built the lighthouse "as a symbol of a spiritual inspiration in the High Rock community."
Needless to say, he didn't look too kindly upon having his community's identity so closely tied to a beer, so the Bahamian Brewery changed High Rock's packaging to feature a red lighted buoy.
With peace having been achieved between Church and brewery, High Rock is now sold without qualms throughout The Bahamas. It's worth the trip to get a taste, no matter your beliefs…
Cheers!
Related Posts