Gully Wash Does a Body Good – Taste of the Caribbean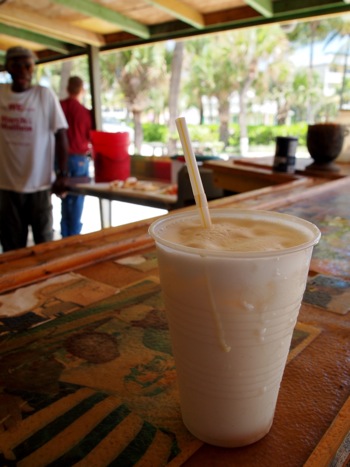 How about this combo: gin, coconut water and condensed milk. With apologies to our lactose intolerant readers who have no doubt stopped reading this, the uncommon marriage of these three disparate liquids forms quite the potent and tasty libation known collectively as a Gully Wash. (I hear it's also called Sky Juice)
This drink is found throughout The Bahamas. I enjoyed the one pictured here at Billy Joe's Beach Bar on Grand Bahama Island where all the drinks are particularly strong.
Patrick (the bartender at Billy Joe's, not my brother) told me that you can sometimes find a Gully Wash with rum added as a fourth ingredient. For locals, though, it's always just gin, fresh coconut water and sweetened condensed milk.
I also heard from a Bahamian friend that a Gully Wash just isn't a Gully Wash without nutmeg sprinkled on top, though Patrick disputed that.
What cannot be disputed, however, is the universal appeal of the Gully Wash on Grand Bahama. I saw 'em for sale everywhere we went: from local places like Billy Joe's and Da' Bus Stop, to the Prop Club Bar at Our Lucaya and even the snack counter at the Garden of the Groves (one of the finest such gardens in the Caribbean, I might add), it seems you can get a Gully Wash just about anywhere on Grand Bahama.
To make one of your own, all you need to do is blend the gin and coconut water in half your glass. Then simply fill the rest with the cold condensed milk (or add ice as needed), and you're all set with a taste of The Bahamas.
With the Holiday Season fast approaching, I'm thinking this Bahamian drink will make a nice alternative to eggnog… especially if you include the nutmeg.
Cheers!
Related Posts