On-Site Grand Bahama: Missing Out on Tony Macaroni's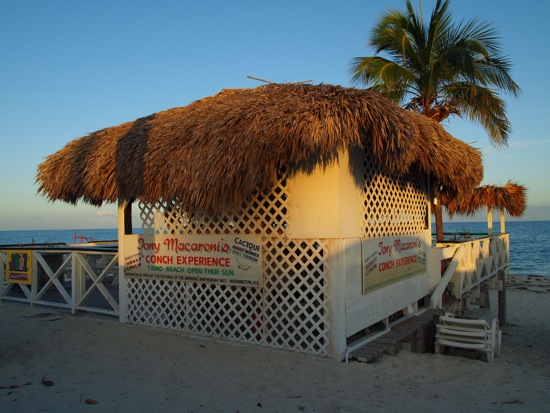 There was a lot to love about my late-summer trip to Grand Bahama Island. From Billy Joe's Beach Bar and the Wednesday Night Fish Fry, to the beach at Our Lucaya and a surprisingly great collection of local beers, Grand Bahama exceeded my expectations in just about every way…
Just about.
The only downside: Tony Macaroni's was closed on the night I happened by.
I heard he was sick. I heard he was off-island. Whatever the reason, this was a problem.
Tony Macaroni's is an institution on Grand Bahama, renowned for serving up the best roast conch on the island. The rest of the menu sounds pretty good too, with conch salad, roast lobster and shrimp among the many delights I missed out on. Live music, either jazz or rake 'n scrape, bonfires in the sand and strong, ice-cold drinks also add to the legend of this famed beach bar. If you've read any of our past beach bar posts, then you know this place is right up my alley!
But alas, it was not meant to be.
I hope to be back in Grand Bahama in early-2011, and you know I'll be paying Tony a visit so I can tell you more about it. Til then, check out this video of the party scene at the bar.
Tony Macaroni's Conch Experience
Related Posts