Cayman Islands Brewery: Beer Heaven in Grand Cayman
Remember how Christmas morning felt when you were six years old? All those wondrous treasures wrapped "just-so" and tucked neatly under the tree… You, a proverbial race car at a red, about to blow a gasket trying to decide which gift to get at first… A mix of unbridled joy, excitement and anticipation, seasoned slightly with anxiety (What if Santa didn't get my letter?) spurring a gastrointestinal Chernobyl in your little body… Yeah, that about described my emotional state just prior to visiting the Cayman Islands Brewery.
I had just arrived for my first-ever visit to Grand Cayman and was a bit overwhelmed at all that I could possibly do. Upon leaving the airport, though, the answer became clear: stop in at the local brewery!
The facility from whence pours forth all the flavorful goodness that is Caybrew, CayLight, White Tip, and Ironshore Bock is located about five minutes from the airport. That it's also in the opposite direction of the glitz and crowds of Seven Mile Beach made it a perfect first stop in GCM for me.
Cayman Islands Brewery Tour
When you arrive, expect to be met by a smiling pretty young face who will immediately offer you a free sample of beer. Yes, they cut right to the chase here, which for someone like me who had just endured the usual vagaries of air travel moments earlier, was a very welcome development, indeed.
After a quick beer in the gift shop, it's time for a tour of the facility. The brewery was formerly the home of a micro-brew called Stingray. As such, it's not a super large facility (24,000 square feet spread over three buildings), so the tour is pretty short.
Still, if you like beer and appreciate the brewmaster's art, it's pretty interesting.
Innovation Rooted in Craft Brewing
For instance, the fermentation tanks here are kept outside, completely exposed the heat. This is unique, especially in such a warm tropical climate, as the beer fermenting in the tanks must be kept below freezing. How does Caybrew do it?
Stingray started with a small ale using equipment for home brewing. Now we have very professional, state-of-the-art equipment that can compete with the big boys. All our tanks are double-insulated, ensuring excellent results.
So says Andreas Moerl, CIB's brewmaster. Andreas, who learned his craft while growing up in Munich, is a tall, lanky guy with a bit of a mad scientist look about him. This, in part, explains the unique complexity of the beers produced here. For the other part, just look to his experience with Stingray.
You see, he was the brewmaster there as well. Before that, he worked with several smaller micro breweries in Louisiana.
No wonder Ironshore Bock drinks so much like a craft beer…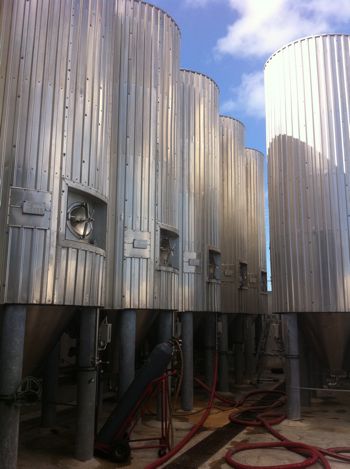 Now, let's say you want to follow in Andreas' footsteps. You know, learn from the master? Well, you're in luck! CIB offers an assistant trainee brewer position!
So, just as we learned at this Bahamian brewery, you can learn the brewmaster's art while living in paradise.
If you are lucky enough to learn the beer-making craft here, you'll really learn how to do it the right way; sustainably with an emphasis on conserving the local environment.
Sustainable Beer-Making
CIB is a leading recycling company in Grand Cayman, taking in all bottles, whether they bear their logos or not. A good 40% of all bottles from the plant are recycled currently, and that number is rising.
Caybrew's good deeds don't stop with recycling, though. Spent grain is also provided by CIB to local farmers to feed cattle, keeping it out of landfills. The company even operates an advanced waste water treatment system on-site! Waste water is processed and re-used, enabling the Brewery to leave as small a waste footprint as possible.
All in all, the Cayman Islands Brewery is a quality operation worthy of its exceptional beers… and your visit!
The Brewery is open Monday-Friday from 9am to 4:30pm. Tours and tastings are free! For more info, visit CIB online, or check them out on Facebook.
Related Posts