Pirates Gold Lager Beer – Toast Cayman Islands Heritage
Don't look now, but the Cayman Islands appear to be serious about becoming the Caribbean's top destination for beer, with our friends at the Cayman Islands Brewery (CIB) in Grand Cayman leading the charge! When I first visited CIB a couple years ago, the operation was still in its infancy. Only three beers were in production at the time, though you could easily sense that bigger and better things were coming. Today, CIB produces 10 different brews! Among them: Pirates Gold Lager Beer.
James Mansfield, Beer Man Extraordinaire
I was lucky enough to get a taste of Pirates Gold during the 2012 Caribbean Rum & Beer Festival in Grenada, courtesy of James Mansfield, CIB's Commercial Manager. As you might imagine, there's hardly a better event you can attend and enjoy as a wide variety of regional blends and brews. If you go, there's hardly a better person to hook up with than James.
Not only is he a cool guy, always quick with a joke and a warm smile, but James always comes to the event packing plenty of CIB product. I can tell you from experience, this comes in quite handy, especially during the Festival's warm daytime hours, or if/when you invariably end up in Hangover Hell.
Pirates Gold Lager ably assists on both counts.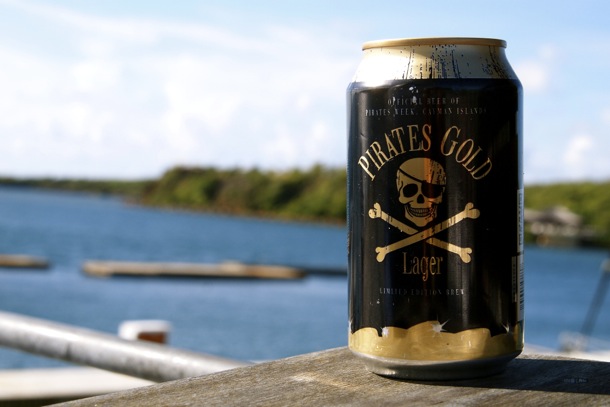 Light and easy-drinking at 4.5% alcohol by volume, this latest CIB offering struck me as kinda' sweet at the finish, a characteristic that flies in the face of the marauding, blood-thirsty scoundrels it represents.
On the other hand, though, the beer was created expressly for one of the sweetest annual events on the Cayman Islands calendar: Pirates Week.
The Official Beer of Pirates Week
Held each year for 11 days in early-November, Pirates Week is supposed to be less about the actual dreaded evil-doers once so prevalent in and around the Caymans as it is about the distinct cultural history of the destination's three main islands – Grand Cayman, Cayman Brac and Little Cayman. Over the course of the 11 days, major settlements on each island host "Heritage Days," bringing locals and visitors together in celebration.
Pirates Gold Lager debuted during the 2012 Pirates Week festivities, immediately becoming the signature brew for the event. Along those lines, you can only get Pirates Gold during the fall, from October to December.
So, is it worth it to visit the Caymans during Pirates Week just to get a taste of Pirates Gold Lager? I'd say it is. Not only will you get to enjoy a fine beer, but you'll also get to revel in the unique history of the Cayman Islands in the process.
Cheers, matey!
Related Posts