Rum Point, Grand Cayman: Nice Vibes + World's Best Mud Slides
For the most part, the self-guided driving tour/photo safari I enjoyed during my March 2011 trip to Grand Cayman was completely random. I had never been to the island and had no idea where I was going, or what I might find. My only even scant bit of pre-planning had me hoping to find a place called Rum Point.
Competing Rum Points
If you know the Rum Point pictured above, and you know how much I love rum, then you might think my desire to go there was obvious. Only thing is, though, this isn't the Rum Point I was hoping to find. In fact, before I stopped here and snapped this photo, I had no idea such a Rum Point even existed!
No, the Rum Point that was the object of my quest was the historic site found along the island's Maritime Heritage Trail. As legend has it, a bunch of rum barrels washed ashore following a shipwreck at this spot…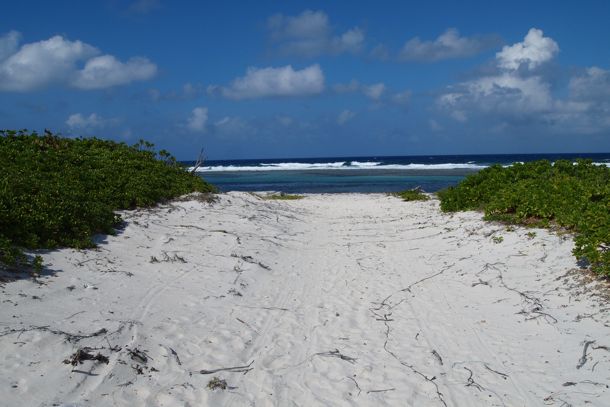 So really, my initial fascination with anything called Rum Point was more geared around my love of history…and rum. Indeed, I sat here on an old log near the surf, staring out at the waves and imaging what it must've been like to be here savaging a bounty of free rum so long ago. I even brought along a bottle of Governor's Gold Rum to toast the occasion.
Outside of a few private homes, powder-soft sand, and some seriously rocky shallow waters, though, there wasn't much else here. So, I hopped back into my rental car, took a right, and soon came upon the large and colorful welcome sign above.
Party Central Since the 1950s
This Rum Point is decidedly more hoppin' than the historic site I had left moments earlier. It's basically like a full-service beach playground for all ages. Shopping, restaurants, and all manner of recreational activities are all readily available.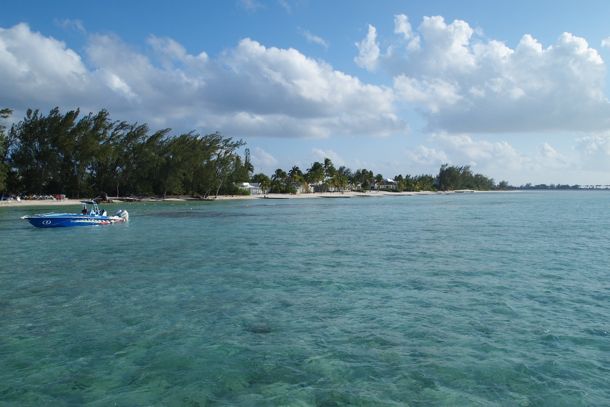 Still, the central attraction here is undoubtedly the Rum Point Wreck Bar. The place was originally built way back in the 1950's. For much of its history it was topped by a thatched roof, had no electricity, and was known almost exclusively to those in the know. Notoriety came in part due to the legend of Old Judd, a former bartender here who is said to have invented the Mud Slide.
Eventually, all of Rum Point went corporate. Hyatt acquired the bar and everything else here. Upgrades and enhancements soon followed, converting the point into a prime attraction.
Not Too Touristy
So yeah, this place is popular/touristy. What's nice, though, is that it retains much of the charm of an authentic Caribbean beach bar. Bartenders and servers are fun and easy-going. Drinks are cold and strong. Facilities are corporate tourism clean, bit not too overly shiny.
In other words, just right!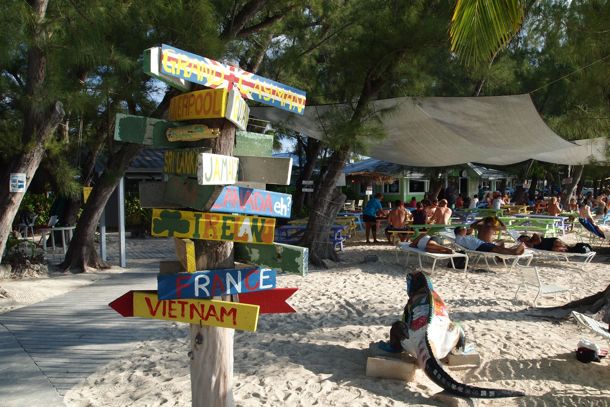 One of the big things I liked about Rum Point was the great mix of people. I happened by on a Saturday afternoon. The beach was packed, but not overcrowded. The crowd itself was predominantly local, young and toned.
There was a cool, laid-back vibe devoid of drama or sloppy drunkenness, which was somewhat surprising considering the drinks.
World's Best Mud Slide
Sadly, the actual rum collection at Rum Point is nothing to write home about. Old Judd's Mud Slide, though, makes up for it.
Anyone and everyone working the bar that day was happy to tell me that Rum Point is the home of the world's best Mud Slide. I gotta' say, I agree with them!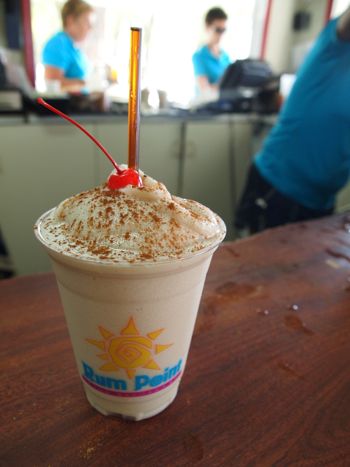 The secret to its awesomeness, in my opinion, lies in the straw. Made correctly, the straw is filled with Kahlúa, adding a fantastic extra kick to those initial sips. The mixture of Absolut, Bailey's and more Kahlúa that follows is pretty damn tasty too.
Seriously, these things were so good, that I made a point of trekking back to Rum Point the very next day expressly for another taste after my hiking adventure on the Mastic Trail.
Now, if you think the Saturday afternoon party at Rum Point is good, just you be sure to head back on Sunday. I arrived just before the bar closed at 5pm, and the beach was still loaded with beautiful young locals. Offshore, about 30 boats were anchored, the party raging out there as well.
Young toddlers played in the sand and surf, while I simply kicked back with another perfect Mud Slide, soaking in the last few rays amid the toned and beautiful of Grand Cayman. Nice!
When to Visit Rum Point
If you decide to go, I hear it's best to check out Rum Point as I did, late in the day. Early morning is okay too. Around midday, though, the place can get overcrowded when cruise ships are in port, which is often. Rum Point is also a prime starting point for excursions to Grand Cayman's ultra-popular Stingray City attraction, so you'll likely get some crowds for that too.
Believe me, though, the vibe and the Mud Slide are worth any hassles here… Especially if you're as lucky as I was during my chance visits.
Related Posts