Singh's Roti Shop Grand Cayman – Real Trini Roti in Cayman!
Grand Cayman is not the kind of place that you'd expect to find great roti. The vast majority of dining options here are of an international variety. If you're visiting from the USA, Canada, or Europe, you can easily find a taste of the kind of food you can readily enjoy back home. For authentic West Indian cuisine, though, Singh's Roti Shop Grand Cayman is among the best options.
Oh, and if the authentic West Indian cuisine you want is roti, well, Singh's is definitely the top choice.
This is a Trini place through and through. Soca music blares and decimals beyond most of us. TnT flags are draped everywhere. Kutchela is on every table. Ice-cold Carib beers are stocked in the cooler.
Yeah, Singh's Roti Shop Grand Cayman is Trini to di bone!
So, what's a real Trini place like this doing in Grand Cayman? Let's check the island's history…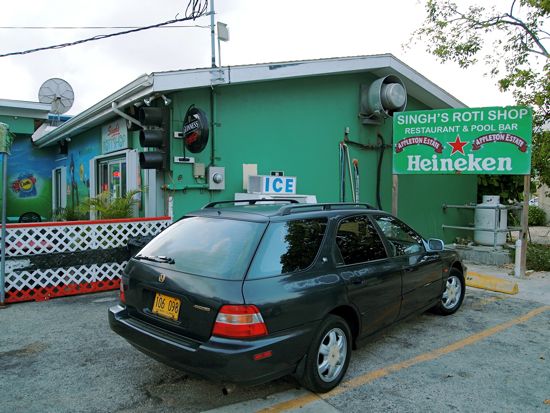 Cayman's West Indian Melting Pot
Over the years as Grand Cayman developed into the prosperous center of offshore banking and tourism that it is today, many people from other parts of the Caribbean relocated here in search of jobs. During my short visit, I met people from all over. Barbados, Colombia, the Dominican Republic, Guyana, Honduras, and Trinidad & Tobago, to name a few.
There are also tons of Jamaicans here, but that's more a product of the shared political status between the two territories under British colonial rule when they were governed as a single Crown colony from the late 1600's all the way up to 1962.
Anyway, as we West Indians are apt to do, the folks from down-island brought their recipes and traditions with them to Grand Cayman. Thankfully, the good people at Singh's didn't leave the roti behind!
I heard about Singh's on my last afternoon in Grand Cayman from a Guyanese security guard at Rum Point. This is exactly how most people hear about the place, according to the nice lady who served me a steaming hot beef roti during my visit.
Most West Indians only know of the place by word of mouth. If they come here to Grand Cayman, they eventually find their way.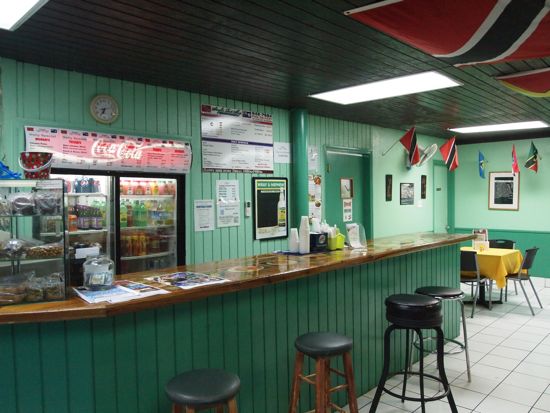 REAL Flavors of the West Indies
Whether you're a West Indian or not, if you love real Trini food and an authentic, local Caribbean atmosphere, Singh's is well worth finding. My beef roti was a bit on the small side, but it was delicious and not too spicy. (I had mine without pepper.)
They also don't shirk on the meat by over-stuffing the roti with too many potatoes. This is always good, of course. I even got to wash it down with a Lemon Lime and Bitters!
Outside on the patio, a bunch of older guys were playing dominoes and firin' booze like there was no tomorrow. It was a Sunday night, and in the typical West Indian way, the men were getting together for one last lime before the work week started up in the morning. In another area, two friends were shooting pool. In still another room, a cozy bar sat in the dark, tempting me with a solid selection of rums from Barbados, Cuba, the Dominican Republic, Guyana, Jamaica and Puerto Rico.
The sounds, the smells, the vibe… If I closed my eyes for a minute, I could swear I was back in San Fernando near my granny's house!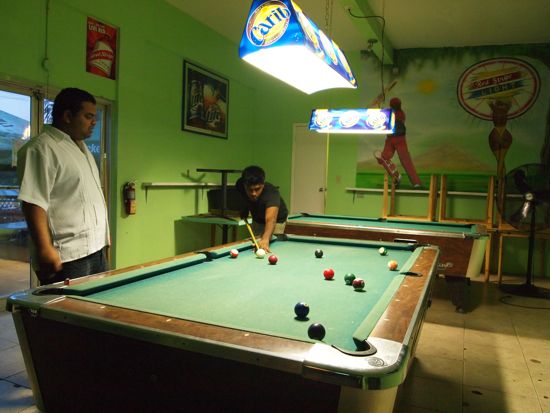 There are other things on the menu at Singh's besides roti, of course. Oxtail, doubles, shark & bake, aloo pie, pelau, stew chicken, steamed fish and callaloo are all popular West Indian faves served regularly. They even offer a choice of dhalpourie or paratha roti, so you know you dealin' with some real pros here.
Singh's Roti Shop Grand Cayman Tidbits
Singh's opens early every day (7am Monday-Friday, 8am on Saturday, 9am on Sunday), and stays open til late every night (1am on weeknights, 12am on Saturday and Sunday). It's located in the back of George Town, just a few blocks off the waterfront area in the heart of the city. You'll want to call them for the best directions from your hotel (tel: 345-946-7684).
As a bonus, you can also call that same number if you prefer to have them deliver your roti to you!
That's right, Singh's delivers to hotels and residences in the George Town area and all along Seven Mile Beach! Delivery is free, but the true flavor for the West Indies this place provides is priceless!
Related Posts