White Tip Lager, 2011 Best Caribbean Beer
All beers are NOT created equal, a fact made clear at the 2011 Caribbean Rum & Beer Festival in Barbados by White Tip Lager. The crisp taste of Cayman took home top prize in the lager category…just four short months following its debut!
This, of course, makes White Tip's big win in Barbados a pretty incredible surprise to some. For me, or anyone else who sampled a taste during the Festival, though, it was no surprise at all.
My Taste of White Tip Lager
Crisp, light and smooth in a way that Keith Stone could only hope to some day understand, White Tip was designed to emulate premium European lagers. If you don't believe it, just pour one into a glass. The rich, golden color will get your attention, but the ultra-smooth flavor will keep you coming back for more time and again.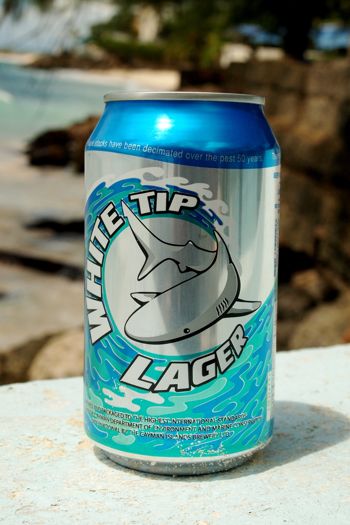 Like the other Cayman Islands Brewery (CIB) beers – Caybrew, CayLight, Ironshore Bock – White Tip is a notch above your regular, run-of-the-mill commercial beers. This is owing to CIB's roots as a craft brewer back in the day.
CIB employs an extended bit of maturation time for White Tip, yielding in its trademark smoothness. ABV checks in at 5.2%, comparable to the 5% ABV of Heineken, Stella Artois and other popular European brews.
Drink Beer, Save Sharks
Taste, quality, and ABV aside, though, White Tip is also notable for the soft spot it carries for its namesake sea creature. CIB donates proceeds of all White Tip Lager purchases to shark conservation efforts in Cayman.
Evidence of the beer's commitment to helping sharks is clearly evident right on White Tip cans. Declining global shark population statistics are printed along a graphical blue wave. There's even a QR Code on every can. Scanning it takes you to the Cayman Islands Department of Environment website. There, you can learn more about shark conservation efforts.
So, drinking White Tip Lager actually contributes to saving White Tips and other sharks. Seems as good a reason as any to head down to Cayman (currently the only place you can enjoy CIB beers) to pick up a case or two and head out on the water.
Cheers!
Related Posts