Plymouth Rock Liquors & Cafe: Uncommon Green Turtle Cay Lunch Spot
A liquor store might seem an odd place to grab a bite of lunch in most places. At the same time, though, you learn quickly to expect the unexpected in Green Turtle Cay. This remote, New England-styled corner of The Bahamas is uncommon in just about every way. Plymouth Rock Liquors & Cafe is a prime example of this.
I was in Green Turtle with the wife celebrating her 40th birthday. We'd planned a whirlwind two-and-a-half days of fun and exploration without the kids. By lunchtime of day one, we'd already visited Vert's Model Ship Shoppe, toured New Plymouth, and traipsed around much of our hotel, The Green Turtle Club.
All that adventuring had us pretty haggard by midday. More hot than hungry, we ducked into Plymouth Rock Liquors & Café. We were initially drawn more by the a/c and a couple cold Kalik's than any eats. What we found in addition, though, was a bit of a surprise…
Real Good Food…In a Liquor Store?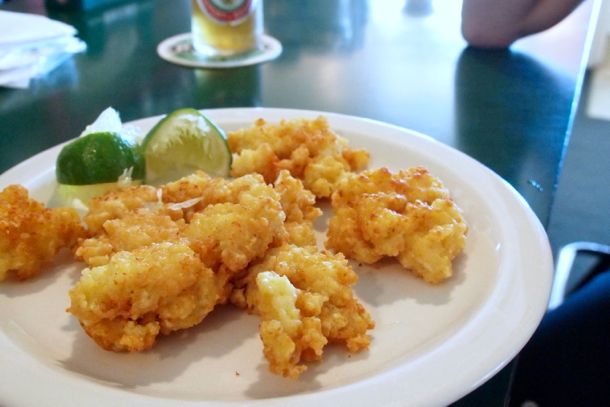 Cracked conch at a liquor store? What a concept! Why don't all liquor stores carry such savory delights?
We kept things light by sharing this small plate, but don't let our choice fool you. A body can definitely get filled up here on a nice selection of island and American favorites.
Beef or chicken souse. Conch salad. Johnny Cakes. Soup and sandwiches.
The menu was impressive for any cafe, much less one that doubled as a liquor store.
Every Bit a Liquor Store
And believe me, Plymouth Rock Liquors is very much a liquor store. In fact, it's probably got one of the more extensive wine and rum selections in The Family Islands. They stock more than 70 different wines here, and nearly as many varieties of rums; very surprising considering Green Turtle's remote location.
Speaking of location, Plymouth Rock Liquors benefits from a choice setting just off the waterfront on Parliament Street in New Plymouth. If you arrive by boat, or are just passing into town by bike or golf cart, it's virtually impossible to miss. It's no wonder, then, that it's become somewhat of a hub for island news and gossip.
Within 20 minutes of being there, we got the low-down on the weekend's only big party at Bluff House, the history of the island's loyalist founding fathers, and the McIntosh and Lowe families, the two biggest names on the island.
Basically everything we needed to know to meld seamlessly into the tiny island's cozy local scene we learned over our most uncommon liquor store lunch.
If You Go…
Plymouth Rock Liquors & Café is open every day except Sundays. The cafe stays open from 9am to 3:30pm serving breakfast and lunch. The liquor store stays open until 6 or 7pm. The a/c and the warm, friendly company are on offer at all times.
Related Posts