Checking Into Le Phare Bleu Boutique Hotel, Grenada
Le Phare Bleu Boutique Hotel & Marina in Grenada is one of the few remaining special types of hotels that to my mind would appeal nicely to James Bond.
I'm talking the classic Sean Connery James Bond; the one with style and wit.
I'm also talking the hideaway bungalow type of property where old James would often find himself immediately after saving the world, accompanied, of course, by some hot and sultry vixen with a comically sexy name. From Diamonds are Forever (1971)…
Bond Girl: Hi, I'm Plenty.
Bond: Of course you are.
Bond Girl: Plenty O'Toole.
Bond: Named after your father, perhaps?
I stayed here last November… ALL ALONE…
THIS was a mistake.
Le Phare Bleu is simply too romantic for solo travel. Just look at my bed!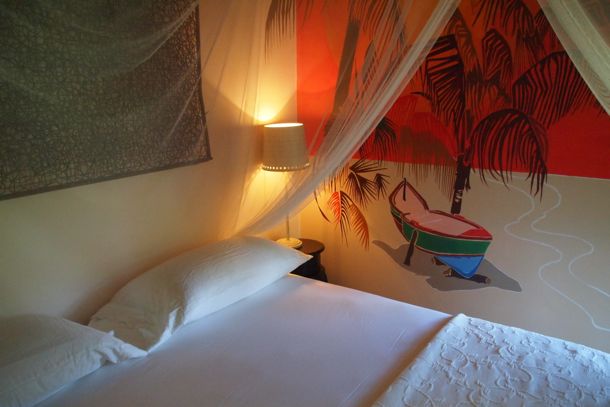 That type of wispy mosquito netting, ultra-white sheets, and comfy pillows is not meant for sleep alone. Add to that the cool, hand-painted original wall mural (there are different ones in every unit), air-conditioned comfort, and privacy, and it's a wonder any couples that stay here actually ever get out of bed!
Staying in would mean missing out on the other niceties that Le Phare Bleu has to offer. This intimate boutique property is located in Petit Calivigny Bay along the southern shore of Grenada, a tidy 10-15 minute drive (depending on traffic) from the more popular resort area in Grand Anse.
In line with its size, Le Phare Bleu has a nice little beach, sporting a mix of white and dark volcanic sands…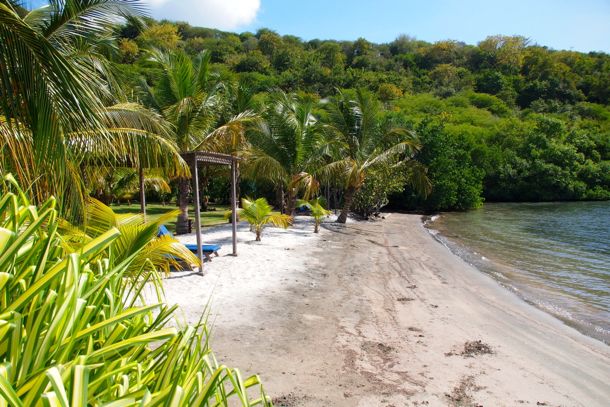 The peaceful, secluded location means that most of what you'll see in the hills that frame the bay is lush greenery. Look out to the sea and you'll enjoy picturesque views of surrounding islets, boats moored in the bay, and one of the coolest hammock stands I've ever seen…
Just to the right is the Le Phare Bleu Marina. One of the nicest spots to dock in the southern Caribbean, this prime port boasts a long list of services (including a customs and immigration office), as well as fixed and floating docks capable of accommodating 60 berths for yachts up to 100 feet in length.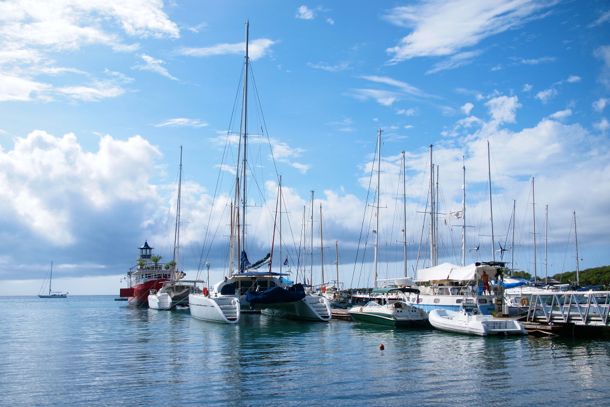 One of the largest ships here, the red-hulled beauty topped by a lighthouse above, never leaves Le Phare Bleu. It's actually one of two restaurants on the property, as well as a museum.
Unfortunately, the Lighthouse Restaurant wasn't open during my stay, but the other dining option, The Deck, more than made up for it, offering great service and a nice selection of local and international cuisine.
For lovers who simply must remain ensconced in their bungalows, however, there's a full kitchen in every unit at Le Phare Bleu. My one-bedroom villa had comfy bar and outdoor dining table seating options with views out to the sea.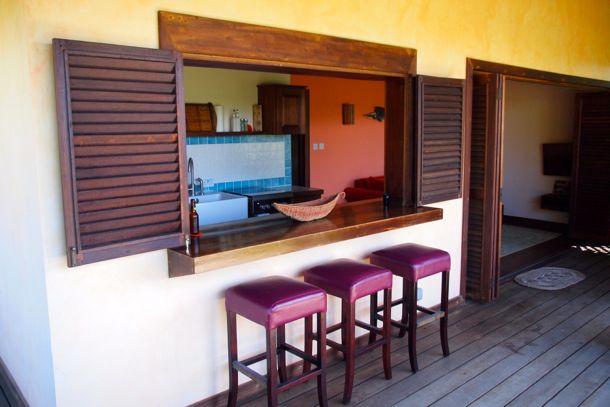 The airy living area offered even more comfort, with a pull-out couch, TV, DVD player, complimentary DVD rental, ceiling fan, and more.
One night, while sitting at my bar enjoying a cold Carib, a passing security guard patrolling the beach area looked over at me curiously. He had seen me before, so it wasn't like he was mistaking me for an interloper, or anything like that. I waved and said hello. His response:
Man, you need a woman.
Indeed… Indeed.
For more on the romantic, secluded, 007-style boutique hotel experience on offer at Le Phare Bleu, check out their website, or "Like" them on Facebook.
Related Posts