Deal of the Week: 35% Off Caribbean Luxury at Mount Cinnamon Resort, Grenada
This deal is no longer available.
When I recently checked into the Mount Cinnamon Resort on Grenada, it was at the end of perhaps my favorite Caribbean travel adventure ever: an extended sailing trip through the unparalleled beauty of the Grenadines. Talk about a tough act to follow. I couldn't help but wonder how this resort could possibly hope to be anything more than a footnote on what was already a magnificent journey?
But then I made the short drive from St. George's Harbour to the end of Grand Anse Bay and actually saw the property — it was love at first sight.
The quaint hotel, with its many small white buildings topped with coral colored roofs, leisurely reclines on the lush, green hillside just above Grand Anse Bay. Distinctive arches hint at spacious balconies. Before you even set foot on Mount Cinnamon, you'll already get the feeling that this is a special place.
After a friendly welcome, a strong rum cocktail, and instructions to leave our car and bags to their care, we found ourselves stepping across the threshold of our home away from home for the next few days. And when I say "home away from home," I mean it. Our multi-level villa literally was just what you'd wish for in a more permanent home in the islands. Clay tile floor? Check. Whitewashed walls? Check. Local pieces of colorful West Indian art? Check. Subtle island-specific details throughout? Check. Gargantuan bed with the perfect balance of firmness and immaculate linens? (A mind-blowing luxury after many days at sea spent bunking in tiny quarters). CHECK!
Add to the mix two well-appointed bathrooms plus changing areas, a stylish full kitchen complete with retro refrigerator, a decent-sized flatscreen TV (alas, destined to be ignored during our stay), a very generous balcony, and a bright green shag rug that simply begged to snuggle with your toes. Marveling at the interior that definitely lives up to the "casual West Indian chic" language on their site, I almost forgot about the view.
Almost.
But how could I pass this up: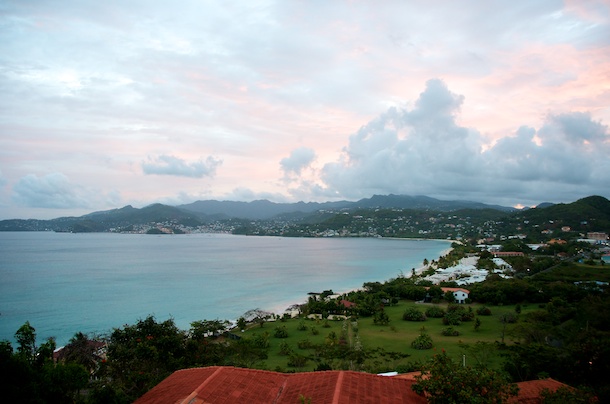 That's two miles of idyllic, white sand arcing into the distance with warm turquoise waters held in its tender embrace. And speaking of access to picturesque Grand Anse Beach, it couldn't be more pleasant. Sure, Mount Cinnamon's rooms aren't beachfront, but the walk down from the resort to the sea through the sweet perfume of flowers lining the path is a joy all to itself.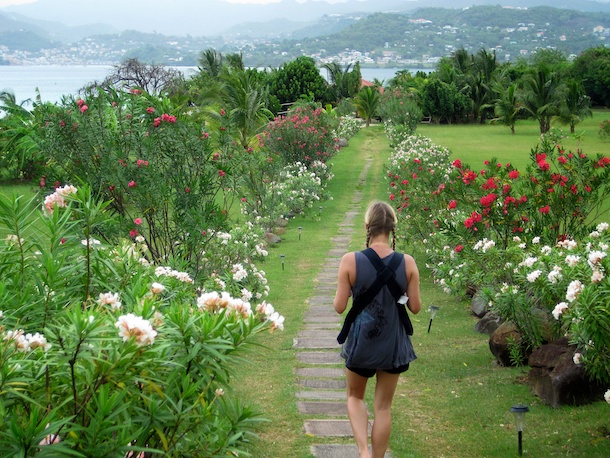 Recently, science proved that cinnamon is the most Christmasy smell in the world, so reading the above, coupled with this joyous time of year may have you longing to spend a little time at Mount Cinnamon for yourself. Well, you better act fast! Because if you book by the end of the month (that's tomorrow) for travel through April, you can sample their sweet Caribbean luxury for as low as $399… That's down from a starting price of $613! That's around 35% off!
What are you waiting for? Get this deal while you can! Christmas just isn't Christmas without Cinnamon.
Related Posts