Deal of the Week: Own a Piece of Paradise at Bacolet Bay, Grenada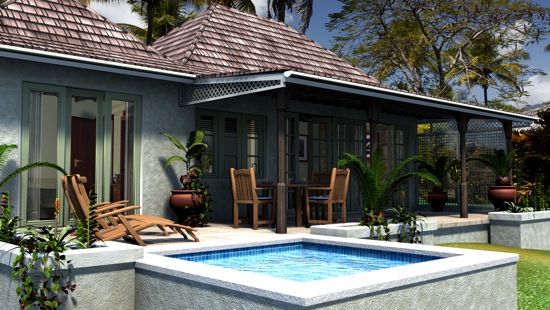 We usually reserve this space to tout great and unusual deals on Caribbean vacations, but with the snow pouring down again today across North America, I'm guessing that more than a few of you will be interested in a more permanent solution to beating the winter chill…
Enter Bacolet Bay, an exclusive resort and spa covering 41 tropical acres on Grenada's verdant southern shore. Residences here are an inviting mix of detached cottages and bespoke villas, each offering the type of luxury island living that most of us only dream about. Private pools, luxury vanity bathrooms, large walk in wardrobes, high tech audio visual systems and 'yacht-style' kitchens are just some of the pleasures with each unit.
What's more, Bacolet Bay offers 24 hour room and concierge services, a secluded beach and some of Grenada's finest dining options. The special touches even extend to the décor, all painstakingly crafted by Peter Silling, an eminent interior designer using the best and most luxurious local materials.
Who wouldn't want to live here?
Now, the good life here is more affordable too. Investors can buy into a leasehold villa from just $50,000. This isn't some timeshare that you'll likely never use. Grenada property law is based on the same model employed in the UK that encompasses virtually every flat in London. As a leasehold owner, you have the right to live in the property as you see fit for the duration of your lease. In short, this five-star resort can be your permanent home!
Even better, that $50,000 price tag is a good 17% below current RICS valuation, you'll earn a 10% annual return for the first five years, and your investment entitles you to a pro-rata share of the property!
Oh yeah, and you're guaranteed no snow as well…
For more info, click here.
Related Posts