Friday Happy Hour: Tradition Specially Spiced Rum from Grenada
Even the most intrepid of uncommon travelers could be forgiven for turning their noses up at the murkier bottles of alcoholic treasures found throughout the Caribbean.
Generally you see them in local markets (remember this one?); re-purposed rum bottles packed with all manner of spices, twigs, fruits, and other assorted foreign substances to achieve magical flavors according to centuries-old family traditions.
Strained, poured in a glass, and possibly even garnished, they appeal to most anyone with an appreciation for rum. Seen in their natural bottled state, not so much.
Tradition Specially Spiced Rum from Grenada is one such murky bottle of goodness, though you don't have to venture into a local market to get it. This is a commercial product that I actually found on a regular grocery store shelf in Grand Anse.
Still, as you can see in the images here, this bottle is LOADED with all kinds of foreign substances. As noted on the label:
'Tradition' Specially Spiced Rum is produced from Grenada's most potent spices, nuts, barks, herbs, roots and extracts from the sea which are clearly visible in the bottle as well as pure white Grenadian rum produced from home grown sugar cane.
According to Superior Foods (Grenada) Ltd., manufacturers of Tradition, the recipe employed in its production dates back to the 17th century, surviving all these years because of its…
virile and stimulating virtues, colour, aroma and delightful flavor…
The color is rich, with a nice amber tone you might sooner expect in a barrel-aged rum, though the hues here are all derived from the natural goodies swimming around in the bottle.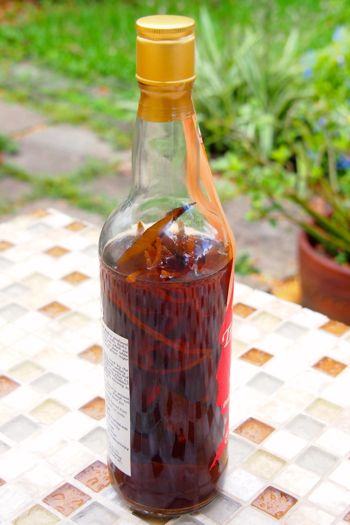 If the color is nice, the aroma is truly a revelation – like no other spiced rum I've ever put to my nose. Cloves, bay leaf, ginger, nutmeg, and cinnamon accent the rum in a soft, very pleasing way. There isn't the slightest hint of harshness, which may have your nose lingering in your glass more than your tongue might like.
Taken neat, the spices dominate – perhaps a bit too much for some. With a couple ice cubes, the spices settle down, allowing the rum to come more to the fore, creating a more enjoyable taste experience for me.
I haven't had a chance to try Tradition as a mixer just yet, though I imagine it would pair beautifully with any tropical fruit juice, especially passion fruit. Ginger beer might be a nice option as well.
No matter how you try it, you won't have to worry about the foreign substances. Again from the label:
Pour carefully or through a strainer to prevent particles from entering your glass – though not harmful in any way – use wisely and have fun
Good advice, indeed, which I fully intend to follow for happy hour today. Here's hoping you can get to Grenada soon to get a taste…
Cheers!
Editor's Note: This review covers the 80-proof version of Tradition Specially Spiced Rum. If you're keen on something stronger, check out our buddy Dave Russell's rundown on the 138-proof Tradition on RumGallery.com.
Related Posts