Friday Happy Hour: Warmhearted Westerhall Vintage Rum, Grenada
What if a particular blend of rum could have feelings? You know, sensitivities and emotions like yours and mine born of our genes, dreams, and general life experiences.
Such a rum would be extra-special – more cherished friend and confidant than vapid party night wingman. A rum equally adept at picking you up when you're down as it is essential to your biggest celebrations.
In short: a rum for all seasons.
Westerhall Estate Vintage Rum is just such a rum for me.
I came to know this immediately upon our first meeting in Grenada on Halloween night 2012. I had arrived at the fabulous Le Phare Bleu boutique hotel in the dead of night after a long day of travel. A slight mix-up in my prearranged ground transportation combined with the fact that I was missing trick-or-treating with my kids for the first time had me a bit out of sorts. Hungry, grumpy, and tired, I dragged myself to the bar at The Deck. It wasn't long before my mood was changed completely.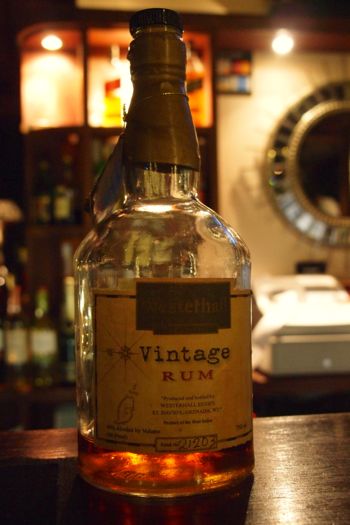 This near-empty bottle of Vintage Rum was perched behind the bar. Amid the dim, flickering lights, she seemed to smile at me. It was one of those kind, warmhearted smiles a close friend gives you when you've had it with the world, or have just screwed up and all you want is company. Not a talk, no advice, or even a hug, just company.
This bottle of Vintage Rum seemed to know exactly what I needed. Maybe it was the circumstances, or the magical surroundings, but I felt a touch of empathy from the bottle. I insisted she stay with me atop the bar as I enjoyed a late dinner of authentic West Indian treats – macaroni pie, pigeon peas and rice, stewed chicken, nutmeg ice cream… Oh yes, I was home!
All the while I ate, she slowly revealed more of her greatness to me – woodsy hints of butterscotch, caramel, maple spice, and a general robust sweetness all packaged in that dark amber color I so adore. Going down, Westerhall Vintage Rum carries an almost creamy feel, like there's warm honey in there as well. In this way and others, she soothes and caresses, setting me right for what turned out to be one of my favorite trips ever.
No doubt, Westerhall Estate Vintage Rum is of exceptional quality. A product of the old copper-pot still method of distillation, Vintage Rum is aged a minimum of 10 years in oak barrels. Each bottle is also adorned with an individually hand-written batch number, further validating its near-Top Shelf chops.
My love for this particular bottle was validated by the fact that it was empty by the time I retired for the evening. There would be others, of course. (That's #21209 pictured up top.) Every sip, a loving embrace endlessly drawing me back to Grenada for more.
I enjoy Vintage Rum neat or with a couple of rocks, though I've read that it sings in a variety of cocktails as well. I haven't seen it for sale in my local liquor stores here in South Florida, so you know a trip back to Grenada is in my future…
Cheers!
Related Posts