Friday Happy Hour: Westerhall Plantation Rum, Where's the Spice?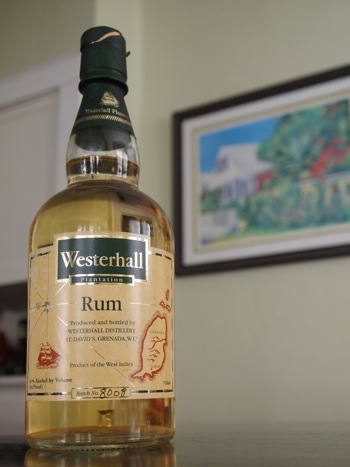 In addition to the excellent reasons I cited yesterday for attending the upcoming Miami Rum Renaissance Festival, I am also very anxious to try new (at least to me) rums from Grenada.
I've been to the Spice Isle only once, and only for a couple hours, but the magical island has always intrigued me. It's not just the wonderful Oil Down tradition, Spicemas or the beauty of Grand Anse Beach either. You see, there's a bit of a legend about our family that connects Patrick and I to Grenada on our mother's side in a most uncommon way. I'll share the full story once I get a chance to really spend some time there (hopefully later this year), but let's just say it involves a slave, a young white lady, and a love so strong it was worth risking everything.
(Yeah, you'll want to stay tuned for that one…)
Now, speaking of strong, I would expect a rum from Grenada to be really strong and flavorful in rich island spices. As noted above, this is the Spice Island. A good 20% of all the nutmeg produced in the world emanates from Grenada's 133 square miles. That ranks #2 behind only Indonesia (735,000 square miles). Cinnamon, cloves, and ginger are also big crops here. Truly, no Caribbean island is spicier.
It's a tad disappointing, then, that Westerhall Plantation Rum is so… well… it's kind of bland.
That's not to say it's completely devoid of flavor. It's just that for me, it falls short of what I'd expect from a Grenadian rum. I do like its pale, golden-brown color, somewhat unique among premium rums. It almost looks like a white wine, or a light beer without the bubbles, but one taste and you'll know: it's all rum.
Westerhall is distilled from fresh crushed sugar cane juice in copper kettles. Oak aged rum is then blended in to add a little personality, color, and flavor. Obviously, the blending/aging process is quite short (just three years), which helps explain the light color. The taste is smooth, though not to my liking neat or on the rocks. Might have to get Jesse a bottle to see if he can create a special cocktail to help this stuff shine.
In the meantime, I'm looking forward to sampling other rums from Grenada in a few weeks. I hear from Robert Burr, mastermind behind the Miami Rum Renaissance Festival, that Clarke's Court may be on-hand for the festivities at the Deauville later this month. Friends at the Grenada Board of Tourism tell me Clarke's is the leading rum producer in Grenada, offering a series of bold, rich blends.
I can't wait to put those claims to the test!
Cheers!
Related Posts