Jo Daubney Shares What It's Like to Go Turtle Watching in Grenada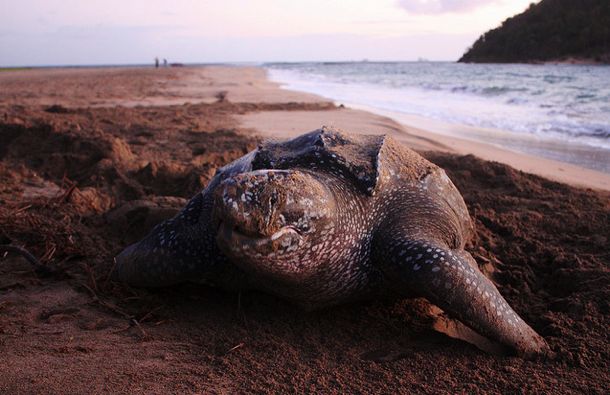 Witnessing the amazing natural spectacle that is a leatherback sea turtle nesting on the beach remains one of the must-do Caribbean travel experiences that, much to my dismay, I have somehow yet to do. UC reader Joanne "Jo" Daubney's done it. What follows is her account of her first encounter with a nesting leatherback in Grenada just a few short years ago…
It was almost 8 o'clock before we took the short drive to where the leatherback turtles lay their eggs. I felt really quite excited, but unknowingly had completely the wrong impression. I thought we were going to look at turtles of the three foot long range. Boy was I wrong!
Our guide knew his stuff and filled us with many facts about the leatherbacks beforehand (but I must have been distracted when he told us about dimensions!).
On arrival we walked along the sand of Levera Beach in darkness. The moon came out from behind a cloud and lit up our pathway as we walked. The beach grew more beautiful and romantic with palm trees and vegetation down one side.
Editor's note: Check out this rare video of a leatherback nesting on Levera Beach in broad daylight!)
We were told to stand or sit closer to the back part of the beach, away from the shoreline. The turtles needed to be comfortable about landing and walking up the beach to find the right spot in the sand to lay.
At about 10.30pm our patience paid off.
I could hardly believe my eyes when I saw the first one. It was huge! The height of it was the first thing that struck me. It was almost three foot high. It was also over six foot long. When I expressed my shock I was told that they weigh in the region of 2,000 pounds!
I found this incredible and felt overawed that there are still such strong connections to prehistoric times on the planet.
The turtle came in on the waves. That in itself was something to see. Its dark shape moved slowly up the beach and it settled down facing the shoreline. These turtles lay on the same beaches that they hatched from, a wondrous trick of nature that I just find astonishing.
After perhaps 20 minutes or more of digging with her flippers, the turtle was getting tired. Heavy breathing and a bit of groaning was the result – being heavily pregnant isn't easy on any lady in particular, especially if you have to dig your own hole in the sand to give birth!
I later learned that she could just have easily been tired from extensive swimming… and mating.
Leatherbacks travel more than 10,000 miles or so each year. They traverse the seas looking for food, eventually returning to the same exact area they were born to mate between six to eight times each year (most years). The females then lay up to 100 eggs – sounds exhausting, right?
That evening was special for me. We didn't leave the beach until after 1:00am, but at the end of it I took away something that you cannot buy, nor find very easily. I felt the same feeling when I first saw dolphins; the feeling of being touched spiritually by nature.
Before we left that night, we'd seen six turtle visitors arriving on that shoreline. After getting the okay from our guide, we touched the soft leathery shell while the mother fell into a trance and began laying her eggs. It was one of those life affirming moments for me. The kind when you feel that you've done something amazing that is unique, spiritual, inspirational and uplifting.
Wow, really sounds like I've been missing out on a lot! Thanks so much, Jo, for sharing your story with us. Leatherback turtles nest in Grenada (and elsewhere in the Caribbean) between March and June. Joanne enjoyed the experience through the Petite Anse Hotel, located in northern Grenada. Visit Petite Anse online for more on the turtle watching excursions available through the property.
Related Posts