La Grenade Liqueur: 200-Year-Old Spicy Grenada Family Secret
All families have their secrets, of course, though I doubt that very many are as spicy and enduring as the contents of this colorful bottle. For nearly 250 years, Grenada's La Grenade family has kept the recipe for its homemade La Grenade Liqueur to themselves. Thankfully, though, they have no such qualms about sharing the actual liqueur with the rest world…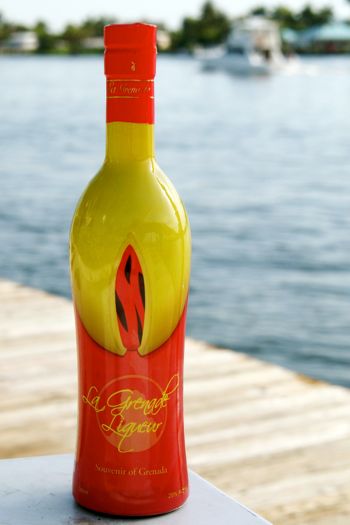 La Grenade Liqueur History
The tale of this tasty secret dates back to the West Indies of the 18th century; a time when Captain Louis La Grenade operated a tidy shipping business, trading in spices throughout the Eastern Caribbean.
As the story goes, Captain Louis was given the base recipe for this liqueur by a Dutch Missionary in exchange for a free ride to Grenada. Drawing upon his expert knowledge of Grenada's spices, Captain Louis improved upon the recipe, experimenting over time til he arrived at the very same La Grenade Liqueur you can buy and enjoy today.
Now, I can understand how a few of you might be skeptical about all this. After all, it's quite common that 200-year-old legends see changes over the years, the various accounts of people in the know altering original truths.
A Family Affair
I can vouch for this legend 100%, though, as I heard it from none other than Cecíle La Grenade, PhD., a direct descendant of Captain Louis. I met Dr. La Grenade at the Miami Rum Renaissance Festival, which should give you an idea that the event is not all sexy fun and boozing. If you look around and pay close attention, you can meet some real champions of authentic West Indian culture at the event.
Dr. La Grenade runs De La Grenade Industries, the company her mother, Sybil, founded in the 1960's to share her family's special homemade products with the world for the first time. Prior to that, La Grenade Liqueur, the family's Morne Délice Nutmeg Jam, and other products were reserved solely for private consumption and enjoyment. Nothing's changed about the recipes for anything De La Grenade makes, so when you enjoy 'em, it's like you're part of their very special family.
Another thing that hasn't changed about La Grenade Liqueur is the secrecy surrounding its production. I've read that the old family tradition held that only one member of the La Grenade clan could ever know the recipe at any one time.
Dr. La Grenade told me that the 200-year-old secret is currently shared between her and her sister, but she wouldn't tell me anything about it beyond that. From what I can tell, all that anyone really knows about the contents of La Grenade Liqueur is printed right on the bottle…
An exquisite blend of citrus and the finest Grenada Spices, in a rum base.
A taste of La Grenade Liqueur
Indeed, you smell the citrus immediately upon uncorking the bottle. You taste it too, of course, though I find the citrus to be well-balanced with the spices on the tongue. Any harshness you might expect from the rum is suitably smoothed over by the citrus and spice.
Definitely nice neat, I imagine La Grenade Liqueur would also play well over ice cream, or as a dipping sauce on a dessert plate with some yellow cake.
So, you want to get in on the La Grenade Liqueur secret? If you're in the US, good luck! La Grenade Liqueur isn't available in the U.S. just yet.
That means the best thing to do is hop a flight to Grenada! Not a bad way to get this unique taste of the Caribbean.
Cheers!
Related Posts