Living The Dream And Learning To Sail: Part 4 — The Bitter End
I woke up on my last full day of sailing and something didn't feel right.
This was particularly odd, because after nearly a week of learning the ropes with captain Chris of LTD Sailing School, I was really beginning to feel like a sailor.
Although I'd worn gloves when hoisting sails and otherwise pulling line throughout the week, my palms had acquired a decent patina of calluses. And despite my best efforts at sunscreen application, my complexion had darkened by three shades. My beard had also grown a bit wild. Sailing vernacular comfortably penetrated every corner of my speech. I'd even become so accustomed to life on the boat that I'd slept out on the foredeck the previous night!
So why was I feeling so… I don't know… Off?
Bad Omens
Friday morning started like most of the previous days.
I awoke before dawn, enjoyed a quick boat side bath, and settled into the cockpit area for breakfast. We'd run out of regular, so today banana yogurt graced my granola. Through the companionway the sound of the Grenada Cruiser's Net morning wake up broadcast was crackling away… Something about waves in the area…
After breakfast Chris took me through plotting our course for the day. It would take us away from picturesque Petite St. Vincent, then down around the leeward side of Carriacou. From there, we'd be crossing back toward the windward side of Kick 'em Jenny, the boat eating submerged volcano I met on my last sailing adventure in the region. Finally, we'd ease down the leeward side of Grenada for an anchorage near Gouyave.
But there was a catch. On today's sail Chris would play the roll of "competent crew member" leaving the task of skippering in my amateur capable hands.
A Friday sail (after bananas for breakfast) with me skippering us through a tropical wave as we skirt an active volcano… What could possibly go wrong?
Between the Devil and the deep blue sea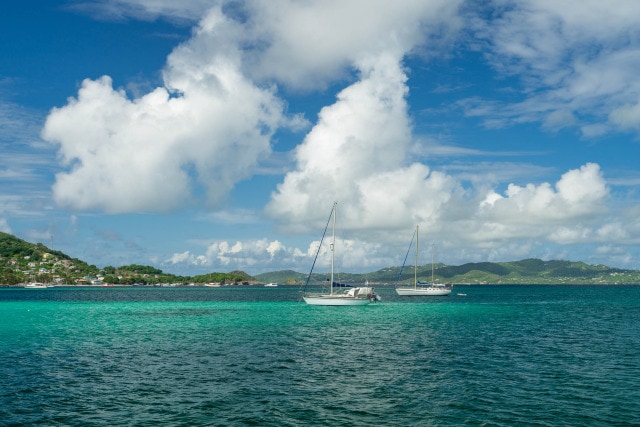 The sail got underway beneath a clear blue sky.
I pointed our bow southwest right at Carriacou before performing a jibe with crew member Chris manning the lines. Now heading northwest, we passed the shipwrecks gracing the island's north coast.
Clear of Carriacou, another jibe angled our Moorings Beneateau 50.5 Tac 'til Nordic down to a fairly broad reach that would take us directly to our date with a volcano.
I was doing it. As Chris would say, I felt "competent, but not comfortable" thanks to the week's lessons.
As we passed the Sister Rocks and made our way across Tyrrel Bay, we fell into a wind shadow. Tac 'til Nordic began to slow. I called to my crew to release the reefs in our mainsail and jib. (Maybe I was beginning to feel comfortable.) Our increased sail area propelled us straight out of the shadow into some decent wind. Heeled over we accelerated out into open water.
You got this.
Chris disappeared through the companionway.
I was in charge—alone. It was exhilarating.
Standing elevated at the windward helm, my eyes scanned the horizon. Floating in the distance, some cumulus clouds acted as my target. Until they started moving… Quickly.
I looked down at the digital chart in the console and noticed we were approaching the volcano. The plan was to leave it to my starboard side.
When I looked back up, the clouds I had been aiming for were gone. The sea suddenly began to undulate. Clouds began racing overhead like a time-lapse. The blue sky disappeared—replaced by grey. Then I could see it: a wall of water charging down on me off my windward beam.
Before I knew it, it was on top of me.
Tac 'til Nordic heeled violently under the strength of its fully exposed sails. The wind helm, like an unseen all-powerful hand, took hold of the wheel and turned it—even as I put all of my strength into keeping the course. A completely futile effort. Rain thundered down and began running in all directions flash-flooding the decks.
Another gust and even as I fought the wheel, we heeled so far over I thought we'd capsize.
Chris popped back up through the companionway.
Wide-eyed, I fell.
Not exactly down…
Although it was down, but with the heel of the boat, "down" was now from the windward helm around eight feet to the leeward helm! I thudded against the side of the cockpit and tried to regain the helm.
The stunned look on my face must have said it all. In a flash (was that lightning?!) my "capable crew member" was handing me my rain jacket and giving orders.
Course change (mind the volcano), reef the sails, watch that wave crashing through the cockpit, hold the wheel. Nothing worked.
We let the wind pull us into a tack, but left the working jib sheet fast on its winch. With the jib backed against the mast being pounded by the rain, I let the mainsheet fly. Chris muscled the helm back against the wind and secured it.
That was it. We were heave-to and going nowhere as waves splashed across our decks and the rain continued beating down on us.
Nothing left to do now, but wait it out.
The Bitter End
Another tumultuous 20 minutes passed.
The sky cleared, the waves died down, and the sun broke through. I was sitting at the leeward helm, huddled under my rain jacket with my hood pulled down low.
I could just make out the brightening of my environment when out of the corner of my eye, I spotted a splash. A dark shape. A splash. Another shape…
I looked up and there they were: a pod of dolphin approaching from our starboard side. Finally, a good omen.
Getting under sail once again, they accompanied us for a while—splashing off our bow. It felt good.
Before long, Grenada came into view with its mountains covered in wisps of mist. My heart sunk. This adventure had come to a close.
In the end, learning to sail in the Grenadines was one of the most rewarding travel experiences I've ever had in all of my Caribbean travels. A large part of what made the trip so memorable, of course, was Chris and LTD Sailing School.
Looking back on that week, the majority of it may have been all sunshine, blue skies, and practice… But that final exam was a doozy!
Sign up for your own unforgettable sailing school adventure with LTD Sailing School.
Related Posts