Sailing The Grenadines Part 5: Patrick vs. the Volcano
Here we are at the final chapter! Don't forget to start with Parts 1, 2, 3 and 4 or to visit Sail Oasis for more info on Caribbean charters.
It's hard to deny that beauty and fire go hand in hand. Literary masters have long waxed poetically of "smoldering eyes," "burning passions" and "carrying torches for lovers." But in the case of our gorgeous Caribbean region, that "fire" is more than just a metaphor. Lurking just below the white, sandy beaches and serene rainforests burns a raging line of flames – one that stretches hundreds of miles from Antigua to Trinidad along the border of the Caribbean and North Atlantic tectonic plates.
Volcanoes.
Oh, and did I mention our sailing adventure was heading straight for one of these infernos? One lurking, hidden just beneath the waves north of Grenada? One ominously named Kick 'em Jenny?
It was Day 6. Trust Me rocked just off Union Island, also known as the "Tahiti of the West Indies." (Anyone who's been here will tell you that nickname is more due to the shape of the island than its disposition.) Happy Island, just a short distance away, was beckoning with the promise of more rum soaked libations like a beacon at the mouth of Clifton Harbour.
Over breakfast and morning coffee, Captain Kevin was showing me the chart for our final two days of sailing. There were promised stops at pleasant destinations like Sandy Island and Carriacou… But there was also a massive black circle on the chart blocking the path between us and Grenada.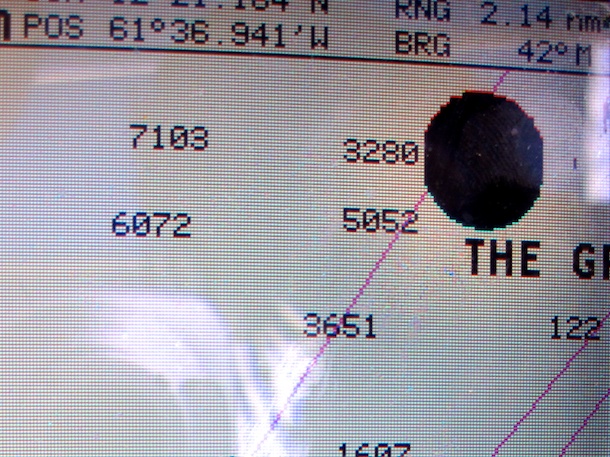 "What's that!?"
"Oh yeah, that's the volcano. Rough seas there… And poisonous gas!"
"Wait, we have to sail past that?"
"Yeah man, no problem."
Suddenly more libations seemed like a good idea, so we answered the call and dinghied over to Happy Island for courage fortifying, morning rum punches. How else could I respond to such news?
Blame the morning's pink, potent beverages, or maybe the trepidation at the proposed rendezvous with Kick 'em Jenny, but either way, it wasn't until sometime after noon that we were finally skimming along the Eastern Caribbean Sea with wind filling our sails. First stop: Sandy Island.
The barely year-old Sandy Island Oyster Bed Marine Protected Area is a mostly underwater sanctuary just off the northwest coast of Carriacou that includes a mangrove lagoon and the aforementioned Sandy Island—a tiny, picturesque sandbar practically designed for lounging the day away.
This little strip of sand has gone through many changes in recent years. At one point, it was much larger, with trees. It later suffered such degradation from the West Indian elements that all the trees died. "Thankfully" a hurricane came along and kicked up a coral wall on its north shore, effectively providing protection as opposed to the expected destruction. Since then, it's begun to regrow. People have even replanted trees on its shores. Should you pay a visit (which we highly recommend), be mindful of the trees. Between them and the coral wall, there's not much holding this delightful little destination together!
After some self-prescribed fun in the sun to ease the mind, we sailed on – past Paradise Beach, around the horn of St. Louis Bay, and down into the protective embrace of Tyrrel Bay where we'd spend the night.
With ice clinking softly in my glass of Captain Bligh XO Rum as the sun settled into the Caribbean at the mouth of the bay, I couldn't help but find myself lamenting the one downside to sailing around the Caribbean as we'd been doing these past few days: sometimes you don't get to see as much as you'd like of each destination.
Case in point: Carriacou.
I'd heard before arriving that this small island had "over a hundred rum shops and only one gas station!" Now this sounded like my kind of island! But with the long day of drinking and occasional sailing we'd just completed, we were too drunk comfortable to go ashore for the evening. Couple that with the fact that we'd be leaving early in the morning for our date with Kick 'em Jenny, and clearly there would be no time for trying some of the rum shops, sampling their "mangrove oysters," walking the streets of Hillsborough, or hiking near High North.
Carriacou would just be another anchorage we'd only barely know.
I sipped my more authentic Captain and stared at the shore…
In the morning, we all emerged lethargically from below deck. I don't think anyone wanted this day to be happening – despite the fact that it was another beautiful day in paradise. The sun was already casting a warm, West Indian glow over the boats bobbing in Tyrrell Bay. Kids were already playing in the water at the shoreline, and our little sailor was happy as a clam… I suppose ignorance is bliss when dealing with active volcanoes.
So with no further ado, we motored out of Tyrrel Bay and set sail, south, directly towards the massive black circle on our chart… and a date with destiny.
Not 10 minutes into our journey, a sudden whizzing sound erupted on the starboard side. For a second, I had no idea what it was, but then it occurred to me: we'd hooked something!
The whole trip we'd been dragging a lure behind the boat with little success. The one other time we'd been lucky enough to land a catch, it had been a small snapper that barely put up a fight – though tasted delicious deep fried and served with provisions!
This time, we had a fish with a bit more fight in him. I got a little excited as we reeled in the line. Then our catch breached the waves behind us. A smallish tuna. Oh well, he'd still be tasty!
Once aboard, Nixon and I busied ourselves cleaning our supper. Drinking rum while we removed the unwanted bits and cut clean, beautifully fresh steaks – time just flowed past us like the sea beneath the dual hulls of Trust Me. We enthusiastically threw out options for how to prepare our catch – what to pair it with – while also sharing stories of other monsters of the deep caught on past occasions, sizes possibly inflated by the day's rum intake. A quick marinade was prepared and the fish set aside.
With a lull in the excited activities and chatter, I settled into a chair on-deck mercifully draining the last of the Captain Bligh from the bottle.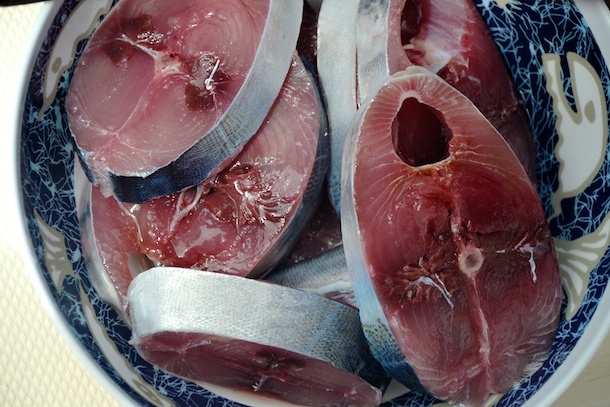 Wasn't I forgetting something?
I could swear there was something I was forgetting…
I looked around. Everyone was soaking in the last hours of our marvelous sailing adventure.
What could I possibly be forgetting?
"Hey Captain Kevin, everything's great right?"
"Oh yeah, man! Passed the volcano and everything!"
Oh right! I'd forgotten all about my date with destiny, my dangerous rendezvous with a hidden inferno, my brush with a certain fiery finale!
And just like that, with more of a sad whimper than a bang, we eased into St. George's Harbor off Grenada and the end of our sailing adventure. It was over.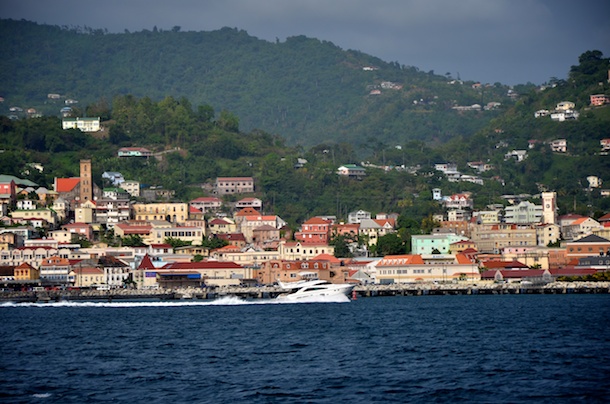 I'd never been more sad to reach such an idyllic Caribbean destination.
Thanks for following this extended account of our first Uncommon Caribbean sailing adventure. We certainly hope to go on more in the near future and highly recommend you do the same! Check with our outfitters Sail Oasis for charter options and rates.
Related Posts