Savoring Surprising Sundowners Beach Hangout on Tyrrel Bay, Carriacou
We almost missed one of the coolest hang-outs on one of the most gorgeous beaches on one of the prettiest islands in the Caribbean. How did my husband Zickie and I, always on the lookout for special, secret places, come so close to skipping a gem? It happened like this: While researching our trip to Grenada and its sister isle Carriacou, I came across an interesting piece of advice…
Don't bother with Tyrrel Bay beach on Carriacou.
It was far too touristy, the guide reported, not especially pretty, and jammed to the gills with foreign yachties. I filed Tyrrel Bay under places "we could give a miss."
Flash forward one week, after Zickie and I had bobbed our way by ferry to Carriacou and happily ensconced ourselves in a charming abode called Lime Cottage. We spent three happy days touring the wind-swept north shore, photographing a boat-building village, drinking in sandy-floored bars, and relaxing on stunning beaches. But Carriacou is tiny. That last day, I realized that we'd seen just about everything. Except Tyrrel Bay.
On impulse, Zickie and I motored over at noon to brave the reported hoards of fellow travelers and less-than-attractive beach. This is what we actually discovered: a bay of exquisite azure sea; sailboats rocking peacefully in the mid-day breeze, and a slim, long stretch of clean, pale sand. No one, not a single soul, lay upon that gorgeous shoreline. It was pretty much my definition of bliss. (Where were the "throngs" hiding?)
Feeling very hungry, Zickie and I decided to hunt for some tasty Carriacou cuisine. We walked along until we came upon a bright purple hut perched on an incline just above the beach. Two customers sat further down in the sand as they nursed their beers. The menu looked enticing: callaloo fritters and seared tuna, among other specialties. A young man with dreadlocks and bright pink sunglasses was resting in a hammock.
"Open for lunch?" Zickie inquired.
The man apologized, and said that they only had drinks and hamburgers at that moment. (Later that afternoon their pantry would be restocked, but just at that hour, we were out of luck.) We nodded regretfully, and continued down the shorefront.
Another restaurant appeared closed. (So much for jam-packed with yachties!) A third restaurant had a brisk lunch-time trade of five tables, although the waitress looked quite overwhelmed. We could sit, she said, but it might take awhile to get our meals. Judging by a few glum customer faces, she seemed to have a point.
At this juncture, the husband and I walked over to the beach's edge for a little conference. "Would you mind a hamburger?" Zickie asked.
"Not at all."
That settled it. We ambled back to the purple place and ruefully told the guy, still hanging in his hammock, that those hamburgers sounded pretty tempting after all. "No chips," he said, apologetically once again. We assured him that we didn't need fries. "We're easy," Zickie replied with a smile, and introduced himself.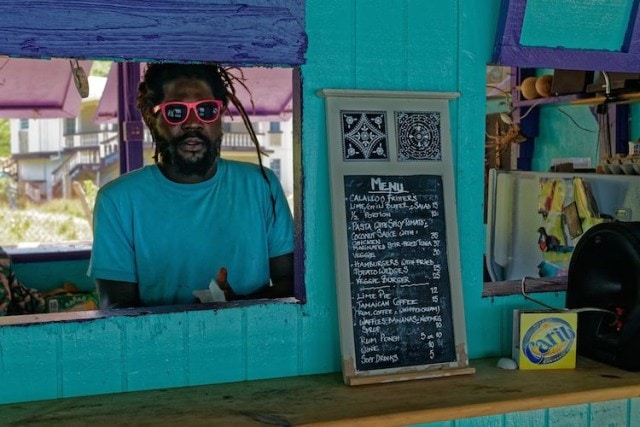 The young man's name, it turned out, was Frankie. As I sat down at a little table overlooking the bay, I glanced around at the adorable décor. Seafans, turquoise trimmed shutters, and cute signs had been artfully arranged.
The place had a name: Sundowners. Frankie explained that he owned it with his Swedish girlfriend Jeanette. "That explains the Swedish flag," I laughed, pointing to a blue-and-yellow rectangle flapping in the wind.
We three chit-chatted as Frankie opened a cold bottle of Carib for me, and mixed up a rum and tonic for Zickie. "I'm in love," I murmured to my better half, as we both stretched back and gazed onto the gorgeous scenery. A dinghy slowly motored toward shore carrying a small family – the only movement on the waterfront. Island tunes played subtly in the background. A sense of well-being and calm descended on us.
Meanwhile, Frankie bustled around in the miniscule kitchen as he prepared our lunch. He obviously took a great deal of pride in his place. Soon the air filled with a deeply delightful smell. Was I just starving, or might these simple eats actually be alright?
After our lunch arrived, I held up the burger thoughtfully and took a large bite. The home-made bun? Exceptional. (Had Jeanette baked the bread? I forgot to ask.) The lettuce was crisp and fresh, along with the sliced tomato and sharp onion. The sauce contained a bit of tang, and complemented the other flavors perfectly. But the burger itself? I am sorry to say that the next time I'm craving a really superlative hamburger, I may need to travel all the way to Carriacou to get one of Frankie's. Obviously, these were crafted with care, from the selection of the meat to the spices to the thickness and molding of the patty. Zickie and I kept glancing at each other as we gobbled them down, as if to say, "Can you believe this?"
Our only sadness was that we needed to catch the ferry back to Grenada in a few hours. Otherwise, we would have returned to try other dishes and to hear their Wednesday night drum circle. Carriacou is the birthplace of its own special African-influenced drumming and music; to hear local musicians improvising with visitors on the beach would have been a memorable experience.
When it was time to go, we thanked Frankie profusely for lunch and asked how to stay in touch. He handed us his card, and I gave him mine, and we waved good-bye. Back to Grenada we went, then onto a plane the next day, and finally, we arrived home on the mainland.
Looking online one night I located Sundowners' page on Facebook. There were photos of the purple hut, the sand, the drum circle, and people looking happy. I called to Zickie, "Hey, come see this," and we both clicked on the photos in silence. Dreaming of sitting on one of the least touristy beaches in the Caribbean. Sipping a Carib. Eating delicious home-cooked meals. Just hanging on Tyrrel Bay at Jeanette and Frankie's place.
Guidebook author and frequent Uncommon Caribbean contributor, Laura Albritton, runs the travel blog Island Runaways with her husband Zickie.
Related Posts